Now the news is published irregularly
No news until July
Y.O.C. new song
Posted by: Denis / 01.06.2017
---
MORE
METALMESSAGE / KALEDON 'THE EVIL WITCH' 2nd OFFICIAL VIDEO RELEASED
Posted by: Denis / 15.05.2017
---
The new video
The Evil Witch
has been filmed near the city of Rimini, by famous video director
Matteo Ermeti
. These story about happens in the year 1376. The big space conception of these video is therefore without without modern elements. The lyric talks about the evil witch Elisabeth. The future wife of king Antillius after her return to the good:

Prophecy of revenge, 
Enemy of the light, 
Witch controlled by a spell
Bringer of doom for the good:
She was the evil witch!

The Evil Witch
is
KALEDON
's new single from the forthcoming album
Carnagus: Emperor Of The Darkness
.
MORE
AFM Records / Rhapsody Of Fire new single
Posted by: Denis / 15.05.2017
---
Rhapsody Of Fire
premiere new single
Land Of Immortals
(re-recorded version)! One of the fan favorites from the
Legendary Tales
album, originally released in 1997,
Land Of Immortals
of course was an obvious choice to be re-recorded for
RHAPSODY OF FIRE
's
Legendary Years
(out May 26).
MORE
ROSAE CRUCIS SIGN WITH CRUZ DEL SUR MUSIC
Posted by: Denis / 15.05.2017
---
ROSAE CRUCIS started working on the new songs for their next album that will be out on Cruz Del Sur Music.

Named after an ancient, esoteric order, this band from Rome is well known to Italian metalheads. ROSAE CRUCIS in fact have been active since 1989 and always followed their own artistic path, playing epic Heavy Metal during the 90s, a decade plagued by fashions, composing a very personal style of music and, last but not least, singing in Italian language.

Courage and coherence usually pay off: throughout the years ROSAE CRUCIS have been constantly improving their song writing. They gained a wide fan base, also thanks to their outstanding live performances. And kept the flame of Heavy Metal burning in Italy, a country usually pretty cold towards this style of music.
MORE
InsideOut Music / Next To None announce second studio album 'Phases'
Posted by: Denis / 15.05.2017
---
Rising young metallers
Next To None
have announced the release of their forthcoming second album
Phases
through InsideOutMusic in Europe on the 7th July 2017. This comes off the back of the band's first ever European tour alongside label-mates
Haken
, as well as forthcoming dates supporting
Mike Portnoy
's much anticipated
Shattered Fortress
show.
The band comments:
"We're so excited to finally be releasing our new album. We feel it's a huge step forward for the band and shows a much heavier and much more technical side.
This album is very special to us because it's the first time we recorded and self-produced our entire album. We were able to create music that it completely our own. Every note, every sound, every word, came from us and we can't wait for you all to hear it.
Working with Adam Nolly Getgood on the mix has been one of the highlights of this recording for us. He captured the exact sound we wanted right from the start.
Doing this upcoming tour with The Shattered Fortress will be a great opportunity to premiere this new material to an audience that will surely get where we're coming from."
Tracklist 13 Answer Me The Apple Beg Alone Kek Clarity Pause Mr. Mime Isolation Denial The Wanderer
The full list of upcoming tour dates alongside Mike Portnoy's Shattered Fortress are as follows: 28th June - Koko, London, UK 1st July - Trianon, Paris, France 2nd July - Slagthuset, Malmo, Sweden 3rd July - Kulturfabrik, Esch Sur Alzette, Sweden 4th July - Teatro Della Luna, Milan, Italy 5th July - Z7, Pratteln, Switzerland 6th July - 013, Tilburg, Holland 8th September - Prog Power USA, Atlanta GA, USA 10th September - El Plaza Condesa, Mexico City, Mexico 24th September - Irving Plaza, New York City NY, USA
Nuclear Blast / ACCEPT unveil the cover artwork of 'The Rise Of Chaos'
Posted by: Denis / 15.05.2017
---
Heavy Metal pioneers
ACCEPT
are back in the game with a new studio album! The record entitled
The Rise Of Chaos
, will be unleashed on August 4th, 2017. The band's 4th studio release through Nuclear Blast will continue the tradition of its three predecessors -
Blood Of The Nations, Stalingrad, Blind Rage
- with grandeur and precision.
Now the band has unveiled the cover artwork of the new record, which was created by the Hungarian artist
Gyula Havancsák
.
"THE RISE OF CHAOS is something I have been thinking about often. Wherever we go - there is some hidden as well as some visible destruction and it kind of changes the world we know. What was there today - can be gone tomorrow and it's somehow irritating, because it happens on so many levels and no one knows what comes next. The cover is our last stage set - but now clearly 'destroyed' - like... after a catastrophe"
, explains
Wolf Hoffmann
.
MORE
Y.O.C. new page on Twitter
Posted by: Denis / 12.05.2017
---
For the attention of rockers/metalheads: please check new Y.O.C.'s page on
Twitter
and follow it.
MORE
METALMESSAGE / RUNNING DEATH - DressAge
Posted by: Denis / 12.05.2017
---
With their 2015 debut album Overdrive they triggered a positive as well as far-reaching surprise-effect as a vertical starter, which attracted a multitude of worldwide fans. Countless reviews attested the band around guitarist and singer Simon Bihlmayer with their 'dancing from the row' material, a very own, upscale class. Encouraged by this, the songwriting became even more hungry, but also more settled and determined. And now RUNNING DEATH are back with a new work: DressAge titled, the second longplayer presents the crisp rocking THRASH METAL of the Bavarians in so far unheard freshness and dynamics!

Official release date for DressAge is May 26th, 2017.

Whoever, as a new listener wants to get a route for orientation in advance - many sorts of references to Megadeth lead in the correct direction. For friends of such stylistics, it should be difficult in any case to resist ultra-melodic and discreetly progressive rhythm-grenades like Heroes Of The Hour. Similar to the aforementioned US giants, RUNNING DEATH also let all classic, grippy Rock elements flow in homogeneously manner into their partly hit-suspicious staged Thrash alarm. Even on the textual level, there is deliberately thought-through content. Often written with a pinched eye, the quartet's punctual lyrics are definitely the most readable in the genre. With tracks like Duty Of Beauty for example, RUNNING DEATH humorously relate to the ever-dehumanizing fashion madness of today.

The natural, striking singing of frontman Simon, who already caused lively discussions with the successful debut-disk, breaks out of the ten new songs even more individual and uncompromising. Even in the balladesque passages, the guitarist, as a convinced 100 % guy, simply inverts his innermost outwards with full emotion, instead of following the standards of the metier.

The detailed front cover for DressAge was created by the Mexican graphic artist Joel Sánchez Rosales, which was the perfect match for the lyrical relationship to the delicious dressage theme of the title song.
Imperative PR / Maxdmyz play with ex-W.A.S.P. mean man Chris Holmes and headline new festival
Posted by: Denis / 12.05.2017
---
First, the band have been confirmed as the Saturday night headliners for Apocalyptica: Road To Ruin 2017, a post-apocalypse themed festival to be held at a disused airfield in Buckinghamshire on September 22nd – 24th. Apocalyptica and Maxdmyz were made for each other; a unique band for a unique event, which the organisers have summed up as follows...

"There will be bands, DJs, food, beer and mad motorised vehicles, driven by Warboys and TankGirls, Post-Apocalyptic dress code will be expected to be adopted by ALL attendees... There will be trade stalls, entertainers, music, beer, wine, food and relentless survival games all afternoon with live bands for evening entertainment."

Then, on Saturday November 11th Maxdmyz will be heading to Kettering, for the Day Of Rock 2017, where they will share the stage with notorious ex-W.A.S.P. guitarist Chris Holmes, who headlines the show with his Mean Man band. This two stage, all day rock event is being held in aid of the British Biker Relief Foundation and the Warwickshire & Northamptonshire Air Ambulance.
Pride & Joy Music / Angelwings - The Edge Of Innocence
Posted by: Denis / 12.05.2017
---
ANGELWINGS
were born in April 2013 out of a group of experienced musicians that had been in the Gibraltar local music scene for some time and who had played in different bands a wide variety of musical genres. Initially, to get together as a band it was decided to perform a number of covers from Finnish symphonic Metal sensation
Nightwish
. Soon it became clear to all that original music would have a very considerable element of orchestration. Thus,
ANGELWINGS
became the first symphonic Metal band from Gibraltar.
It is in October 2014 when the band starts to write their original material. The first (demo) track titled
Wonderland
was posted on YouTube in January 2015 and attracted attention from local media and internationally on social media. Two more demos have followed since,
Memories
and
Forbidden Love
. These have enjoyed wide acceptance and support, and have increased the band's exposure. These tracks have had air time on radio stations in Argentina, Spain and the UK.
The Fallen
and
Lilith
also premiered in Argentina.
In June 2015
ANGELWINGS
supported Heavy metal legends Saxon at the 'Hard n Heavy' festival in Gibraltar. In September 2015 they performed at the Gibraltar Music Festival where Kings of Leon and Duran Duran were headliners.
These
ANGELWINGS
tracks have been on air by genre specialized radio stations throughout Europe, North and South America and elsewhere. After numerous offers from record labels from around the world, the group signed with Pride & Joy Music from Germany. The debut album titled
The Edge of Innocence
was recorded at Angelwings Studios in Gibraltar and produced by
ANGELWINGS
. Album cover concept idea
Darren Fa
; graphic designer
Thomas Ewerhard
; band logo design
Paul P Cano
.
ANGELWINGS
will release its debut album
The Edge Of Innocence
on June 23rd 2017.
Line-up: Divi Cano – vocals Mark Brooks – drums Glenn Cano – keyboards Darren Fa – bass Paul P. Cano - guitar
SPV / Bay Area Metal legends VICIOUS RUMORS start a new chapter in 2017
Posted by: Denis / 12.05.2017
---
If you don't know by now,
VICIOUS RUMORS
is indeed a living entity; always progressing and evolving with time. 38 years and 16 albums later... the band promised some major announcements and here they are:
VICIOUS RUMORS
is proud to welcome back lead singer
Brian Allen
, who left the band in 2013 for family reasons returns to the band with full force and power.
Geoff Thorpe
says:
"We're so excited to have Brian back! Life really does have a funny way of coming full circle!"
VICIOUS RUMORS
is already working on a killer new studio album.
On another note, singer
Nick Holleman
left the band to pursue other projects. He may be leaving 'the band', but he's definitely not leaving 'the family'.
Thorpe
says:
"With no bad feelings at all we wish Nick all the best and thank him for 4 great years of recording and touring!"
Well,
VICIOUS RUMORS
turns up the heat big time as we introduce our new lead guitarist from Portland, OR
Gunnar DüGrey
. At only 18 years old,
Gunnar
is a world-class guitar player along the lines of virtuosos like
Jeff Loomis, Vinnie Moore, Mark McGee
etc.
Thorpe
comments:
"His style, feel and general playing ability is out of this world!"
In the summer of 2017, the band will perform an exclusive German Open Air concert at the prestigious Bang Your Head Festival in Balingen as well as club shows.
VICIOUS RUMORS
returns to the legendary Dynamo Club in Eindhoven (The Netherlands) Zoom Nightclub inFrankfurt (Germany) with fellow bay area legends
Death Angel
! The band will also perform German headline shows in Munich at the Backstage and in Marburg. The only North American appearance is scheduled at Bossanova Ballroom in Portland,OR on June 24th. A full European headline tour is being booked by EAM booking agency for November (exact dates and support bands will be announced in July) with much more to be announced soon!
With power and strength the
VICIOUS RUMORS
ball rolls into the future... the best is yet to come!
VICIOUS RUMORS Live 2017 24.06.US-Portland, Oregon – Bossanova Ballroom 07.07.D-Munich – Backstage 08.07.NL-Eindhoven – Dynamo Club (with Death Angel) 09.07.D-Marburg – Knubbel 15.07.D-Balingen – Bang Your Head Festival 16.07.D-Frankfurt - Zoom (with Death Angel)
MORE
SPV / NITROGODS to release first single from upcoming album and video
Posted by: Denis / 12.05.2017
---
The first single
Rancid Rock
taken from the upcoming
NITROGODS
album
Roadkill BBQ
is available.
Rancid Rock
is the opening track of the album and makes clear what to expect from this true Rock n Roll 3-piece.
Nitrogods
have recorded 14 haunting tracks, starting with the programmatic opener
Rancid Rock
, playing a boogie on the title track, which is dedicated to
Rick Parfitt
(
Wolter
:
"The song sounds like Lemmy singing a Status Quo number"
) and giving the slide guitar extravaganza
My Love's A Wirebrush
a bluesrock feel that brings to mind
Rose Tattoo. Nitrogods
dig deep into music history on
Where Have The Years Gone
, their unashamed homage to
The Who
.
"Oimel and Klaus saw the band during their final tour and where absolutely awed"
,
Wolter
explains,
"that's why we simply had to record this number"
. The same applies to
The Price Of Liberty
which the three musicians intentionally wrote in the tradition of great
Ted Nugent
classics, even shifting down to halftime tempo.
ROADKILL BBQ will be released on May 26th, 2017. The album will be available in 3 different physical formats: Digipack CD Ltd. Edition Vinyl version (transparent red 180gr. vinyl with black streaks + CD) Ltd. Edition Box Set (High-quality 3-D embossed metal box, incl. Digipack CD, plus Bonus CD Tribute to Lemmy, plus Stainless Steel Flask 177 ml with lasered Nitrogods Skull and Band logo, Sticker)
MORE
Scarlet Records / DEATHLESS LEGACY 'JOIN THE SABBATH' VIDEO RELEASED
Posted by: Denis / 12.05.2017
---
Horror Metal band
Deathless Legacy
have
released a video
of the song
Join The Sabbath
, the new single taken from their new album
Dance With Devils
out now on Scarlet Records.
Dance With Devils
gives voice to the witches who over the centuries have been mistreated, humiliated, even burned. With its eleven tracks, the album collects the most horrific stories of black magic rituals, stories that are lost in the mists of time, a Sabbath of pure horror and black emotions, dealing with ignorance, superstition, religion.
Pure Steel Records / DESTRUCTOR 'Decibel Casualties' cover, tracklist, release date: 9th June 2017
Posted by: Denis / 12.05.2017
---
The release date of the new album
Decibel Casualties
by the US titans
DESTRCUTOR
on CD is June 9th, 2017. The pre-order phase will start on May 26th, 2017 in label's webshop.
The two Metal titans
Dave Overkill
(v/g) and
Matt Flammalbe
(d) from the Ohio legend
DESTRUCTOR
have returned with sharpened steel! After the 2016 release,
Back in Bondage
, now the brand new album is ready!
Via Pure Steel Records this year the flaming inferno
Decibel Casualties
will come and you have many reasons to be extremely excited about waiting for it. High Speed and energy like in their early twenties is the one and only basis for the guys.
Nick Annihilator
(g) and
Tim Hammer
(b) joined the legends and you can be sure that
DESTRUCTOR
sound more fresh than ever before.
In 2017
DESTRUCTOR
's
Decibel casualties
will bring the fire of true old school Metal they have kept burning for more than 30 years! HEAVY METAL FOR LIFE, HEAVY METAL TIL DEATH!
TRACKLIST: RESTORE CHAOS KEEP THE FAITH METAL SPIKE DEEP WE ARE READY THE LAST DAYS FIREY WINDS METAL TILL DEATH IN HELL
MORE
POSSESSED - death metal originators sign to Nuclear Blast
Posted by: Denis / 12.05.2017
---
Nuclear Blast is proud to finally announce the worldwide signing and return of
POSSESSED
! Few bands have done more to push the boundaries of extreme Metal than the legendary
POSSESSED
. Even fewer can create a unique style, which continues to set them apart from all others by being the very first in a genre they laid the foundation for.
POSSESSED
are by definition, the creators of Death Metal. Ever since they stormed onto the San Francisco Metal scene in the early 1980's,
POSSESSED
has been redefining and breaking the rules for Metal. Nuclear Blast is very excited to be a part of that continued legacy.
Comments vocalist and founding member
Jeff Becerra
:
"POSSESSED are pleased and honored to announce our joining the Nuclear Blast family. Currently, we are hard at work writing new material for our upcoming first full-length release on Nuclear Blast. I want to give special thanks to everybody at Nuclear Blast, and to all of our supporters. This has been a long time coming and this is a very exciting time for us."
Watch a short teaser video
announcing the signing that includes a short snippet of demo of a new song.
Fans can expect
POSSESSED
's first a full-length release in 31 years, sometime in 2018.
MORE
Frontiers Music / Mr. Big - Defying Gravity
Posted by: Denis / 11.05.2017
---
DEFYING GRAVITY
deftly showcases that patented
MR. BIG
blend of crunch and melody, from the freight-train ride of opening cut
Open Your Eyes
to the harmony-laden wonderment of
Damn I'm in Love Again
to the grateful/wistful nostalgia of
1992
(recalling the days when the band was flying high atop the singles charts with their international #1 smash
To Be With You
) to the barnburning slide-blues closer,
Be Kind
. Overall,
DEFYING GRAVITY
is prime evidence that the only thing
MR. BIG
remains tethered to is their ongoing pursuit of achieving creative excellence.
Original members
Eric Martin
(lead vocals),
Paul Gilbert
(guitars),
Billy Sheehan
(bass) and
Pat Torpey
(drums) reunited with producer
Kevin Elson
(who was behind the boards for the band's 1989 self-titled debut, 1991's
LEAN INTO IT
and 1993's
BUMP AHEAD
) for an intensive six-day recording session in Los Angeles. While
Torpey
was unable to perform some of the songs on
DEFYING GRAVITY
due to a recent diagnosis of Parkinson's disease,
Matt Starr
has been filling in for him on a majority of the album.
Starr
also been touring with the band for the past couple of years, with
Torpey
able to play a couple of songs at each stop.
"It was great to get back in the studio with our original producer, Kevin Elson"
, says guitarist
Paul Gilbert
.
"Kevin recorded all of our original classic albums from the '80s and '90s, and we immediately felt that magic chemistry with him on DEFYING GRAVITY. We basically played live in the studio. Over the years, we've all had a chance to experiment with every recording technique possible, but it's still always the best just to play together as a band. Most of my guitar solos were tracked live with the band. I've worked hard on my improvisation in the last few years, and it really paid off on this record... both melodically, and on the face-melting stuff."
MR. BIG
is gearing up for the launch their latest worldwide tour which starts May 31 in Milwaukee, WI at the Potowatami Casino.
"2017 is filling up quickly with tour dates all around the world"
, proclaims
Gilbert
.
"I can't wait to play the new songs, and of course our favorites from the old days like Daddy, Brother, Lover, Little Boy; Just Take My Heart; Green Tinted Sixties Mind; Wild World and To Be With You."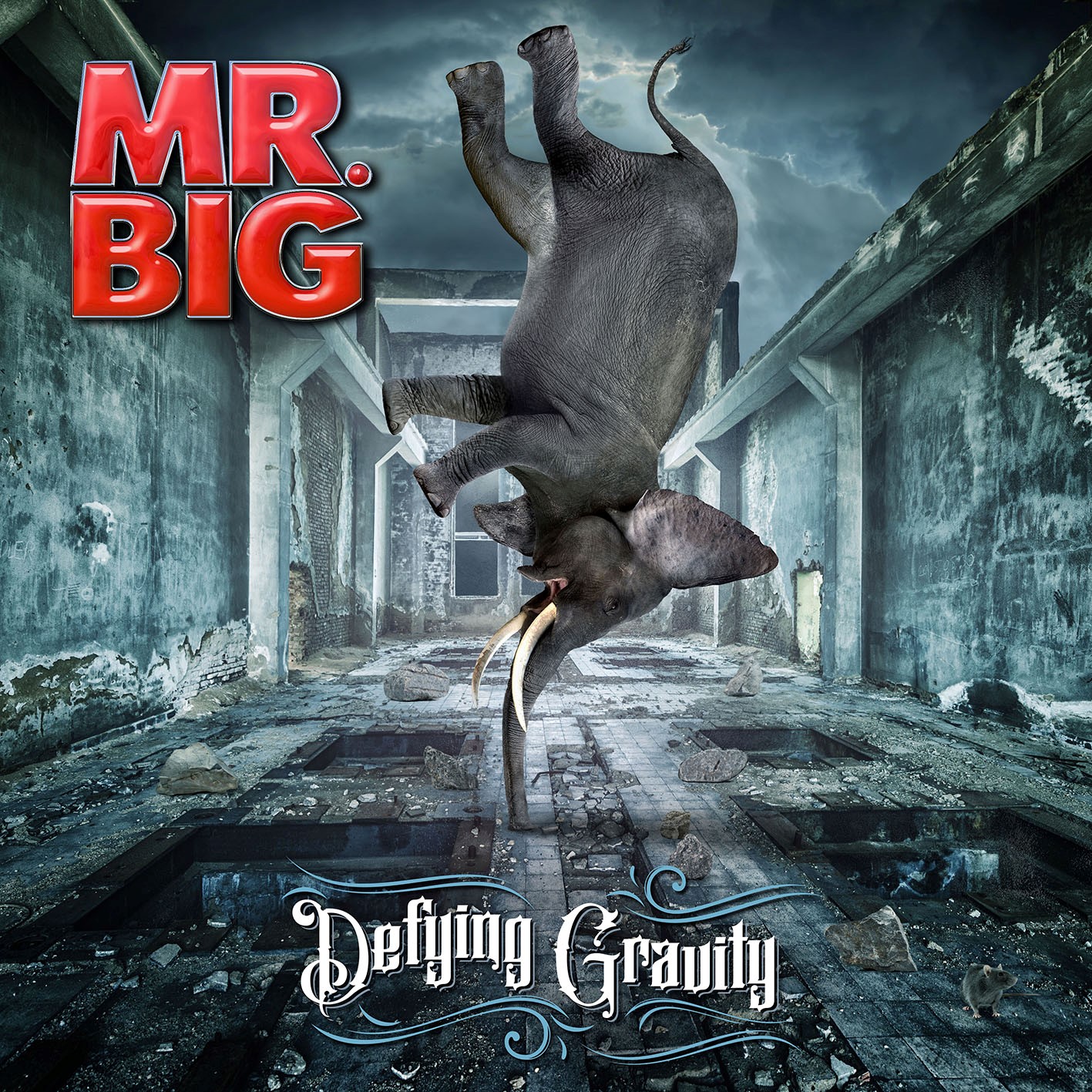 Here's the complete track listing for DEFYING GRAVITY: Open Your Eyes Defying Gravity Everybody Needs a Little Trouble Damn I'm In Love Again Mean to Me Nothing Bad (About Feeling Good) Forever and Back She's All Coming Back to Me Now 1992 Nothing At All Be Kind
Check out MR. BIG at any of the following tour stops (MORE TO BE ANNOUNCED):
Leg 1: 5/31 Milwaukee, WI Potowatami Casino 6/2 St. Charles, IL Arcada Theatre 6/3 Wetland, MI The Token Lounge 6/6 Warrendale, PA Jergel's Rhythm Grille 6/7 Newton, NJ Newton Theatre 6/9 Uncasville, CT The Wolf Den/Mohegan Sun 6/10 New York, NY B.B. King Blues Club & Grill 6/12 Nashville, TN Basement East 6/14 Lexington, KY Manchester Music Hall 6/16 Dallas, TX Gas Monkey Live 6/17 Houston, TX Scout Bar 6/19 Kansas City, MO Knuckleheads Saloon 6/22 Tempe, AZ Marquee Theatre 6/23 Agoura Hills, CA Canyon Club 6/24 Pasadena, CA The Rose
MORE
Massacre Records / New signing - SILIUS
Posted by: Denis / 11.05.2017
---
The Austrian Thrash quintet SILIUS is going to release its debut album later this year!

Some of you might've already seen drummer Ralph, lead guitarist Haui, rhythm guitarist Mex, bassist Martin and vocalist Matthias live at Wacken Open Air & MetalDays or as a support for Arch Enemy and Biohazard, among others!

The band now inked a deal with Massacre Records, where SILIUS' debut album is scheduled to be released this fall!
Mighty Music / Trespass
Posted by: Denis / 11.05.2017
---
First Tygers Of Pan Tang, then Blitzkrieg and now we welcome NWOBHM legends Trespass to Mighty Music. New studio album out in late 2017.

Trespass formed back in 1978 and is considered one of the founding bands of the NWOBHM genre.
SATYRICON sign worldwide deal with Napalm Records
Posted by: Denis / 11.05.2017
---
Norwegian Black Metal legends
SATYRICON
have signed a worldwide deal with Napalm Records and entered the studio to begin recording a brand new album!
Formed in 1991 in Oslo,
SATYRICON
reinvented the world of extreme music. With their third album
Nemesis Divina
released back in 1996, their status as one of the most significant and creatively vital bands in Norwegian Black Metal was already beyond dispute. When this most illustrious and influential piece of dark art was successfully re-released with Napalm Records in the Spring of 2016 and in celebration of the band's 20th anniversary, it marked a cornerstone to extend the relationship to a worldwide record deal between the Austrian label and pioneers of Black Metal in
SATYRICON
.
Thomas Caser
, CEO of Napalm Records:
"We are proud to announce the signing of one of this most influential Extreme Metal act and pioneer of a whole genre. This upcoming album will surely set another mile stone in heavy music and we are honoured to release it this fall!"
SATYRICON
are already hard at work in the studio and are currently recording their highly anticipated new studio album that is set for a September 22 release. A European tour in support of the upcoming record will kick off the same weekend.
SATYRICON
have not just inspired entire genres and beyond, the band has also always excelled live. Their powerful and evocative performances, spearheaded by charismatic frontman and visionary,
Satyr
as well as drummer extraordinaire
Frost
, will always be a memorable special event you will never forget. In support of the band's upcoming album,
SATYRICON
will heavily hit the road this Fall! Make sure to catch them live on the following dates:
24.09.17 DE - Hamburg / Grünspan 25.09.17 DE - Essen / Turock 26.09.17 NL - Tilburg - 013 27.09.17 BE - Vosselaar / Biebob 29.09.17 UK - London / Heaven 30.09.17 FR - Paris / La Maroquinerie 01.10.17 FR - Nantes - MJC De Reze 02.10.17 FR - Toulouse / Le Metronum 04.10.17 ES – Madrid / Sala But 05.10.17 ES - Barcelona / Razzamatazz 06.10.17 FR – Montpellier / Rockstore 07.10.17 IT - Bologna / Zona Roveri 09.10.17 CH - Zurich / Dynamo 10.10.17 DE – Munich / Backstage Halle 11.10.17 AT - Vienna / Szene 12.10.17 CZ – Prague / Akropolis 14.10.17 PL - Krakow / Kwadrat 15.10.17 PL – Warsaw / Progresja 16.10.17 DE – Berlin / SO36 17.10.17 DK - Copenhagen / Pumpehuset 19.10.17 DK - Aarhus Train 20.10.17 SE - Gotherburg / Pustervik 21.10.17 SE – Stockholm / Klubben
MORE
Napalm Records / ALESTORM release brand new video for 'Mexico'
Posted by: Denis / 11.05.2017
---
A pirate's life is simple; they drink, steal and kill. But lead by the one & only Heavy Metal pirates,
ALESTORM
will be also killing it with their new and 5th studio album
No Grave But The Sea
, which is set to be released on May 26th on Napalm Records!
With their just recently and first premiered video from the band's upcoming album for the track
Alestorm
, the pirates now strike back and unleash another appetizer with a brand new video for
Mexico
! Or in the words of
ALESTORM
:
"Oh wow! It's Cinco de Mayo, so let's celebrate with a song dedicated to our favorite country in the world - MEXICO! Like most of our music, this song is about drinking, pirates, and explosions. And don't worry, it's not a real donkey, it's just Bobo and Elliot in a donkey costume."
So put on your eyepatch and let the rum flow freely for the unstoppable international party machine, and
watch ALESTORM's new video for Mexico
.
MORE
Nuclear Blast / MUNICIPAL WASTE second album trailer released
Posted by: Denis / 11.05.2017
---
Equipped with a crushing sound that will implode both your soul and skull, Richmond Virginia's
MUNICIPAL WASTE
barrel back onto the scene with their latest piece of toxic detritus,
Slime And Punishment
. The sixth album will be released on June 23rd via Nuclear Blast Records.
Watch
the second video trailer
where
Ryan Waste
and
Tony Foresta
share how the album title materialized.
MORE
Nuclear Blast / TANKARD '35 years of TANKARD' trailer online
Posted by: Denis / 11.05.2017
---
In 1982, when four longhaired Metal maniacs from Frankfurt am Main, Germany decided to found a band named
TANKARD
, nobody expected them to still be going three decades later. Not to mention being at the top of the German Thrash Metal scene! But they are still alive and kicking, and throughout these years there's barely been a blip in their path! Now, when the routine of breaking-up, making a 'reunion' and disappearing again seems to be the order of play,
TANKARD
never joined this course of action - instead they kept flying the flag of Thrash Metal high: a very respectable effort! NOT ONE DAY DEAD!
This is why the founders of 'alcoholic Metal' can now celebrate their 35th anniversary in 2017 with their 17th studio album entitled
One Foot In The Grave
- cheers!
Check out
the new video trailer
, in which
Gerre
and
Frank
talk about 35 years of
TANKARD
.
MORE
Nuclear Blast / RAGE second studio trailer launched
Posted by: Denis / 11.05.2017
---
The creativity and productivity of the German Heavy Metal trio
RAGE
seems to have no limits. Only 14 months after the successful
The Devil Strikes Again
neckbreaker,
RAGE
deliver their new, 23rd studio album called
Seasons Of The Black
, which will be released on July 28th!
To provide you a first taste from the studio recordings, the band recently revealed their first trailer. Now they already publish
the second one
!
MORE
Imperative PR / De Profundis to tour Europe with I Am Morbid & Necrophagia
Posted by: Denis / 10.05.2017
---
The band have just completed a successful UK tour with
Taake
and
Fen
and now Imperative PR are able to announce that in June they will be heading to Europe, as part of one of the biggest extreme Metal touring packages of the summer.
De Profundis
will be joining forces with
I Am Morbid, Necrophagist, Helsott
for ten dates that will see them bringing the thunder to Italy, Switzerland, Germany and The Netherlands.
The Heretic Order
will also be joining this stunning line-up for the last week of shows.
June 2nd - Venice (ITA) Revolver June 3rd - Lyss (SUI) Kulturfabrik June 4th - Hamburg (GER) Logo June 5th - Kassel (GER) Fiasco June 6th - Munich (GER) Feierwerk June 7th - Erfurt (GER) From Hell June 8th -Flensburg (GER) Roxy June 9th -Den Haag (NLD) Paard Van Troje June 10th - Tilburg (NLD) 013 June 11th - Leipzig (GER) Hellraiser
I Am Morbid
are comprised of extreme Metal royalty, being fronted by
David Vincent
of
Morbid Angel
fame, accompanied by
Tim Yeung
(ex-
Morbid Angel
, ex-
Hate Eternal
)on drums and
Ira Black
(ex-
Heathen
, ex-
Lizzy Borden
, ex-
Vicious Rumors
) and
Bill Hudson
(
U.D.O., Jon Oliva's Pain
) on guitars. The band will be performing classic
Morbid Angel
material, taken exclusively from the Death Metal legends' four peerless albums,
Altars Of Madness, Blessed Are The Sick, Covenant, Domination
.
This tour forms another part of
De Profundis
' 10th anniversary celebrations since the release of their first album,
Beyond Redemption
.
The band are also working on a very special celebratory release, for which renowned artist
Gary Ronaldson
(
Kreator, Napalm Death, Benighted
etc) will be creating the artwork. Meanwhile, work is now complete on the fifth
De Profundis
album, which we hope to see released late 2017/early 2018.
Violent Life Violent ink management deal with GlobMetal Promotions
Posted by: Denis / 10.05.2017
---
American Hardcore/Metalcore band
Violent Life Violent
has inked a worldwide management deal with GlobMetal Promotions. Last year the band released their debut EP
V-EP
. The EP was recored, mixed, and mastered at Rareform Studio by
Kyle Dameron
and
Joey Park
.
Violent Life Violent
was officially formed in 2016 at Charlotte, USA. The band features former members of
A Stained Glass Romance
(Torque/Victory Records) and
Aria
(Tribunal Records).
Imperative PR / Thus Defiled celebrate their 25th Anniversary with new EP, featuring Mike Browning (Nocturnus/Morbid Angel)
Posted by: Denis / 10.05.2017
---
A year ago, the archdemons of British Black Metal, Thus Defiled, chose Imperative to promote their An Unhallowed Legacy release – and now they're back. It's twenty five years, a quarter of a century, since Thus Defiled first came screaming into the world, drunk on sacrificial blood and aflame with blasphemy and that's an anniversary that's well worth celebrating. Hence, Imperative PR have been entrusted with the promotion of a new EP – A Return To The Shadows. Featuring one previously unheard original track and four vicious cover versions of songs that the band hold dear, this is a release of breathtaking savagery and demonic fury.

Two special guests have contributed their talents to the recordings; first, Donn Donni (Vesperian Sorrow) adds his wicked backing vocals to the heaviest version of Metallica's Creeping Death you will ever hear. Then, Mike Browning (Nocturnus, ex-Morbid Angel) takes over vocal duties for a brutal recreation of Morbid Angel's classic Demon Seed. In addition Thus Defiled have desecrated Death's Evil Dead and W.A.S.P.'s Hellion.

Speaking about this release, frontman Paul C commented: "25 years in. Where did the time go? This recording has been in the pipeline for a while, but now with the band turning 25 it seemed the right time to finally drag it out into the light. When we flew to Texas to record this EP, once again re-uniting the band with Daemonspawn producer Tim Bartlett at Noise Farm Studio, we had one new track written and had decided to cover a few songs that made a huge impression on us as kids. The only rule: no Black Metal covers!
So, over many beers, many suggestions and many arguments we ended up with this varied selection of Metal classics. An eclectic mix from different corners of the '80s, all given a Thus Defiled interpretation. You can never improve on an original, only pay tribute. And this is ours.
Rather than asking for any payment, or doing a crowdfunding campaign so we can get a new sauna, all we ask is that if you have time and a spare Pound/Euro/Dollar or whatever your local currency is, you make a donation, however big or small, to Sweet Relief, the very worthy charity that Chuck Schuldiner was involved with."

Having left this offering of pure darkness in our hands Thus Defiled have vanished once more into the shadow realms. Will they ever pass this way again? We can only hope and give thanks for A Return To The Shadows... and a quarter of a century of blazing British Black Metal!
Blind Guardian - 'Live Beyond the Spheres' 3CD/4LP to be released on July 7th
Posted by: Denis / 10.05.2017
---
There's big news for Blind Guardian: the Progressive Power Metal pioneers announce the release of a new 3-CD package entitled, Live Beyond the Spheres! This will include material recorded from various shows during the European tour leg in 2015, among old classics, new tracks as well as songs that are played very rarely during live shows.

Vocalist Hansi Kürsch speaks about the difficulties to create such an ambitious album: "In general I would say that we've had a really good run on this tour and that nearly every show was perfect. But, at the end of the day, after every band member has checked each and every song and concert of those 30 shows again and again, there were only like two or three versions of each song being suitable to be used for an album. We then had to decide between those last remaining versions, which would have been the most impressive one. This was a nearly endless task!"

But as we all know, Blind Guardian stands for perfectionism in any way.

"The songs finally chosen reveal such an energy, that possible smaller mistakes appeared to be totally unimportant for the evaluation. As soon as you have listened to the songs, you will know what I mean, they feel alive", the vocalist continues.

But in the end, the effort was all worth it. Hansi sums up: "There is always something happening at each show, let's call it 'MAGIC', that is giving us all the creeps. We are really satisfied when the people sing with us, have a good time and go back home happy."

Live Beyond the Spheres is scheduled to be released on July 7th as 3-CD and 4-LP Box.
MORE
Scarlet Records / FAKE IDOLS - 'I'M A FAKE' LYRIC VIDEO RELEASED
Posted by: Denis / 05.05.2017
---
Fake Idols
have released
a lyric video
for the song
I'm A Fake
, the second single taken from the band's latest album
Witness
, available now on Scarlet Records.
Witness
has been described as an adrenaline bomb charged up with great Rock/Metal tunes and plenty of attitude. The album features a very special guest appearance by
Motörhead
legend
Phil Campbell
on the song
Mad Fall
. Also charismatic singer
Damna
(
Elvenking / Hell In The Club
) guests in one song.
Nuclear Blast / EPICA release 'Dancing In A Hurricane' live video
Posted by: Denis / 05.05.2017
---
Dutch symphonic Metal giants
EPICA
are proud to announce the launch of their
brand new live video
Dancing In A Hurricane
! The track has been taken from the band's latest output
The Holographic Principle
, which was released via Nuclear Blast in September 2016 and charted worldwide. The video was captured and edited by the video production team 'Panda Productions' during
EPICA
's SOLD OUT show at The Zenith in Paris last February where the band closed their most successful European tour to date together with an excited legion of 5.000 fans! This live video perfectly mirrors the band's craving for non-stop innovation and for continuously improving their live performance.
Dancing In A Hurricane, Live at The Zenith
will show you how the live
EPICA
experience has reached new dimensions once again!
Coen Janssen
comments on the video:
"When you are in the midst of touring, you tend to forget how special it is and how privileged we are to be able to perform every night. The show in Zenith Paris is an absolute highlight in our career and therefore I am extra happy we decided to shoot some live-videos of this show. This first one, featuring one of my favourite songs on The Holographic Principle takes me back to this night instantly so I can relive the moment again and again. The video shows me in retrospect what an awesome tour this was!!! Thank you all again for joining us that night and for making our days brighter all the time!!! Enjoy!!!"
. You can check out this stunning video through this link: https://www.youtube.com/watch?v=m1qRwjqjurQ
MORE
Napalm Records / SEVEN KINGDOMS release official music video for track 'Kingslayer'
Posted by: Denis / 05.05.2017
---
This is not only for fans of Game Of Thrones! 'Rebellion is coming, soon the gates will fall' state the lyrics of
SEVEN KINGDOMS
' latest track & music video
Kingslayer
.
SEVEN KINGDOMS
are blazing a wild passion through every millisecond of their monstrous music. Welcome
Decennium
, their furious 10th anniversary. Be sure: This fast'n'heavy Thrash and Power Metal is always uptempo, fierce and epic. Songstress
Sabrina Valentine
sings with full force and her charismatic voice flirts insanely with heavy twin guitars.
See and hear it for yourself with
the official music video
premiere for
Kingslayer
!
The band states:
"Kingslayer is a song about Jaime Lannister's betrayal of his oath, which earned him that very nickname across the Seven Kingdoms. The Mad King was ready to blow up all of Kings Landing with stocks of wildfire hidden under the streets, rather than face defeat to Robert's rebellion. Having already seen enough atrocities committed by the king, Jaime could not stand by any longer with the lives of the entire city at stake. He murdered the Mad King, the one his life was sworn to protect. Instead of becoming a hero, this betrayal would be how history remembered Jaime Lannister."
MORE
My Kingdom Music / DRAGONHAMMER new deal. The Dragon is coming back!
Posted by: Denis / 05.05.2017
---
Latest album The X Experiment was a great success and marked DRAGONHAMMER's return to the scene after 9 years of silence. It permitted to the band to touring Europe with great shows and great festivals together with fantastic bands and above all with an amazing audience's feedback.

Now it's time to come back more powerful than ever and they'll do it with a new album titled Obscurity that is going to be ultimated in these days and that will be released at the end of September via My Kingdom Music with which the band has signed a new deal confirming the great brotherhood with the label.

Max and Gaetano, historical founders of the band commented: "We have spent the last couple of years refining our sound, and playing as many shows as we can, and without any doubt we can say that DRAGONHAMMER is now a band poised to blow some minds and help re-shape a genre!
Power and epicity describe well the sound of the new album and soon we'll reveal more about recordings, mastering (a great name will be behind it) and the cover artwork! In Obscurity there is all our experience and the energy gathered during the last two years!
Dear friends the Dragon is coming back and wait for something really shattering!"

You'll ride the DRAGON flying on their music!
MORE
Mighty Music / Tygers Of Pan Tang video
Posted by: Denis / 05.05.2017
---
New music video
out now from
Tygers Of Pan Tang
for the killer song
Never Give In
, the song is taken from the album
Tygers Of Pan Tang
released world wide on Mighty Music.
MORE
AFM Records / Evergrey new lyric video 'My Allied Ocean'; North American tour to kick off May 6th
Posted by: Denis / 05.05.2017
---
Enjoy this
brand new lyric video
for
My Allied Ocean
, taken from
Evergrey
's latest masterpiece
The Storm Within
.
WATCH OUT: the storm will hit U.S. shores soon! Have a look at the tour dates: 5/6: Orlando, FL @ The Haven 5/7: Tampa, FL @ The Orpheum 5/8: New Orleans, LA @ Southport Hall 5/9: Houston, TX @ Scout Bar 5/10: Dallas, TX @ Gas Monkey 5/11: San Antonio, TX @ The Rock Box 5/13: Phoenix, AZ @ Joe's Grotto 5/14: San Diego, CA @ Brick By Brick 5/15: Las Vegas, NV @ Adrenaline Bar 5/17: Los Angeles, CA @ The Viper Room 5/19: Portland, OR @ TBA 5/20: Seattle, WA @ Studio Seven 5/21: Vancouver, BC @ The Rickshaw Theater 5/22: Calgary, AB @ Dickens Pub 5/23: Regina, SK @ Exchange 5/24: Winnipeg, MB @ Pyramid Cabaret 5/25: Minneapolis, MN @ The Cabooze 5/26: Chicago, IL @ Reggie's 5/27: Detroit, MI @ The Token Lounge 5/28: Toronto, ON @ Mod Club 5/30: Quebec City, QC @ L'Anti 5/31: Montreal, QC @ Foufounes Electrique 6/1: New York, NY @ The Marlin Room 6/3: Manchester, NH @ Jewel
MORE
Frontiers Music / Ten - Gothica
Posted by: Denis / 04.05.2017
---
British Melodic Hard Rock band
TEN
has announced they will release their new album,
Gothica
on July 7, 2017 via Frontiers Music Srl.
The highly anticipated new album promises to be one of their strongest collection of songs to date. It is full of all the trademark textures and flavors we have come to expect from
TEN
, arguably one of the best and most consistent Melodic Hard Rock bands in the genre.
Gothica
renews
TEN
's longstanding association with the Frontiers label and proudly displays all the hallmarks of classic
TEN
albums and will surely continue to build upon the rich legacy that the great British rockers have forged over a career spanning 22 years and counting.
Gothica
emerges as their darkest album to date. Embracing history, romance and erotic horror in equal measure as it does, the title proves to be a fitting name. As listeners, we are transported from the darker side of human nature to the nocturnal supernatural, a dramatic realm of nightmares and the forbidden.
Gothica
is cinematic in every sense of the word. A web of musically elaborate spells, evoking embers that spark the imagination courtesy of the classic song writing of vocalist
Gary Hughes
.
Of the album,
Gary
says,
"I am extremely pleased with the collection of songs on Gothica as they feel like they belong together. The band are firing on all cylinders once again and it is a gift to the army of fans everywhere who have relentlessly supported us over the years. It is ironically fitting that our 13th studio album should be a little more sinister, at the same time retaining all the commercial traits usually associated with a Ten album."
Following their success on the recent albums
Albion
and
Isla De Muerta
,
Hughes
is joined once again by guitarists
Dann Rosingana, Steve Grocott, John Halliwell
along with bass player
Steve McKenna
, keyboard maestro
Darrel Treece-Birch
, and drummer
Max Yates
. On their third outing as a collective unit, the musicians in
TEN
have raised the bar even higher than they had previously. The album is full of stunning guitar work over a rich keyboard, bass, and drum tapestry with
Hughes
' vocals once again bringing the nuances of the intricate lyrics to life.
Gothica
was produced by
Gary Hughes
and mixed and mastered by
Dennis Ward
.
TEN
's longstanding professional association with
Dennis
has been ongoing since he mixed their 2011 album,
Stormwarning
.
Additionally, the album features stunning original artwork by
Stan W. Decker
, depicting a beautiful enchantress reading incantations from a book whilst summoning shadowy characters from its pages.
Stan
has cleverly illustrated the piece in order to portray the characters emerging from the books pages as the actual characters from the songs on the album. The atmospheric sleeve photography is once again provided by the remarkably talented
Adrian Ashworth
.
Frontiers is proud to be working with the legendary
TEN
again and looks forward to sharing this stunning new album with the band's fans around the globe!
Tracklisting: The Grail Jekyll And Hyde Travellers Man For All Seasons In My Dreams The Wild King Of Winter Paragon Welcome To The Freak Show La Luna Dra-cu-la Into Darkness
MORE
InsideOut Music / Riverside European tour starts this weekend
Posted by: Denis / 04.05.2017
---
After a string of shows in their Polish home, Progressive Rock masters
RIVERSIDE
will be starting a European tour this coming weekend. The band has therefore checked in with the following comment about the upcoming shows and their live line-up:
"It is with great pleasure that we would like to announce that for all the concerts in 2017 we will be joined by our friend Maciej Meller, the guitarist thanks to whom our music will sound the way it should, not only because he's a very good musician, but most of all, because he's got a modesty and humility about him, and these have always been important to us on stage.
We are now more experienced, more mature, more serious and we're starting another chapter in our music career. We'd like to play our best gigs yet this year and we know that this tour will be exceptional and one of a kind because each gig will be filled with different kinds of emotions. We'd like to invite all of you who would like to experience them with us to the following venues..."
RIVERSIDE 'Towards The Blue Horizon' Tour 2017: 05.05. Berlin (Germany) - Columbia Theater 06.05. Worpswede (Germany) - Music Hall 07.05. Hamburg (Germany) - Markthalle 09.05. Aschaffenburg (Germany) - Colos-Saal 10.05. Pratteln (Switzerland) - Z7 12.05. Lyon (France) - MJC Ô Totem 13.05. Barcelona (Spain) - Salamandra 1 14.05. Madrid (Spain) - Teatro Barcelo 16.05. Bordeaux (France) - Krakatoa 17.05. Paris (France) - Divan du Monde 19.05. Edinburgh (UK) - Liquid Room 20.05. Bristol (UK) - Marble Factory 21.05. Leamington Spa (UK) - Assembly 22.05. London (UK) - Islington Assembly Hall 24.05. Maastricht, (The Netherlands) - Muziekgieterij 25.05. Zoetermeer (The Netherlands) - De Boerderij 26.05. Zwolle (The Netherlands) - Hedon 27.05. Uden (The Netherlands) - De Pul 28.05. Cologne (Germany) - Die Kantine 30.05. Kraków (Poland) - Laznia
RIVERSIDE
had taken a longer break from any live performances due to the tragic passing of founding member and guitarist
Piotr Grudzinski
on February 21st, 2016.
MORE
Nuclear Blast / RAGE first studio trailer launched
Posted by: Denis / 04.05.2017
---
The creativity and productivity of the German Heavy Metal trio
RAGE
seems to have no limits. Only 14 months after the successful
The Devil Strikes Again
neckbreaker,
RAGE
deliver their new, 23rd studio album called
Seasons Of The Black
, which will be released on July 28th!
"Our fans are getting RAGE Metal of the very first grade. We've been able to bring the band's typical trademarks into eleven new songs, and we're sticking to the course that we forged on the last album! This means hard and very catchy compositions that also sound Thrash, aggressive and epic"
", tells band leader
Peavy
.
To provide you a first taste from the studio recordings, the band reveals
their first trailer
. This video also includes a song snippet of the first single
Blackened Karma
.
MORE
Nuclear Blast / TANKARD fourth album trailer released
Posted by: Denis / 04.05.2017
---
It is their jubilee year! 35 years of
TANKARD
! And, of course, a suitable soundtrack cannot be neglected for the occasion. The band's 17th studio album entitled
One Foot In The Grave
, will be released on June 2nd, 2017 via Nuclear Blast.
Now the band have revealed
the fourth video trailer
in which they are talking about the musical direction of the new album.
MORE
Punishment 18 Records / Running Death 'Dressage' cover unveiled
Posted by: Denis / 03.05.2017
---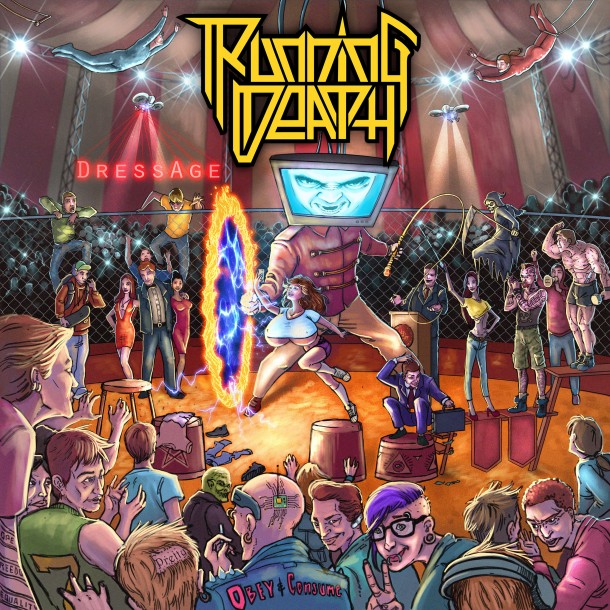 You can see the artwork of the new full-length album from German thrashers
Running Death, Dressage
. The new effort will be released on 26th May by Punishment 18 Records.
Punishment 18 Records / Beyond Description 'Castle' streaming available on-line
Posted by: Denis / 03.05.2017
---
Japanese Thrash Metal/Crossover band
Beyond Description
posted on-line
, in streaming on YouTube, the new song
Castle
. It was taken from their 5th full-length album called
The Robotized World
, out via Punishment 18 Records.
Napalm Records / KOBRA AND THE LOTUS premiere video for 'You Don't Know'
Posted by: Denis / 03.05.2017
---
You've already heard the aural masterpiece that is the song
You Don't Know
. Now it's time to see the stunning visual masterpiece for yourself
with the video
for
You Don't Know
.
Says vocalist
Kobra Paige
:
"WHEW!!! I'm beyond the universe excited for us to release our first brand new video for Prevail I!!! We poured the essence of all of our years of growing pains, playing shows, touring, recording, and wholehearted passion, into this video. You Don't Know truly captures our energy to it's fullest authentic potential like never before. Every action in our life comes down to this exact moment and sharing it with all of you. This time it's playing full throttle in the rain and I feel like I've been waiting my whole life for this. Check it out as we firmly set the precedent for what you can expect to see from us as we hit the road with the new material!!!"
MORE
Rage release new studio album 'Seasons Of The Black' in July
Posted by: Denis / 02.05.2017
---
The creativity and productivity of the German Heavy Metal trio
RAGE
seems to have no limits. Only 14 months after the successful
The Devil Strikes Again
neckbreaker,
RAGE
deliver their new, 23rd studio album called
Seasons Of The Black
, which will be released on July 28th!
The stylistic connection between
The Devil Strikes Again
and
Seasons Of The Black
is also visually reflected in the artwork, once again created by graphic artist
Karim König
.
The title song
Seasons Of The Black
will be the opener of the 11 track-album.
Seasons Of The Black
was recorded in February / March 2017 at Megafon Studios (Burscheid, Germany) and at Soundchaser Studios (Zandhoven, Belgium). Its production was handled by
RAGE
, whilst the renowned
Dan Swanö
(
MARDUK, OPETH, KATATONIA
) took care of the mix and mastering at Unisound Studios (Grefrath, Germany).
RAGE – Live 2017 29.04. E Oviedo – Discoteca Sir Laurens 05.05. S Stockholm – Pub Anchor 06.05. N Oslo – Hard Rock Cafe 07.05. S Gothenburg – Sticky Fingers 12.05. I Borgo Priolo (Pavia) – Rockland Festival 03.06. D Eichstätt – Open Air am Berg 10.06. D Starnberg – Food Rock Festival, Schlossberghalle 17.06. D Duisburg – Rage Against Racism (RAGE meets REFUGE) 29.06. D Gardelegen – Metal Frenzy 02.07. E Barcelona – Rock Fest 06.07. D Ballenstedt – Rock Harz Open Air 16.07. CZ Vizovice – Masters of Rock 21.07. UA Ternopil – Faine Misto Festival 03.-05.08. D Wacken – Wacken Open Air 10.08. E Villena – Leyendas Del Rock 12.08. B Kortrijk – Alcatraz Festival 13.08. D Königs Wusterhausen – Zombie Rock Festival 02.09. D Dormagen – Zons Rockt (RAGE meets REFUGE) 23.12. D Burglengenfeld – VAZ, X-Mas Dynamite Night
MORE
Limb Music / FIREFORCE announce new album title
Posted by: Denis / 02.05.2017
---
The new
FIREFORCE
album will be called
ANNIHILATE THE EVIL
and is slated to be unleashed on mankind on September 1st, 2017.
The album was recorded and produced by the same team (producer
RD LIAPAKIS
and engineer
CHRISTIAN SCHMID
) and in the same studio (THE PROPHECY STUDIOS) as the previous releases. The cover artwork was done by
UWE JARLING
and the booklet design by
ANESTIS GOUDAS
, who also did the
DEATHBRINGER
cover.
JONAS SANDERS
, the drummer for
PROPAIN
, and a good friend of the band, was enlisted to play the drum tracks for this new album.
Be prepared for 12 COMBAT METAL tracks that will get you in their grip!
Enjoy a sneak peek of the fantastic new artwork!
MORE
Metal Blade Records / Sacred Reich announces "30 Years of Ignorance" USA tour with Byzantine as support
Posted by: Denis / 02.05.2017
---
This year, Arizona thrashers
Sacred Reich
are celebrating the 30th anniversary of their classic album,
Ignorance
. To commemorate this incredible milestone, the band is bringing their '30 Years of Ignorance' tour around the world, which kicks off in Europe in July. Following the European run, the trek will make its way to the USA in September, featuring
Byzantine
as support.
Sacred Reich '30 Years of Ignorance' EU tour dates Jul. 26 – London, United Kingdom – The Underworld Jul. 27 – Birmingham, United Kingdom – O2 Academy Birmingham Jul. 28 – Glasgow, United Kingdom – The Cathouse Jul. 29 – Belfast, Ireland – The Limelight 2 Jul. 30 – Dublin, Ireland – Voodoo Lounge Dublin Aug. 2 – Aschaffenburg, Germany – Colos-Saal Aug. 3 – Osnabruck, Germany – Bastard Club Aug. 4 – Wacken, Germany – Wacken Open Air Aug. 5 – Eindhoven, Netherlands – Dynamo Metal Fest Aug. 6 – Drachten, Netherlands – Into the Grave Fest Aug. 9 – Munich, Germany – Backstage Halle Aug. 11 – Josefov, Czech Republic – Brutal Assault Festival Aug. 13 – Kortruk, Belgium – Alcatraz Festival Aug. 16 – Dornbirn, Austria – Dornbirn Conrad Sohm Aug. 17 – Innsbruck, Austria – Innsbruck Hafen Aug. 18 – Dinkelsbuhl, Germany – Summer Breeze Aug. 19 – Essen, Germany – Turock Open Air Aug. 21 – Thessaloniki, Greece – Eightball Club Aug. 22 – Athens, Greece – Kyttaro Club
Sacred Reich '30 Years of Ignorance' USA tour dates w/ Byzantine Sept. 14 – Santa Ana, CA – The Observatory w/ Hirax, Yidhra Sept. 15 – Los Angeles, CA – The Roxy Theatre w/ Hirax, Yidhra Sept. 16 – San Francisco, CA – Slim's w/ Yidhra Sept. 18 – Denver, CO – Marquis Theater Sept. 20 – Chicago, IL – Reggie's Sept. 21 – Toronto, ON – Opera House Sept. 22 – Montreal, QC – Les Foufounes Electriques Sept. 23 – Boston, MA – Brighton Music Hall Sept. 24 – New York, NY – Gramercy Theater Sept. 25 – Philadelphia, PA – Voltage Sept. 27 – Atlanta, GA – Masquerade Sept. 28 – New Orleans, LA – Southport Hall Sept. 29 – Dallas, TX – Trees Sept. 30 – Houston, TX – Scout Bar w/ Slim Oct. 1 – San Antonio, TX – Rock Box Oct. 2 – El Paso, TX – Tricky Falls * Oct. 7 – Phoenix, AZ – Club Red *
* = no Byzantine
Formed in 1986,
Sacred Reich
is part of the second wave of Thrash, along with
Testament, Death Angel, Destruction, Dark Angel
. Over the years,
Sacred Reich
has produced a catalog of politically charged aggressive music that has stood the test of time.
Byzantine
will be touring in support of their upcoming album,
The Cicada Tree
, due out summer 2017. Heralded as the most underrated band from the New Wave of American Heavy Metal Movement,
Byzantine
recently launched a PledgeMusic campaign for
The Cicada Tree
, with every 'pledge'/purchase receiving a digital download of the tracks, plus exclusive content.
MORE
Nuclear Blast / MUNICIPAL WASTE announce new album
Posted by: Denis / 02.05.2017
---
Equipped with a crushing sound that will implode both your soul and skull, Richmond Virginia's MUNICIPAL WASTE barrel back onto the scene with their latest piece of toxic detritus, Slime And Punishment. The sixth album will be released on June 23rd via Nuclear Blast Records.

Ryan Waste states: "We've been getting punished for the last five years by people asking for a new album. Now we're here to return the favor with an aural onslaught of speed Metal punk. Enjoy a taste of slime courtesy of the WASTE."

"We're sorry this took so long", comments vocalist Tony Foresta. "That was our bad. It feels good to be back musically kicking you in the balls... and or titties."
MORE
25 albums entered into our database lately are:
1. Rosae Crucis
"new album"
2. Cancer
"Death Shall Rise"
3. Cancer
"To the Gory End"
4. Vicious Rumors
"new album"
5. Eternal Champion
"The Armor of Ire"
6. Eternal Idol
"The Unrevealed Secret"
7. Snider, Dee
"We Are the Ones"
8. Blind Guardian
"Live Beyond the Spheres"
9. Tygers of Pan Tang
"Tygers of Pan Tang"
10. Hammer King
"King Is Rising"
11. Demon
"Cemetery Junction"
12. Fireforce
"Annihilate the Evil"
13. Rage
"Seasons of the Black"
14. Bon Jovi
"This House Is Not for Sale"
15. Testament
"Brotherhood of the Snake"
16. Civil War
"The Last Full Measure"
17. Lightning Strikes
"Lightning Strikes"
18. Hensley, Ken
"A Glimpse of Glory"
19. Them
"Sweet Hollow"
20. In Flames
"Battles"
21. DGM
"Passing Stages"
22. Orden Ogan
"Gunmen"
23. Hardline
"Human Nature"
24. Custard
"A Realm of Tales"
25. Asphyxia
"Exit: Reality"

---
15 bands entered into our database lately are:
1. Cancer
2. Eternal Champion
3. Eternal Idol
4. Hammer King
5. Lightning Strikes
6. Them
7. Asphyxia
8. Zheleznyy Potok
9. Lithium
10. Winterstorm
11. Hammerschmitt (Germany)
12. Hammers of Misfortune
13. Desperado
14. Vivaldi Metal Project
15. Senat

All bands:
A B C D E F G H I J K L M N O P Q R S T U V W X Y Z Other
---
From Denis collection:
A B C D E F G H I J K L M N O P Q R S T U V W X Y Z Other