SOM DO DARMA / Psychotic Eyes to release acoustic Death Metal album in June
Posted by: Denis / 04.03.2015
---
In late 2014 the Brazilian Progressive Death Metal band Psychotic Eyes wrote a new chapter in Metal history. The band had lost its drummer and received an invitation to play an important show. Once they did not want to miss the opportunity, the idea of presenting an acoustic show seemed ideal: Death Metal played with two acoustic guitars, guttural vocals and no drums.

What seemed unlikely has become history! Never before had been an acoustic Death Metal show like that one presented at Galeria Olido in Sao Paulo. The avant-garde spirit of Psychotic Eyes gained projection in the media worldwide.

The final result was so good that get into the studio and record some songs in this format became inevitable. Olhos Vermelhos (Red Eyes in english) was the title that Dimitri Brandi (vocal/acoustic guitars) and Douglas Gatuso (vocal/acoustic guitars) have chosen for what will be the third official album by Psychotic Eyes - even being entirely acoustic - and also the first acoustic Death Metal album of the history!

Olhos Vermelhos is already being recorded at HBC Records in Guarulhos/SP with the production by Humberto Belozupko. The album will bring two unreleased tracks, Olhos Vermelhos - based on a poem written by Luiz Carlos Barata Cichetto - and Memento Mori. Will also take part of the tracklist, in new arrangements, The Hand of Fate - song that appeared on the band's self-titled debut album - besides Life and Dying Grief, both from the second studio album, I Only Smile Behind The Mask (2011).

"The recordings are awesome, the material will be fantastic", says the euphoric Dimitri Brandi. "They are just taking more time than we expected, because to record death metal with acoustic guitars is proving a much more difficult task than expected. As the guitar is an acoustic instrument, everything we do is picked up by the microphone. A guitarist and bassist used to play harder on the strings produces many cavernous noises that do not sound well in the recording. This has made the process take longer than would a recording with electric instruments, but the result is getting amazing."
Flotsam and Jetsam news
Posted by: Denis / 04.03.2015
---
Flotsam and Jetsam
are pleased to announce the first wave of confirmed club and festival dates for their upcoming 2015 European tour that's scheduled to start in May and run through August.
This tour will mark the bands' return Europe, coming off the heals of 2013's
Ugly Noise
and last year's re-recording of the band's 1988 classic
No Place For Disgrace
, which brought the band extensively through the US and Europe during 2013-2014.
Initially set to start in April, the tour was pushed out a month to May in order to allow the band time to continue writing for their new 2015 release that will feature new drummer,
Jason Bittner
(
Shadows Fall, Anthrax
), who joined the band in late 2014.
At press time, the band will begin tracking its latest untitled effort in March 2015, with more European and US tour dates to follow.
13-5 GR Metropolis Live, Patras 14-5 GR AN Club, Athens 15-5 GR Eightball Live, Thessaloniki 16-5 GR Polyxwros Agora, Ioannina 18-5 UK Underworld, London 19-5 UK Queens Hall, Nuneaton 20-5 UK Stereo, Glasgow 22-5 DE Rockhard Festival, Gelsenkirchen 24-5 BE Biebob, Vosselaar 25-5 DE Backstage, Munchen 27-5 CZ Modra Vopice, Prague 28-5 AT Viper Room, Vienna 31-5 AT PMK, Innsbruck 05-6 DE Hypothalamus, Rheine 06-6 NL Fortarock, Nijmegen 17-7 DE Bang Your Head Festival, Balingen 24-7 DE Headbangers Open Air, Brande-Hornerkirchen 27-7 NO Revolver, Oslo (w/ Death Angel) 28-7 SE Sticky Fingers, Gothenburg (w/ Death Angel) 29-7 SE Debaser Medis, Stockholm (w/ Death Angel)
MORE
Punishment 18 Records / Hyades band reveals new album title
Posted by: Denis / 04.03.2015
---
In 2014, Italian Thrash masters Hyades has signed a new record deal with Punishment 18 Records that will release their new full-length album titled The Wolves Are Getting Hungry, the fourth of their career which began in 1996.
Pure Steel Records / ST. ELMO'S FIRE wrapping up songwriting for next album
Posted by: Denis / 04.03.2015
---
PURE STEEL RECORDS recording artists ST. ELMO'S FIRE announced they are finishing up writing songs for their next album. The California based Metal band has been working on new material since late last year.

According to guitarist Jeff Jones, the album will contain between 10 to 12 new songs. Jones said, "We are extremely excited to be releasing our new music on PURE STEEL. They are one of the best metal labels around and we are thrilled to be part of their Metal family!"

The last studio recording from ST. ELMO'S FIRE was the 1992 album Desperate Years. The upcoming album on PURE STEEL RECORDS will be the bands 5th album dating back to 1986.

The album will feature original band members drummer Kris Gustofson and guitarist Jeff Jones. Mike Palombi who joined the band last year will be handling the lead vocals.

Pre-production and recording for the as of now untitled new record will begin soon in their studio in Sacramento.
MORE
My Kingdom Music / DRAKKAR present 'Run With The Wolf' lyric video
Posted by: Denis / 03.03.2015
---
Only two weeks left till the release of their new album
Run With The Wolf
through My Kingdom Music and
Italian Power Progressive
metalllers
DRAKKAR
reveal the first song (the title-track) with a lyric video
you can watch here
.
Run With The Wolf
was recorded at Elnor Studio with producer
Mattia Stancioiu
. Guests on the album include
Terence Holler
(
ELDRITCH
's vocalist),
Olaf Thorsen
(
VISION DIVINE, LABYRINTH
) and the same
Mat Stancioiu
(ex-
LABYRINTH
).
The album will be released on March 16th, 2015 in a limited digipack deluxe edition including a bonus CD titled
Coming From The Past
, with 5 classic songs from the first three albums of
DRAKKAR
re-recorded by the current lineup!
MORE
Metal Blade recording artist Slough Feg announce new drummer
Posted by: Denis / 03.03.2015
---
Slough Feg
is proud to announce the arrival of new drummer,
Addison Filipczyk
.
Filipczyk
, 25, will have big shoes to fill following in the wake of
Harry Cantwell
's departure, but after several months of rehearsal the group is confident that they are in capable hands and feet.
Bassist
Adrian Maestas
comments,
"After trying out drummers for a few months we think we've found the right guy. Welcome aboard, Addison!"
Singer/Guitarist
Mike Scalzi
gave only a short list of the new drummer's vital statistics:
Loyal Slough Feg fan since 2007 Sharp wit / keen philosophical / linguistic intellect Corrective lenses necessary when drumming / viewing oversized Metal chicks' asses Huge Heavy Metal fan, with tastes ranging from early Maiden and Priest to Budgie and Beethoven Corporate spirit with liberal incentives towards Slough Feg's prime directive
Guitarist
Angelo Tringali
couldn't be reached for comment, but his answering machine informed us that he was out in search of 'a different lime and whiskey cola.'
Addison
will make his debut with
Slough Feg
on April 16th, 2015, at the Eagle S.F. in San Francisco.
MORE
Inner Wound Recordings / Dark Sarah 'Behind The Black Veil' details revealed
Posted by: Denis / 02.03.2015
---
Inner Wound Recordings are proud to announce the signing of the cinematic
Metal
project
DARK SARAH
to the label.
DARK SARAH
is the new project from
Heidi Parviainen
(ex.
Amberian Dawn
). The debut album called
Behind the Black Veil
leads you through the psychological adventure of Sarah, who is hovering between her two personalities.
Dark Sarah
's music combines
Metal
, film music and theatrical elements. Sarah's thoughts are at best depicted in the dialogues (duets) with the guests - 'The Fate':
Manuela Kraller
(ex
Xandria
), 'The Queen of No Good':
Inga Scharf
(
Van Canto
) and 'The Moon':
Tony Kakko
(
Sonata Arctica
).
Production, orchestrations and mixing was handled by
Mikko P. Mustonen
, Pathos Music (
Delain, Sonata Arctica, Ensiferum
) and the album was mastered by
Henkka Niemisto
, Chartmakers (
Volbeat, Sonata Arctica, Korpiklaani
). The artwork was created by
Jan Yrlund
, Darkgrove Design (
Apocalyptica, Ensiferum, Sirenia
).
Behind The Black Veil
will be released on May 8th in Europe and on May 12th in North America.
Behind The Black Veil track listing Save Me Poison Apple Hide And Seek Memories Fall (feat. Manuela Kraller) Evil Roots (feat. Inga Scharf) Violent Roses Hunting The Dreamer Fortress Silver Tree Sun, Moon And Stars Light In You (feat. Tony Kakko) Sarah's Theme Memories Fall (orchestral version) A Grim Christmas Story
SHADOWKILLER signed a worldwide deal with PURE STEEL RECORDS
Posted by: Denis / 02.03.2015
---
Progressive Power
Metallers
SHADOWKILLER
from North California have signed a worldwide deal with PURE STEEL RECORDS!
The lyrics video for the song Survival
gives a first foretaste for the second album
Until The War Is Won
, which will be released soon.
MORE
Pure Steel Records / AXEMASTER official video for 'Sanity's Requiem' released! Overture To Madness preorder phase started
Posted by: Denis / 02.03.2015
---
Cult US Metallers
AXEMASTER
have released a
video for the song Sanity's Requiem
. The song is taken from the new album
Overture to Madness
, the first in 25 years, which will be released worldwide on March 6th 2015 through PURE STEEL RECORDS. The video consists of excerpts from the 1955 horror movie Dementia.
The new album of
AXEMASTER
Overture To Madness
is now available in label's webshop. Safe 1 Euro during the preorder time. The official release-date of the album is the 6th of March 2015.
MORE
Helloween new album: My God-Given Right
Posted by: Denis / 27.02.2015
---
Helloween proudly announce that 30 years after our first self-titled EP, band's 15th studio album My God-Given Right will be released on May 29th!

My God-Given Right was recorded between October 2014 and February 2015 at the bands very own MiSueno Studio in Tenerife, with long term producer Charlie Bauerfeind (BLIND GUARDIAN, HAMMERFALL) handling production and recording duties.

Once more band feels graphic guru Martin Häusler (BON JOVI, QUEEN, GOTTHARD) did an exceptional job, the artwork will also be available as a 3D Lenticular print.

Martin Häusler comments his recent creation: "We tried to built a world of ideas, keeping the 'classical HELLOWEEN' elements, like the pumpkins on the one hand and a complete new look on the other, just like we did it the years before, working on a HELLOWEEN artwork. A first inspiration came from the album title My God-Given Right and some of the song titles like Swing Of A Fallen World, Lost In America, Battle's Won etc. During my research I stumbled upon the blockbuster 'Day After Tomorrow' and the idea of just leaving the world to the 'pumpkins' was born. The most challenging part of this artwork was to have both, the Limited Edition and the 11" Earbook provided with a 3D-Lenticular-cover (a full 3D cover, visible without 3D glasses). That's the reason the entire artwork was done 'in one piece', using a 3D program... we did not want one of those 'cheap Lenticular-covers, done by converting a 2d-version', but the best possible real 3D result: So don't get any other versions – this will be a true collector's item!"

Andi states: "I never know how, but somehow we did it once again…the albums really rocks and kicks some major ass!!! We had the best folks with us to make this possible. Producer Charlie Bauerfeind and Martin Häusler, who made a massive 3D artwork this time, WITHOUT stressing the whole color range ;-)"

Adds Michael: "... this proves what a bit of snow not only is able to, but really causes! I personally hate snow and the cover shows that too much of everything is never good. Just like Andi, I'm very happy about the new album."
MORE
BATTLE BEAST PARTS WAYS WITH ANTON KABANEN
Posted by: Denis / 27.02.2015
---
After long and heavy consideration, Battle Beast has decided to go separate ways with guitarist Anton Kabanen. This is due to musical disagreements and various other unsolvable issues within the band. Kabanen has stated he will be continuing making music with other projects. The band will not giving interviews concerning the topic.

On the upcoming tour dates the lead guitar duties will be handled by a temporary replacement. Any details considering permanent replacement for mr. Kabanen will be decided in the future. During the upcoming spring Battle Beast will tour as a headliner in Finland, Russia, Japan, Sweden and Germany. The band is already preparing new material for the upcoming fourth album.

A sad day for everybody involved, Battle Beast wishes Anton all the best in his future projects.
MORE
METALMESSAGE Promotion / NOTHGARD (Epic Melodic Death Metal from Germany) new Guitar Hero / Frets On Fire video file of 'Blackened Seed'
Posted by: Denis / 26.02.2015
---
German epic Melodic Death Metal
virtuoso
NOTHGARD
released a new
Guitar Hero / Frets On Fire
video file of their song
Blackened Seed
.
It can be seen here.
Zip-file to Download for play is here.
Guitarist
Dom R. Crey
says about:
"From the very beginning I was fascinated by Frets On Fire (PC) and Guitar Hero (game console). I always wondered how hard such a game could be, while spending hours in front of the goggle-box. This is why we came up with the idea to create our Frets On Fire – Nothgard songs. Just because we thought this would be fucking cool. Now we have 2 songs from our latest record to download. The first one can be found above. Everybody should check it out. We wish a lot of fun and patience. I still can't play the songs in the game."
Century Media / Sanctuary announces new guitar player Nick Cordle for European tour
Posted by: Denis / 26.02.2015
---
The 2014 comeback album, The Year The Sun Died, from the legendary Seattle band SANCTUARY took the Metal world by storm. The four original band members - Warrel Dane (vocals, ex-NEVERMORE), Lenny Rutledge (guitars), Jim Sheppard (bass, ex-NEVERMORE) and Dave Budbill (drums) - proved to be still on top of the game with an album that pleased every old fan without sounding old fashioned.
<
Now, SANCTUARY is proud to announce the next chance to witness old and new songs live in Europe! The tour starts with a very special show in London before they join the mighty OVERKILL on a couple of mainland shows while finishing the trip with two headlining gigs in Greece.

The live line-up will be completed by the guitar talent of Nick Cordle. Lenny Rutledge comments: "Brad Hull has recently parted ways with SANCTUARY. We are excited to welcome Nick Cordle from ARCH ENEMY and ARSIS to the SANCTUARY team. Nick is an amazing musician and we believe he will bring a fresh energy to the line-up. You can see Nick Cordle with SANCTUARY this March touring Europe on the Killfest tour."

Nick Cordle adds: "It'll be a great pleasure to join SANCTUARY on tour in Europe! I've admired the band for a long time and The Year The Sun Died is a breath of fresh air. It's a welcome challenge to work up these songs and I'm excited to get moving!"
MORE
Frontiers Records / WHITESNAKE RETURN WITH THE PURPLE ALBUM
Posted by: Denis / 26.02.2015
---
Rock icons Whitesnake are set to return with their 12th studio album this spring. The Purple Album will be released in Europe on May 15th and in North America on May 19th via Frontiers Music SRL. The Purple Album is a re-imagination of classic songs from David Coverdale's time as the lead singer for Deep Purple's Mark 3 and Mark 4 studio albums. The album is currently available for pre-order in various configurations on Amazon: a standard edition, a deluxe edition featuring 2 bonus tracks, 4 music videos and a Behind The Scenes feature the recording of the album and in a double LP vinyl format. Plans are also underway for a special limited box set edition with memorabilia and merchandise.

"It's a tribute. A homage. It's a huge thank you from me to Deep Purple for the opportunity I was given over 40 years ago," states Coverdale. "As I said to Ritchie, you guys set me on an incredible journey that continues today and I couldn't have asked for better teachers. The University of Deep Purple was an extraordinary, amazing school to learn from. We can't wait to play these songs in concert!"

From the opening notes of the classic track Burn, to album closer Stormbringer, Whitesnake are back and better than ever. Songs like Lady Double Dealer, Soldier of Fortune and Sail Away are given a new energy in the very capable hands of the current Whitesnake lineup featuring David Coverdale on vocals, Reb Beach and Joel Hoekstra on guitars, Michael Devin on bass and Tommy Aldridge on drums.
MORE
Punishment 18 Records / Raging Death new song available for streaming
Posted by: Denis / 25.02.2015
---
The new self titled album from
Polish Thrash
metallers
Raging Death
will be released next spring by italian label Punishment 18 Records. Available on-line on YouTube the new song titled
Evil Command
.
Raging Death
play an
old school Thrash Metal
influenced by
80s Teutonic Thrash scene
.
Cruz del Sur Music / SACRAL RAGE debut new track
Posted by: Denis / 25.02.2015
---
Stereogum.com has premiered
En Cima Del Mal
, a new track from upcoming
SACRAL RAGE
album
Illusions in Infinite Void
.
"...astonishing riff-centric brilliance of Sacral Rage, a Greek Speed Metal band that has stumbled upon (or, more likely, slavishly labored to create) an album's worth of ingenious riffs on its debut, Illusions In Infinite Void. The band owes a stylistic debt to forgotten Progressive Metal legends Watchtower, but Sacral Rage soundly trump their heroes by writing songs you'll actually want to revisit. Like Watchtower, the vocals are an acquired taste, but air-raid falsetto screams have never had better musical accompaniment than this. En Cima Del Mal shows the band at its catchiest: lead guitars writhe over subtle shifts of rhythm, but the hooks are front and center and the Heavy Metal thunder is strong. Most importantly, the riffs are godlike: explosive, exploratory, and perfectly crafted..."
(stereogum)
Illusions in Infinite Void
will be released March 10 in North America and March 21 in Europe.
KAMELOT announce release date for new album 'Haven'. Artwork and track listing revealed
Posted by: Denis / 24.02.2015
---
Symphonic Metal masters KAMELOT return after 2 years of touring the globe and 12 months of intense writing and recording. In mid-2014 the band entered the studio to begin recording their follow-up to the highly acclaimed chart topping album Silverthorn. The new album titled HAVEN will make KAMELOT history as it will be released worldwide (excl. Asia) on Napalm Records/Universal and Napalm Records/ADA/Warner as an exclusive licensing deal through the band's KAMELOT MUSIC LLC on May 5, 2015 (North America) and May 8, 2015 (Europe and rest of the world) and will showcase KAMELOT at their finest!

Now the breathtaking artwork, track listing and official release dates have been unveiled. HAVEN will be available to pre-order in multiple exclusive and limited bundle packages at the Napalm Records American & European Webstore – starting Thursday, February 26, 2015.

It's time to step into the cinematic, epic and emotionally dynamic world of HAVEN. The new album features all the signature elements of KAMELOT but the band steps out to add new and modern elements along with bringing some amazing emotions that harken to the band's earlier days. KAMELOT's artsy music is chock full of symbolism relating to how the band feels about the world and the current state of civilization.

"The HAVEN album has an undertone of a world going insane. There is a grey cloud that is forming over our world. We are here to find that silver lining with an album that is both dark and melancholy yet uplifting and giving the listener a HAVEN in a world gone mad. We are really proud of the song elements and diversity on HAVEN" – adds guitarist Thomas Youngblood. "The songs run the gambit of dark and melancholy to uplifting and melodic elements." – states vocalist Tommy Karevik.

"Haven has an aggressive edge to it that is the representation of the band as The Revolutionary Change in the storyline." – Kamelot's Oliver Palotai tells us.

Produced by acclaimed music producer Sascha Paeth and mastered by Jacob Hansen, HAVEN is a massive album that is sure to please critics and fans alike. Additional guests include Alissa White-Gluz (Arch Enemy), Troy Donockley (Nightwish) and Charlotte Wessels (Delain). The breath-taking cover and artwork was created by Stefan Heilemann and additional art/layout was done by Gustavo Sazes.

Following the release of HAVEN, Kamelot will embarque on a massive WORLD TOUR, starting with North America in April/May 2015 followed by European shows in the Summer 2015 and with The Haven European Tour in September/October 2015 the band will return to Europe for their biggest headliner tour to date.
MORE
Century Media / Angelus Apatrida launches new video for 'Serpents On Parade'
Posted by: Denis / 24.02.2015
---
Thrash metallers
ANGELUS APATRIDA
continue to promote their much acclaimed new and 5th album,
Hidden Evolution
, which entered the national sales charts in the band's home of Spain at an amazing #2 spot. To showcase the band's relentless energy on stage,
ANGELUS APATRIDA
has now launched a
promotional video for the track Serpents On Parade
, which was edited by
Nacho Montero
and produced by
Holy Cuervo
, and features footage from the Hidden Evolution record release shows in Spain last month.
MORE
Metal Mind / Tank reveal the title and release date of their new album
Posted by: Denis / 24.02.2015
---
Metal Mind Productions extended the recording deal with the British Heavy Metal legend TANK. Through the years, Metal Mind have re-released the band's back catalogue and released their recent albums War Machine (2010) and War Nation (2012).

TANK's forthcoming album titled Valley of Tears is scheduled for release on June, 8th in Europe and June, 9th in North America (via MVD).

Cliff Evans, TANK's guitarist, comments: "The title comes from the famous Tank battle during the 1973 Yom Kippur War where one side was massively outnumbered but fought on regardless and against all odds secured a heroic victory. We feel that our style of Metal is slowly disappearing and now we must also fight against the odds to keep it alive. We hope Valley of Tears will inspire other bands and fans alike to never forget what real Metal is all about. The Mighty Tank Rolls On!"
MORE
Napalm Records / POWERWOLF announce tour supports for Wolfsnächte 2015
Posted by: Denis / 24.02.2015
---
POWERWOLF
is happy to announce that they have gathered a great lineup for the upcoming 'Wolfsnächte tour 2015'!
The wolves will be accompanied by
German Power
metallers
ORDEN OGAN
, Swedish troopers
CIVIL WAR
(Ex-
Sabaton
Members) and German/Dutch symphonic metallers
XANDRIA
. This tour package features a wide variety of
Melodic
and
epic Metal
, and it is damn sure these nights – headlined by the biggest
POWERWOLF
stage show to date - will be truly unforgettable.
Tour dates in London, Paris and Straßbourg have been confirmed and more dates of the WOLFSNÄCHTE 2015 tour will be announced soon.
Upcoming POWERWOLF Shows & Festivals: 29. - 30.05.15 SE - Örebro / Metallsvenskan 11. - 13.06.15 CH - Interlaken / Greenfield Festival 12. - 14.06.15 AT - Nickelsdorf / Nova Rock 20.06.15 NL - Dokkum / Dokkem Open Air 10.07.15 AT – Salzburg / Rockhouse 11.07.15 CZ - Vizovice / Masters Of Rock 18.07.15 HU - Budapest / Rockmarathon 24. – 26.07.15 ES – Barcelona / Rockfest 30.07.15 - 01.08.15 DE - Wacken / Wacken Open Air 08.- 09.08.15 BE – Kortrijk / Alcatraz Metal Festival 13.08.15 - 15.08.15 DE - Dinkelsbühl / Summer Breeze 28.08.15 DE - Schleswig / Baltic Open Air
Wolfsnächte-Tour 2015: (supports: Orden Ogan + Xandria* + Civil War**) 04.09.15 DE – Speyer / Halle 101* 05.09.15 DE – Köln / Live Music Hall* 09.09.15 UK – London / 02 Academy Islington* 10.09.15 FR – Paris / Trabendo* 12.09.15 FR – Strasbourg / La Laiterie* 01.10.15 DE – Bremen / Aladin 02.10.15 DE – Oberhausen / Turnbinenhalle* 03.10.15 DE – Hamburg / Grosse Freiheit* 22.10.15 DE – Berlin / C-Club** 23.10.15 DE – Leipzig / Hellraiser** 24.10.15 DE – München / Backstage** 29.10.15 DE – Ravensburg / Oberschwabenhalle** 30.10.15 DE – Geiselwind / Music Hall** 31.10.15 DE – Stuttgart / LKA Longhorn** 07.11.15 DE – Saarbrücken / Garage*
MORE
Stormspell Records / TERMINUS
Posted by: Denis / 24.02.2015
---
The time has come to unleash a pilot tune from upcoming TERMINUS debut album entitled The Reaper's Spiral. Epic Metal with sci-fi flare from Northern Ireland. I don't like to brag about my own releases, so let me make a prediction instead - this album will show up on many top-10 lists come the end of the year, mark my word folks, it is that good, and then some!

Coming 2015 on Stormspell Records (CD) and Horror Records (LP & MC).
Raven new album, new song online
Posted by: Denis / 20.02.2015
---
ExtermiNation
will be released in Scandinavia on April 22nd, in Germany on April 24th, in Europe on April 27th and in the USA on April 28th as a digipak version (incl. 1 bonus track), 2LP gatefold green vinyl version and download through SPV/Steamhammer.
In commemoration of
Bon Scott
's death 35 years ago,
RAVEN
release a snippet of their new song
Thunder Down Under
.
RAVEN live 2015: 06.03. MX-Mexico City - El Circo Volador 07.03. CO-Bogota - Thrash La Union Festival 08.03. CO-Pereira - Thrash La Union Festival 11.03. PE-Lima - Wairuru Club 27.03. FI-Helsinki – Club Pkrl 28.03. B-Genk – Iron Steel Fest 31.03. D-Hamburg – Hafenklang 01.04. D-Bremen – Meisenfrei 02.04. D-Oberhausen – Helvete 03.04. NL-Helmond – Cacaofabriek 04.04. NL-Staadskanal – Very Eavy Fest
MORE
High Roller Records / AKTOR Paranoia out now
Posted by: Denis / 20.02.2015
---
There is just no stopping Chris 'The Professor' Black. With High Spirits and Dawnbringer he has created some of the best and most unconventional Heavy Metal music around today. Chris' newest baby is called Aktor. To be precise, it is a collaboration between him and two Finish guys, Jussi Lehtisalo and Tomi Leppänen. The busiest man in Metal explains: "Jussi Lehtisalo and I got in contact around 2006 and found we had a mutual admiration for each other's creativity. We traded a lot of music during the next few years and the idea of doing some music together came up fairly early. We met face-to-face at Keep It True 2008, and we talked about it even more. We tried a few things earlier, but one day in 2012, Jussi sent me the instrumental tracks for what became our debut 7" single, and we were all hooked. We never discussed our musical direction so much as discovered it. Jussi Lehtisalo and Tomi Leppänen have made quite a lot of music with Circle, Pharaoh Overlord and a lot of other projects. It is a big honor for me to be working with them."

Paranoia is the name of the band's first album. "It's not a concept piece, but much like paranoia I feel that Aktor's music should inhabit the early stages of madness," explains Chris Black the title of the record. It's out on High Roller Records but there was another legendary label very much interested in signing Aktor: "That's true, we did have some preliminary interest from Metal Blade, but they were too slow to make a hard offer. We were off and running with the album sessions, and when High Roller expressed interest, it was very straightforward to complete the deal."

It is fair to say that Aktor is probably more hard rock, maybe more 70's, including keyboard sounds and hammond, than any other projects Chris Black has been involved in so far. "Yeah definitely," he agrees. "I think Aktor incorporates a lot of psychedelic rock and even classic rock compared to my other releases. Jussi and Tomi have a much broader musical taste and experience than myself, so I trust them to guide the music and the types of sounds we will use. Maybe in terms of the range of sounds, Aktor is the most experimental band for me, although I did make a lot of primitive psychedelic music as a teenager. Jussi and Tomi, however, have been extremely prolific in the realm of experimental and avant-garde album-making. Compared to some of their other music, Aktor is like Top 40! Of course they've done a lot of radio-influenced stuff as well. Their dedication to music-making is very inspiring to me."

So from these words it should be clear that Aktor is not 'another Chris Black solo project'. Some of the songwriting, however, does seem to bear his mark, most of the songs are straight to the point, reduced, basic and very, very catchy... "Catchy, yeah," confirms Chris. "We keep it short and a bit repetitive, I suppose. Again it's the Finns who are the main songwriters. I write my own parts, which means the lyrics, the vocal melodies, and the bass lines. So yes, the songs have my stamp as well, but they are already underway when I join the process. I think all three of us in Aktor agree that we are basically a pop band, if a very heavy one at times, and this is our main songwriting philosophy. Sometimes we will have an extended guitar solo or something like this, but for the most part everything is kept very basic as you said." According to Chris, the actual songwriting process for Paranoia went like this: "For this album the process began with Jussi and Tomi doing a home demo of guitar and drums. From here we discussed some things about the basic song structures. Then the guys went to their cottage studio with the recording engineer and recorded the real versions of the songs. This was drums, guitar, some basic keyboard stuff, and acoustic guitars. Then I added my bass tracks and then my vocals on my own here in Chicago. I did a lot of 'doubling' and unison singing that I hadn't done before. I used many of the same techniques on the latest Dawnbringer LP as well. It gives a more atmospheric and slightly tense characteristic to the vocals. The tracks then went back to Finland for the last layer of synths and guitars, and then the recording engineer mixed everything. It was a really fun and smooth process, and I hope we get the chance to do it all again!"

Some of the lyrics to songs such as Devil And Doctor, Six Silver Suns or I Was The Son Of God do seem very mysterious, pretty psychedelic even. "Yes, there's a lot of 'mistaken identity' going on in the lyrics for this album," says Chris. "I guess it all goes back to when Motörhead said: 'One of us is crazy and the other one's insane.'"

Although the material on the album is quite 'progressive', the song lengths are rather concise. Could Chris imagine Aktor playing a 16-minute long epic, following in the footsteps of Rush? "I don't think so," is his honest answer. "I don't really have the urge for such songs, and the other guys have done some great epics with Circle and Pharaoh Overlord. For example, have you heard the Circle song Suddenly? It has the vocalist Bruce Duff from Jesters of Destiny. Really powerful track! So, I think for now with Aktor, we stay within the pop format. We've done very little discussion about our creative plans. I think we are just trusting our instincts and trusting each other to help push."
High Roller Records / RACE AGAINST TIME Time Waits For No Man out now
Posted by: Denis / 20.02.2015
---
Along with Radium, Paralex and Hell, Race Against Time were members of the 'East Midlands Band Co-Operative', a loose association of bands helping out each other during the turbulent period of the New Wave Of British Heavy Metal. Radium, Paralex and Hell all issued their own vinyl singles. Not so Race Against Time, who during their lifespan between 1978 and 1983 only managed to place their superb Bedtime number on the New Electric Warriors compilation. Bassist Al Short explains: "We had a deal to release Bedtime as a single on a three-track EP but we were let down quite badly at the last moment. To make up for the ill-fated single release we issued a three-track cassette demo, which featured the alternative arrangement of Bedtime that we include on Time Waits For No One, and also Harbinger Of Death and Bleed You Dry. The other songs on the album were either older sessions (a couple I think for Trevor Dann's BBC Radio Nottingham Rock Show) or songs that we were considering as follow-ups to the EP (i.e. Nothing To Fear). The two instrumentals on the album were pretty much jammed live at the end of one of the sessions – to use up our studio time!"

Race Against Time was formed in Chesterfield/Matlock from the remnants of two club bands, namely Captain Hippo and Heavy Water. Al Short played in both of those bands whilst he was still at school, from the age of about 15. The singer in Race Against Time was David Halliday, who later went on to form Hell. This is how the band actually evolved: "I came across an ad that Dave had placed in a music store window – he was looking for a band after his own band, Skint, had folded, and at that time I was looking for a more ambitious band capable of writing original material. Dave and I formed a four-piece band at first, with a drummer I had played with previously and trying out various vocalists, but we soon realised that three would be better – Dave was already singing lead on the new songs we were writing by then. Each member of a three-piece has to be pretty exceptional though, and it wasn't until we met drummer Geoff Green that we felt we could hack it with just three. Geoff had the technique, energy and ability to make it work."

"We were a relentless gigging band and we played anywhere and everywhere we could get a gig," continues the bassist. "We'd have played at a bus stop if they'd had power sockets. On average we'd gig once or twice a week but as we built a stronger following we would string together concentrated tours of gigs, with a few weeks break to work on new songs and new elements for the show. And then we did it all again!"

As mentioned earlier, before forming Hell, David Halliday was the frontman for Race Against Time. He committed suicide in 1987 and is sadly missed. Al Short remembers: "Dave actually didn't like to be thought the band leader – he was very democratic! He would've been the first to tell you that we shared all duties, from songwriting to band management. Even now, our songwriting credits name all three of us on every song we ever did, because that's how we felt it should be – we each contributed our part and more besides. Dave was such a striking frontman but he was a great believer in stuff like, for example, me doing all the talking between songs, and drums and bass-driven instrumentals and solos in our show to reiterate the equality angle. Both of those examples were Dave's idea. I think Hell was a natural progression for Dave as he went on to explore his darker side but, within Race Against Time, our musical sensibilities seemed to compliment each other nicely, and that translated into something which was very ambitious musically – possibly even a little ahead of it's time. The Time Waits For No One album is dedicated to Dave's memory, certainly, but it's actually a tribute to the fans, and to some extent, the era – we think Dave would've liked that."

In Race Against Time bassist Al Short wrote most of the lyrics to songs such as Nothing To Fear, Bedtime or Bleed You Dry on his own. He elaborates: "Looking back it was probably because I was more prolific in my writing, not because my lyrics were better than anyone else's! Songwriting duties were split amongst the three of us though. Dave did write lyrics, but he would focus more on the riffs and arrangements. He had a great vision for which of our strange and disparate ideas would sit well together. Bedtime was a bit of fun, a joke against ourselves as shallow young men. It started out as a warm-up song for rehearsals – we didn't put it in the set for years! Nothing To Fear is about instinctive human fears – no matter how we rationalise them, we will never be rid of them. Bleed You Dry is often mistaken as a rant against punk, but actually it was a dig at some musician friends of ours who jumped on the punk bandwagon purely to make money. Good musicians who began playing badly and singing in fake 'Cock-er-neee Lahndan' accents – when they were Derbyshire-born like us! We lost a little professional respect for them, as you may have gathered!"

As for influences when originally forming Race Against Time, Al cites a very broad spectrum: "We loved Rush! When I first met Dave he had more blues-rock influences than I did – he was a total Led Zep fan but also introduced us to bluesy rockers such as ZZ Top, Stevie Marriott, Montrose, MC 5 etc. I was all about Sabbath at that time, the heavier the better, and I also avidly went to see gigging bands on the live circuit such as Strife, Snafu, The Heavy Metal Kids et al. Strife in particular were amazing live. Geoff had the most eclectic taste of the three of us and listened to everything from Jethro Tull through Zappa and Weather Report to the most obscure jazz you could find. Seventies hard rock in general was a big influence, definitely – from Slade and T. Rex to Alex Harvey, Free, Dr. Feelgood – so many great talents. I liked a lot of what came out of the punk era too, especially Elvis Costello – I still do – but none of us were impressed by the trend of taking pride in poor musicianship. That never sat well with us, and was a pretty short-lived ideal within punk itself actually – you can't hold a good musician's ego down."
Scarlet Records / BAND OF SPICE DEBUT ALBUM 'ECONOMIC DANCERS' OUT IN APRIL
Posted by: Denis / 19.02.2015
---
Legendary Swedish singer/songwriter Spice (Spiritual Beggars, Kayser) returns with a new band and a new album. Here is how Spice himself commented:
"When I wrote these songs I was listening a lot of music from the end of the Seventies and the early Eighties. As we recorded them, the songs came out quite smooth, organic and melodic, with a touch of 'dirt' I would say. This time, instead of renting a studio to record the album, as we did with the previous albums, we decided to build our own studio. We felt that we needed the time to get it right. We didn't want to rush it. We wanted to fill the songs with just the right amount of warmth, love and justice. The lyrical concept is about abuse, hope, hopelessness, weakness and strength. To try to live life without safety nets and still be able to stay sane. I hope you will enjoy it."

Economic Dancers is the confirmed title for the album, and Band Of Spice is how these five amazing musicians like to call themselves. The album will be available starting from April 28th, 2015.
Nuclear Blast / ENFORCER 'From Beyond' album trailer released
Posted by: Denis / 19.02.2015
---
Swedish Heavy Metal
foursome
ENFORCER
will release their upcoming new album
From Beyond
on February 27th (EU), March 2nd (UK) and April 7th (US) via Nuclear Blast. The fourth
ENFORCER
record comprises ten new tracks, all produced, mixed and mastered by the band itself.
Enjoy the new album trailer, featuring statements and some new song excerpts.
From Beyond
will be released on a limited edition digipak, as well as on vinyl in different colors.
MORE
Massacre Records / SCANNER 'The Judgement' Video
Posted by: Denis / 19.02.2015
---
SCANNER
released their well received new album
The Judgement
last month.
The band has now released the
official video clip
for the album's title track, which was directed by
Wayne A. Graves
,
Ursula Deja
and
Axel Julius
.
MORE
Massacre Records / MESSENGER new album
Posted by: Denis / 19.02.2015
---
The space pirates are back and have got a special something for their fans: the new album Captain's Loot!

The album will feature original songs by MESSENGER as well as covers of bands like Helloween or Dio and was produced and mixed by Rolf Munkes, Charles Greywolf and Lasse Lammert.

Wiebke Scholz is once again responsible for the cover artwork.

Metal legends Jutta Weinhold (ex-Zed Yago) and Preacher (ex-Running Wild, The Gate) are confirmed as guest musicians on Captain's Loot!

MESSENGER's Captain's Loot will be available as limited edition digipak as well as vinyl LP and is set to be released on March 27, 2015 via Massacre Records!
MORE
Cruz del Sur Music / SACRAL RAGE's 'Illusions in Infinite Void' set for March 10 North American release
Posted by: Denis / 19.02.2015
---
Illusions in Infinite Void
, the debut full-length from
Greek Heavy Metal
force
SACRAL RAGE
will be released in March 2015 (March 10 in North America and March 27 in Europe) on Cruz Del Sur Music.
Illusions in Infinite Void
is a monumental piece of
Metal
from start to finish. Indeed it's an ever-changing
Metal
vortex with countless rhythmic-changes and no weak moments, a tense state of aggression in which singer
Dimitri
's excellent performance and the textured guitar lines stand out. The band plays
U.S. style Metal
with some European influences. Acts such as
JAG PANZER, ANNIHILATOR, MERCYFUL FATE, JUDAS PRIEST, WATCHTOWER
, and
RUSH
are major influences. Lyrics about horror, supernatural, dark fantasy, soul searching, forbidden religions, perfectly match the band's dark, aggressive, technical and paranoid music.
On
Illusions in Infinite Void
, the band proves to be more than just a mere replica of the most influential bands of the Golden Age of (especially)
U.S. Metal
. Hand in hand with a granitic rhythmic session, their songs turn, change and evolve endlessly into a wide variety of riffs, screams and roars!
SACRAL RAGE
have undoubtedly written one of the most inspired releases of 2015.
The tracklist is: Harbinger En Cima del Mal Lost Chapter E.: Sutratma Panic in Urals (Burning Skies) Waltz in Madness Into Mental East Inner Sanctum Asylum A Tyrannous Revolt Lost Chapter E.: Amarna's Reign
NEX CARNIS SIGNS FOR NIGHTBREAKER PRODUCTIONS!
Posted by: Denis / 18.02.2015
---
Nightbreaker are proud to announce that
NEX CARNIS
from Iran join label's roster!
Nex Carnis
was found by
Incruent
in spring 2012 with the aim of creating dark and twisted
Death Metal
in an old school vein. Soon
Asto Vidatu
joined the band as the vocalist and
Nex Carnis
recorded two demo tracks in the studio: it was impossible to find proper bassist and drummer in the local scene, so the bass lines were recorded by
Incruent
and drums were programmed. As a rough start, the final result was not satisfying enough for the band, but it helped to move the band forward with more experience.
The composition of new material started after the demo release. In the middle of 2013,
Nex Carnis
recorded two new demo tracks to find a drummer abroad, because none of local drummers could handle the speed of intensity of the band's music. After negotiating with some drummers interested in cooperation, finally talented Czech drummer
Jirka Zajic
announced his sheer interest in working with the band. In the middle of album's songwriting sessions a new bassist joined
Nex Carnis
and collaborated in composing one of the songs, but he left the band before recording. The new material sounds tighter, darker and deeper.
Nex Carnis
combines
Death Metal
roots with an experimental touch to create its unique style.
Currently the first full-length of the band entitled
Obscure Visions of Dark
is in the mixing and mastering process and it will be released by
Nightbreaker Productions
in May 2015.
METALMESSAGE Promotion / NORTHLAND Lyric video 'When Nature Awakes'
Posted by: Denis / 18.02.2015
---
Spanish FOLK DEATH METAL
masters
NORTHLAND
proudly present the lyric video for
the opening track
of their new successful album
Downfall And Rebirth
.
The clip for
When Nature Awakes
has been created by graphic & video artist
Frederic da Veins
.
AFM Records / Eden's Curse official Live video clip 'Rock Bottom' available
Posted by: Denis / 18.02.2015
---
After four successful studio albums, March 13th marks the arrival of the first ever Live album by
Melodic Hard Rock / Metal
masters
EDEN'S CURSE
.
Live With The Curse
was recorded on November 27th in Glasgow, Scotland and comes as 2-CD with 100 minutes playing time.
A promo clip for the track Rock Bottom is available now.
MORE
AFM Records / Elvenking Lyric Video 'The Solitaire' online
Posted by: Denis / 18.02.2015
---
Italian Folk Power Metal
icons
ELVENKING
have unleashed a brand new
lyric video for their song The Solitaire
(taken from their newest album
The Pagan Manifesto
).
Also, the band announces that
ELVENKING
and AFM Records have extended their contract and will work on some new exciting projects together in the next years.
MORE
Intromental / CØNSTANTINE
Posted by: Denis / 18.02.2015
---
Intromental Worldwide is proud to announce its new signing,
Finnish Metal
band
CØNSTANTINE
. The depth and the diversity in their material convinced us that this was a band we had to work together with - a band that are not only true to their roots in classic
Progressive Power Metal
, but also have a fresh and unique look towards the future. Check out their
video for the song Remedy
and you'll see (and hear) what Intromental Worldwide're referring to. Currently the band is hard at work on recording their third full length album, which we will be shopping around to the record labels in just a few months. Intromental are expecting a lot of good things from this cooperation.
Stormspell Records / BLAZON STONE
Posted by: Denis / 17.02.2015
---
Another 'bonus' track
showcasing the new
BLAZON STONE
vocalist
Joro Peychev
(
The Outer Limits
,
Moshpit Justce
) is available.
Please note this track would not be featured on the album and does not represent actual production quality (the album will be recorded properly with real drums and everything).
MORE
Pure Steel Records / TRAUMA official video 'When I Die' from the upcoming comebackalbum 'Rapture And Wrath'
Posted by: Denis / 17.02.2015
---
The comeback album
Rapture And Wrath
of
US Metal
heroes
TRAUMA
will be released via PURE STEEL RECORDS on 27th of February 2015. The first
official video of banger When I Die
was recently released.
MORE
Punishment 18 Records / Mindwars release 'Final Battle' lyric video
Posted by: Denis / 17.02.2015
---
International
Thrash Metal
band
Mindwars
released its debut full-length album,
The Enemy Within
, in 2014 by Italian label Punishment 18 Records.
The new lyric video for
Final Battle
song
can be found here
.
Higher and Primator: new music videos from the Brazilian Heavy Metal bands
Posted by: Denis / 16.02.2015
---
Metalheads from all around Brazil were connected on the Brazilian television last week for the premieres of the new videos of the bands
Higher
and
Primator
.
Formed by professional musicians with successful careers on the Brazilian jazz scene, the group
Higher
has called attention from the press and public in Brazil with its unique and difficult to label type of
Heavy Metal
.
Its self-titled debut album was released last year and was considered one of the 'Best Albums from 2014' by many respected music journalists from Brazil.
Lie
is the band's first music video and it's already available on the
band's official Youtube channel
.
Primator
is a new Brazilian traditional
Heavy Metal
band from Sao Paulo. Its debut album,
Involution
, will be released in March and was inspired on Darwin's 'On the Origin of Species' and on other thinkers from philosophy and psychoanalysis. The album will bring the tracks
Primator, Black Tormentor, Deadland, Flames of Hades, Erase The Rainbow, Caroline, Let Me Live Again, Face The Death, Praying for Nothing
and
Involution
.
Face The Death
is the band's first music video and it's already available on the
band's official Youtube channel
.
Nuclear Blast / NIGHTWISH 'Élan' available now & video
Posted by: Denis / 16.02.2015
---
The first single
Élan
of the new
NIGHTWISH
album
Endless Forms Most Beautiful
, which will be out on March 27th (EU), 30th (UK) and 31st (US), is available now.
The release is also celebrated with
the video clip for Élan
. It was shot in Finland at various locations between September and November 2014, directed by
Ville Lipiäinen
.
Tuomas Holopainen
commented:
"The long awaited NIGHTWISH music video Élan is finally here. Inspired by the untold stories of abandoned places around Finland, the video was nearly a year in the making and features some of the most loved Finnish actors and actresses. And also the legendary NIGHTWISH symbol, a snowy owl (Bubo Scandiaca in Latin) called 'Urho' ('Braveheart')."
The 4-track single features the album version, radio edit and an alternate version of
Élan
, as well as the non-album bonus track
Sagan
.
MORE
SATYRICON signs with Napalm Records for DVD release
Posted by: Denis / 16.02.2015
---
Norwegian Black Metal
legends
SATYRICON
have signed a worldwide deal with Austrian Metal label Napalm Records for release of their upcoming DVD
Live At The Opera
!
Mastermind
Satyr
about the story behind
Live At The Opera
:
"The whole thing started with us doing one song, To The Mountains a year and a half before the actual show. We performed at a closed event in the main hall of the opera with the Royal Norwegian Opera Chorus. It was very inspirational. I then said to the conductor that I would love to do a whole show like this. He loved the idea, I was serious about it, and he was serious about it.

We spent approximately one and a half year working with composer and arranger Kjetil Bjerkestrand on the choral arrangements. When I picked songs, I was not necessarily looking at only songs suitable for choral arrangements or typical in the Satyricon live set. For me, it had to be a combination. If you look at songs like Die By My Hand, it's pretty obvious we'll want to use a choir for that because it has a choir on the record too. On the other hand, there were other things I had to consider. For example, K.I.N.G. is probably the most famous Satyricon song ever – and not necessarily a song I can imagine with choral arrangements. But just because people hear it more or less the same way always, I thought it would be interesting to take that song and give it a totally different vibe for this one time. And it`s also interesting to see if we can work it around the structure of a song that is more or less straightforward.

For something that we planned for so long, put so much work into, and something this unique – of course it would be nice to film it and record it. But I made it very clear to the people around Satyricon that I'm not going to turn this into a recording session where you can buy tickets. When you hear or or watch this recording you should feel like you're there.

This is not Satyricon – Best Of from the Opera, this is a show! The perfect parts need to go in there, but also the parts that are not so perfect. That's the nature of it, that`s the real deal. It's not a live album. It's a celebration of what Satyricon stands for as a band."
Live At The Opera
is set to be released in Europe on May 1st & on May 5th 2015 in North America via Napalm Records. This upcoming release will contain the full performance DVD and double CD of this exclusive and very special concert by the legendary
Satyricon
.
To celebrate their upcoming DVD release,
SATYRICON
will be hitting the road for an extensive European tour. Catch them live on the following dates:
21.02.2015 NOR – Bergen / Blastfest 04.04.2015 NL – Nijmegen / Doornroosje 05.04.2015 FR – Oignies / Le Metaphone 06.04.2015 FR – Paris / La Machine 07.04.2015 UK – Manchester / Sound Control 08.04.2015 UK – London / Scala 10.04.2015 BEL – Durbuy / Durbuy Rock Festival 11.04.2015 GER – Bochum / Matrix 12.04.2015 GER – Wiesbaden / Schlachthof 13.04.2015 CZ – Prag / Akropolis 15.04.2015 GER – Munich / Bachstage Halle 16.04.2015 CH – Pratteln / Z7 17.04.2015 FR – Montbéliard / Impetus Festival 18.04.2015 IT – Pordenone / Deposito Giordano 19.04.2015 AT – Vienna / Szene 21.04.2015 PL – Warsaw / Progresja 22.04.2015 GER – Berlin / SO36 23.04.2015 GER – Leipzig / Werk 2 24.04.2015 GER – Hamburg / Markthalle 25.04.2015 SE – Malmö / KB 26.04.2015 SE – Stockholm / Nalen 19.06.2015 FR – Clisson / Hellfest
MORE
Metal Blade / DragonForce 'In the Line of Fire' DVD, new video, and massive contest unveiled
Posted by: Denis / 13.02.2015
---
Multi-national Metal maestro's
DragonForce
have announced the worldwide release of their debut DVD entitled
In the Line of Fire
. The release is scheduled for July 14th and features high definition footage shot during the band's Ultimate Stage headline show at 2014′s Loud Park Festival in the Saitama Super Arena, Tokyo, the band used multiple camera angles to capture the raw energy of their show and instrumental dexterity for which they are rightly celebrated worldwide.
In other news, a new contest has been launched on Revolver Magazine's website! The contest features prizes including a signed, stage played Ibanez guitar from Herman Li, a signed drum head, t-shirts, and a most epic selection of gaming/PC gear from Razer! Razer Kraken Forged Edition headphones, Razer keyboards, and more are all being given away. Enter now and watch the video for
Three Hammers
at
RevolverMag.com
!
The track listing below features a selection of new songs from the latest album
Maximum Overload
mixed in with foot stomping anthems and lightning fast shred-fests from previous releases.
Fury of the Storm Three Hammers Black Winter Night Tomorrow's Kings Seasons Symphony of the Night Cry Thunder Ring of Fire Through the Fire and the Flames Valley of the Damned
DragonForce
are currently on the Maximum Overload World Tour, which commenced in September 2014 and is due to conclude in 2016. Throughout their six studio album and multiple world tour history
Dragonforce
have steadfastly refused to shoot a DVD, until now. Guitarist
Herman Li
explains,
"We always held the opinion that if we ever did a DVD we wanted to do it properly. Now, having released six studio albums we thought we had a great cross section of material to pick from and we knew the facilities at Loud Park made it a great place to film a show. Everything just came together and we're very pleased with the results and hope the fans will be also"
.
A snapshot of the DVD can be seen by checking out the just released second music video from
Maximum Overload
; a storming version of
Three Hammers
which was shot at the same show!
Watch Three Hammers now at youtube.com/DragonForce
. The release will be a double disc package of the DVD and accompanying Live Audio CD of the show and will also be available in Blu-Ray.
See DragonForce Live in Puerto Rico on the Maximum Overload World Tour: March: Saturday 15th: San Juan, Shannan's
DRAGONFORCE tour w/ Kamelot 04/27 Baltimore, MD Soundstage 04/28 Philadelphia, PA The Trocadero 04/29 New York, NY Webster Hall 05/01 Worcester, MA The Palladium 05/02 Montreal, QC Metropolis 05/03 Toronto, ON Phoenix Concert Theater 05/05 Columbus, OH Newport Music Hall 05/06 Joliet, IL Mojoes 05/07 Minneapolis, MN Mill City Nights 05/09 Winnipeg, MB Garrick Centre 05/10 Saskatoon, SK Louis Pub 05/11 Calgary, AB MacEwan Hall Ballroom 05/12 Edmonton, AB Union Hall 05/14 San Francisco, CA The Grand Ballroom at the Regency 05/15 Anaheim, CA The Grove 05/16 Tempe, AZ Marquee Theater 05/18 Denver, CO Ogden Theater 05/20 Austin, TX Emos 05/21 Birmingham, AL Iron City Live 05/22 New Orleans, LA New Orleans Civic Theatre 05/23 Lake Buena Vista, FL House of Blues (Orlando)
MORE
BOLTCROWN SIGNS FOR NIGHTBREAKER PRODUCTIONS
Posted by: Denis / 12.02.2015
---
Nightbreaker Productions are glad to announce that Polish metallers
BOLTCROWN
join label's roster!
The band started out as an unnamed project in 2013 in Warsaw (Poland), with
Greg
,
Kaz
and
Criss
as it's co-founders. Their vision was a
Speed Metal
act inspired by such masters of the genre as
Helstar
or
Agent Steel
but with a bit o Progressive touch like
Coroner
or
Toxik
.
When
Simon
joined in, the name
Boltcrown
was born. The band was originally supposed to be a quintet, but they couldn't find the proper person, so they remain as a quartet. After a few months of rehearsing the band reached out to recording studio to create their debut EP entitled
Reign Of The Damned
. It came out in the late 2014 and contained 3 songs. The artwork and logo was done by a Guatemalan artist
Mario Lopez
.
Now the band is composing new songs that will make up the first full-length titled
Darkness Calling
that will be released by Nightbreaker Productions.
Metal Media / Hibria starting to record new album; check preview
Posted by: Denis / 12.02.2015
---
After release at the end of December last year the 10 years anniversary edition of debut
Defying The Rules
in Japan,
Hibria
now enter the studio to record their fifth studio album.
Still not much information to present,
HIBRIA
presents the stretch of a demo of a new song,
Tightrope
,
check out
.
The band is also launching a promotion among its fans. When the
band's fanpage on Facebook
reach 40,000 likes, the full song will be released.
Hibria
start recording the new album, direct successor of
Silent Revenge
, on Monday at their studio in Brazil, and very soon will share more information.
MORE
Cruz del Sur Music / ARGUS announces line-up changes
Posted by: Denis / 12.02.2015
---
Argus has parted ways with bassist Andy Ramage and guitarist Erik Johnson. The final recording to feature this version of Argus is the forthcoming 7" single Death Hath No Conscience b/w Streets of Gold.

Moving forward Argus has turned to longtime friend Justin Campbell to join the band as their new bassist. Justin is a seasoned musician who has an extensive history with members of Argus and bands like RATM2, SIKES!, Come Summer, and Tabula Rasa.

Dave Watson, the engineer behind all three Argus full lengths, will join the band as a live guitar player for the forthcoming dates in Dublin, the Roadburn Festival and in Pittsburgh. Dave is a great guitarist, formerly with Mantic Ritual and currently a member of Icarus Witch and DC Cooper's solo band.
Frontiers Records / Kiske Somerville
Posted by: Denis / 12.02.2015
---
Frontiers Music Srl is excited to announce the release of the anticipated new album from KISKE / SOMERVILLE entitled City of Heroes on April 17th in Europe and April 21st in North America.

KISKE / SOMERVILLE is the musical collaboration between vocalists Michael Kiske (ex-Helloween, Unisonic, Place Vendome) and Amanda Somerville (Trillium, Avantasia) and this new recording is certainly going to be one of the highlights of the season in Rock music. Kiske's soaring overtones seem to blend perfectly with the ethereal quality and diverse range of Amanda's voice and this time the results are truly over the top.

This brilliant new album sees Mat Sinner (Primal Fear, Sinner) and Magnus Karlsson (Starbreaker, Primal Fear) handling most of the songwriting (with a song contribution Breaking Neptune from Sander Gommans formerly of After Forever and Amanda Somerville herself) and with Sinner overseeing the production in various recording studios in Europe. Jacob Hansen (Volbeat, Amaranthe, Primal Fear, Pretty Maids, Doro etc.) then took care of the mix of the album ensuring a sonic quality second to none.

The first KISKE / SOMERVILLE self-titled album instantly aroused enthusiasm in the Rock and Metal community. The two videos off the album - If I Had a Wish and Silence – amassed a total of approximately 3,000,000 plays to date, which means that these songs can legitimately be considered as nowadays Rock classics!
MORE
Intromental / POEM
Posted by: Denis / 12.02.2015
---
Intromental are very thrilled to be able announce the signing of
Greek Progressive Metal / alternative rock
band
POEM
. The band completely won us over with their unique mixture of dark prog and great melodies all set in an alternative rock sound - here's a little bit of everything; from
Tool
to
Burst
, from
Katatonia
to
Dream Theater
, from
Porcupine Tree
to Mastodon.
Check out the first video from the upcoming album.
Intromental / DAMNATION ANGELS
Posted by: Denis / 12.02.2015
---
UK Power Metal
heroes
DAMNATION ANGELS
are ready with their second album,
The Valiant Fire
. The album, which sees the band go even more symphonic and bombastic than on the debut, will be released Worldwide through Massacre Records on March 27, 2015.
Check out the first single Finding Requiem.
MORE
Imperative PR / CROWNED IN EARTH - METEMPSYCHOSIS
Posted by: Denis / 11.02.2015
---
Crowned In Earth
first came into being in 2008, the earthly manifestation of the musical vision of
Kevin Lawry
.
Kevin
had already made a name for himself with his one-man, epic doom entity,
Silent Winter
but under the
Crowned In Earth
banner he gradually began to spread his wings. The debut EP,
Welcome To The Brotherhood Of The Crown
was released in 2008 – and whilst it underlined
Kevin
's affinity for and mastery of the
Doom Metal
genre, it also showed the first indications that
Crowned In Earth
were to possess wider musical horizons.
The full length debut,
Visions Of The Haunted
, released in 2010 on Shadow Kingdom Records, saw
Kevin
joined by
Falcon
/
Pale Divine
/
Sinister Realm
drummer
Darin McCloskey
whose natural, powerful style added another dimension to the
Crowned In Earth
sound. The duo then took a huge leap forward with 2012s
A Vortex Of Earthly Chimes
, a masterful album that blended truly progressive thinking and musicianship with their doom roots. With this album
Crowned In Earth
shook off all the shackles of expectation, leaving them free to really take flight into the wonderful multi-coloured dreams of
Metempsychosis
...
With ex-
Beelzefuzz
bassist
Pug Kirby
now added to their ranks,
Crowned in Earth
have become a complete entity, with the power and vision to explore bright and brilliant new musical worlds.
Metempsychosis
is an album without borders, a listening experience without limits, a feast for the imagination. Slip beneath the surface of this latest and greatest creation from
Crowned in Earth
and let it carry you on a journey you'll never want to end...
CROWNED IN EARTH - METEMPSYCHOSIS LABEL: SONIC MERMAID RECORDS RELEASE DATE: 19-01-15 Genre: Progressive Rock For fans of: Pink Floyd / Genesis / Orne / Lake Of Tears Line-up:

Kevin Lawry – Acoustic & Electric Guitars/Keyboards/Vocals Pug Kirby – Bass Darin McCloskey - Drums
Imperative PR / De Profundis - Frequencies EP
Posted by: Denis / 11.02.2015
---
Over the course of their near decade long existence
DE PROFUNDIS
have grown and developed at a prodigious rate, their music blossoming into ever more imaginative and challenging forms. From their roots in
Death
and
Doom Metal
they have reached out in a multitude of diverse directions, leaving limiting genre definitions and regulations shattered in their wake. Blending unfettered creativity, fierce ambition and outstanding musicianship the band have already unleashed three magnificent albums, including the ground breaking
The Emptiness Within
which elevated their absorbing atmospheres, progressive thinking and breathtaking technical abilities to unprecedented levels. However, even the heights of
The Emptiness Within
have been surpassed by the sonic sorcery of their new four track EP,
Frequencies
. More devastatingly intense than anything the band have delivered before,
Frequencies
also manages to set new standards of technical intricacy and still be more engaging and enthralling than anything from
De Profundis
' impressive back catalogue. Three unforgettable original compositions are complemented by an accomplished take on
Death
's
Crystal Mountain
and the whole package is available for free download from the
De Profundis Bandcamp page
.
De Profundis
will be bringing their formidable live show to UK stages throughout July, as main support to India's
Demonic Resurrection
. The band have previously played alongside the likes of
Iron Maiden
,
Lacuna Coil
,
Endstille
,
Marduk
and
Immolation
, impressing all who see them. They will also be making their return to Bloodstock Open Air, where they first stunned the crowd six years ago.
With the
Frequencies
EP
De Profundis
are laying down a challenge that few
extreme Metal bands
will be able to match. And the bar may be raised even higher when their fourth full length album emerges later this year...
De Profundis - Frequencies EP RELEASE DATE: 19-06-14 Genre: Progressive Death Metal For fans of: Death / Opeth / Cynic

Line-up: Craig Land – Vocals Shoi Sen – Lead Guitars Paul Nazarkardeh – Lead Guitars Arran McSporren – Bass Tom Atherton - Drums
Imperative PR / Monumentomb - Ritual Exhumation CD
Posted by: Denis / 11.02.2015
---
Formed in the winter of 2013, driven by a desire to unleash a storm of
Death Metal
that harnessed the fire and fury of the genre's early glories,
Monumentomb
digitally self released their remarkable debut EP,
Ritual Exhumation
early in 2014.
Over the following months the good reviews poured in, with almost universal praise being lavished on the heart-stopping hymns of deathly devastation. Powerplay Rock And Metal Magazine summed up the general feeling in their 8/10 review, stating that you'd be
"hard pressed to find a debut of such consummate power as this"
.
Such acclaim rarely goes unnoticed and now Imperative PR're delighted to announce that
Monumentomb
have been signed by Metal Music Austria who have stepped in to give
Ritual Exhumation
the physical release it so richly deserves. From August 11th fans will be able to hold this slice of
Death Metal
history in the making in their hands...
If you've missed out on the
Death Metal
phenomenon that is
Monumentomb
so far, then this is the perfect opportunity to hear what everyone is talking about.
Expect a sound that is infused with hunger and energy, but with stunning competency and maturity. Expect cunningly crafted songs that masterfully combine overwhelming drum battery, savage riffing, lightning lead work and an imperious vocal presence. Expect memorable melodic touches and barbed hooks that are impossible to dislodge. Expect one of the most exciting
Death Metal
debuts in years.
MONUMENTOMB - RITUAL EXHUMATION CD LABEL: METAL MUSIC AUSTRIA RELEASE DATE: 11 AUG 2014 Genre: Death Metal For fans of: Dismember / Carcass / Carnage / Sodom

Line-up: Byron Braidwood – Lead Guitars/Vocals Alex Brown – Lead Guitars Nathan Hammond – Bass Lee Charlton - Drums
Imperative PR / ALL SEEING EYES - TRINITY ROAD
Posted by: Denis / 11.02.2015
---
All Seeing Eyes
is a new band put together by guitarist/front man
Ben Colton
of
Neverworld
. Together with his old friends
Kenny Fraser
(bass/guitars/drum programming) and
James Thackway
(keyboards)
Colton
has set out to create music without boundaries – vast in scope and limited only by their imagination. The three members of
All Seeing Eyes
have a musical understanding forged when they all worked together in
Power Metal
band
Sentinel
some eight years ago and the chemistry between them is immediately apparent. The musicianship on display is little short of staggering and the band's collective skills have been used to create a set of enthralling songs. The eighteen tracks that make up
Trinity Road
take the listener on an incredible, emotional journey as the lyrics explore subjects which range from the intensely intimate to the globally significant.
Several special guests have been brought in to help bring
Trinity Road
to vibrant life – including
Ben Jackson
of the legendary
US Power Metal
band
Crimson Glory
, who brings a touch of magic to stunning track
The Cube
.
Incredibly powerful and versatile, overflowing with electrifying guitar work and soul stirring vocals
Trinity Road
is nothing less than a metallic masterpiece that will hold you in its grasp from start to finish. Prepare yourself for one of the most ambitious and exciting
Metal albums
to emerge from the UK in years.
ALL SEEING EYES - TRINITY ROAD LABEL: NO WORLD ORDER RELEASE DATE: 01.12.14 Genre: Progressive/Heavy/Power Metal For fans of: Queensryche / Savatage / Angra / Crimson Glory

Line-up: Ben Colton - Lead/backing vocals, Lead/rhythm guitars, Acoustic guitars Kenny Fraser - Rhythm/lead guitars, Acoustic guitars, Bass guitars, Drum programming James Thackway - Keyboards

Guest Appearances: The Cube - Ben Jackson (Crimson Glory. Guest vocals and co wrote lyrics) Just A Memory - Danae Saree (Duet vocals/co wrote lyrics) Hunted - David Del Cid and Dave Shirman (Guest solos. At the time of recording both were in the band Neuronspoiler. Only Del Cid is now) Demons - Michalis Rinakakis (Duet/guest vocals. Fat Nelly and Revile, formerly of Air Raid) Heart Of The Storm - Venetia Sitaropoulou (Duet/guest vocals)
Pure Steel Records / AXEMASTER 'Overture To Madness' cover, tracklist, release date: 06th of March 2015
Posted by: Denis / 10.02.2015
---
AXEMASTER are back!!! The release date of the new album Overture To Madness is March 6th 2015. The preorder phase will start on February 27th 2015 in label's webshop.

The banner AXEMASTER still might be familiar to many genre-lovers. In 1987 (Blessing In The Skies, Azra Records!) and 1990 (Death Before Dishonor), the Power Metal group from Ohio have released two very underrated, cult albums.

After 25 years, the guys are back with Overture To Madness; released through Pure Steel Records. Old trademarks, known from the band for decades, also will be presented. Nevertheless, the band has arrived in the brave new world, but they still deliver their old passion without any compromises. On all twelve tracks partly aggressive, classical Metal is joining forces with a modern, bright, but also authentic production. Some Thrash influences and the rough, deeper vocals of the new, talented front man Geoff McGraw also fit perfect to the whole concept.

AXEMASTER are lords of the American underground; and Overture To Madness shows it up perfectly!
MORE
PROWLER signed a worldwide deal with PURE STEEL RECORDS!
Posted by: Denis / 10.02.2015
---
Pure Steel recording artist
PROWLER
from Leipzig signed a worldwide deal with PURE STEEL RECORDS!
PROWLER
released in 2012 the EP
Hard Pounding Heart
and are well-known for a lot of great gigs in the underground scene. The label is very proud to present you this band from its home state Saxony in Germany. The works on the debut album are finished.
Line-Up: vocals - Ronny Dietrich bass - Marvin Mehrländer (Steelclad) drums - Michael Czernik (Caroozer, ex-Draist Avagnon) lead- and rhythm guitar - David Junold lead guitar - Clemens Richter
Punishment 18 Records / Bleeding Gods 'Shepherd of Souls' release date
Posted by: Denis / 10.02.2015
---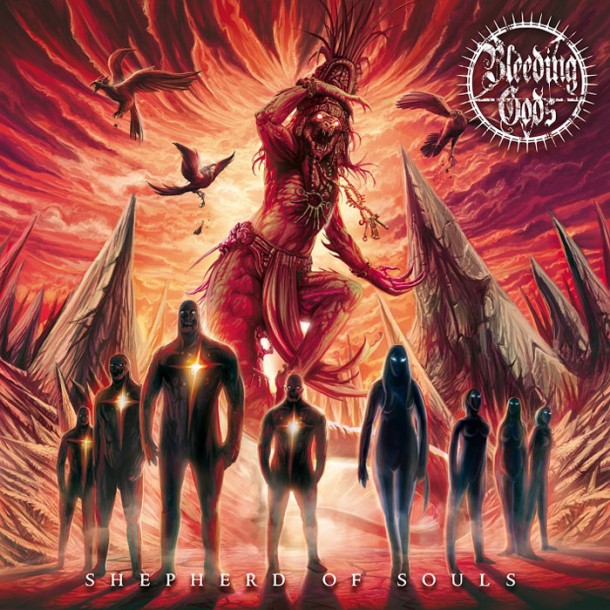 Dutch metallers
Bleeding Gods
will release their debut album
Shepherd of Souls
on February 22nd by Punishment 18 Records.
Album has been recorded at German Soundlodge Studio (
God Dethroned, Nightfall, Dew-Scented, Sinister, Suicidal Angels, Mandrake, Toxocara
and many more) together with the producer
Jorg Uken
.
Massacre Records / DYING GORGEOUS LIES album details
Posted by: Denis / 10.02.2015
---
Only a few weeks to go until the Bavarian female-fronted
Thrash Metal
outfit
DYING GORGEOUS LIES
will release its new album!
The tracklisting of First World Breakdown looks like this: First World Breakdown Rise Again (Album Version) Wipe Out Yourselves Suppressing Fire Join My Hate (Album Version) Schein (Feat. Nord) Riot.Call Jay (Feat. Markus A. Giestl) No. 759 United
As you can see,
Markus A. Giestl
from
The Black Mile
as well as
Nord
from
Hämatom
will appear as guest musicians on the band's second album!
First World Breakdown
was recorded and produced by the band and
Jörg Wartmann
,
Frank Jooss
as well as
Corni Bartels
and mastered by
Thorsten Scharf
and
Jarek Zyla
.
DYING GORGEOUS LIES
' new album
First World Breakdown
will be released on February 20, 2015 via Massacre Records.
U.D.O. - new drummer announced: It's Udo's son Sven Dirkschneider
Posted by: Denis / 09.02.2015
---
It's a real sensation: after the split of former U.D.O. drummer Francesco Jovino and numerous auditions with possible new band members, the decision has been made – the new drummer and band member of U.D.O. will be Sven Dirkschneider!

"His drumming has simply convinced us most", the band says. "His style of playing drums is fresh and really grooves heavily. It simply is exactly what we need for U.D.O. We also know that Sven fits perfectly into the band family. He has been working as a drum tec for us for more than four years and we know from several world tours that everyone likes him and gets along with him perfectly." Sven Dirkschneider is 21 years old and is now the youngest member of U.D.O.

From the beginning Sven was in touch with his father's job and ran around backstage at his shows. His father's world, consisting of tour buses, lots of event techniques and travelling has been normal to him since he can think. And he felt at a very early stage that this could be his world as well. After his high school diploma he started studying media design and event techniques. Now Sven is a permanent member of U.D.O.. His debut show for U.D.O. will be on March 6th in Wuerzburg/Germany. "It is a very special feeling to be a part of my father's band", he says. "I somehow have always been around with the band since I can remember. But I have never dreamed of being a real band member one day."
MORE
AFM Recoreds / MAGIC KINGDOM 'Savage Requiem' album trailer available
Posted by: Denis / 09.02.2015
---
Belgian metallers
MAGIC KINGDOM
have uploaded
a trailer
for their upcoming album
Savage Requiem
. This first teaser includes excerpts of all 10 regular album songs.
Savage Requiem
will be released on March 20th (EU) / April 14th (US).
MORE
InsideOut Music / Pain of Salvation New video clip for 'Falling Home'
Posted by: Denis / 09.02.2015
---
Falling Home
, the critically acclaimed acoustic album by
Swedish Progressive Rock
innovators
Pain of Salvation
, was recently released domestically in North America as well via InsideOutMusic and now the band is proud to debut the new promotional video clip for the album's title track.
Check out the atmospheric clip for
Falling Home
, which was shot in Iceland by director
Hilmir Berg Ragnarsson
and produced by
Hilmir Berg Ragnarsson
and
Soley Astudottir
, via the
InsideOutMusic YouTube channel
.
Pain of Salvation
's
Daniel Gildenlöw
commented as follows:
"I started last year with four months in the hospital, battling flesh eating bacteria, and somehow managed to bounce back to see myself playing Vegas dressed in a rabbit suit. That considered, it felt perfect to end the year knee deep in snow on Iceland, shooting a video for Falling Home in a blizzard, with a dead coyote draping my freezing shoulders. I mean, who would have guessed a few years back that the latter would actually turn out to be one of the more normal situations of my 2014? :)

I loved every minute on Iceland, and my all-in personality could not have asked for more. When we were not pushing through the snow outside, we'd sit hours on hours in a cold basement of an old power plant, singing the song over and over again with numbing hands and feet, while the Reykjavik sun was setting outside the heavy concrete walls. Damn, we threw ourselves into this video, whole-heartedly and passionately, and I think anyone watching it will feel that.

Huge thanks to everyone who helped out with this video, but most of all to Hilmir and Sóley!"
MORE
Nuclear Blast / ANTHRAX new studio trailer online
Posted by: Denis / 06.02.2015
---
ANTHRAX
have teamed up with producer
Jay Ruston
and the team are currently holed up in a studio in Los Angeles recording the follow-up to the band's 2011 Grammy-nominated and critically-acclaimed album,
Worship Music
.
The band has been writing and demoing new songs over the past few months and plan to continue recording for the next several weeks. The as yet untitled album, the band's eleventh full studio collection, is set for a release in 2015.
A new video clip of
ANTHRAX
laying down tracks for the new album
can be seen here
.
MORE
Napalm Records / MOONSPELL audio premiere 'Extinct'
Posted by: Denis / 06.02.2015
---
Portuguese Gothic Metal
pioneers
MOONSPELL
first brought the dark flames to their native country – and then set the rest of the world aflame with milestone albums including
Irreligious
and
Night Eternal
. Now with their eleventh studio album
Extinct
, the band has erected yet another monument in the realm of Gothic music.
Check out their first audio premiere for the title track of the upcoming album here!
Extinct
will be released March 9th in the UK & March 17th US/CAN! The album is available for pre-order from the Napalm Records Webstore and Amazon.
MORE
Punishment 18 Records / Raging Death cover album revealed
Posted by: Denis / 06.02.2015
---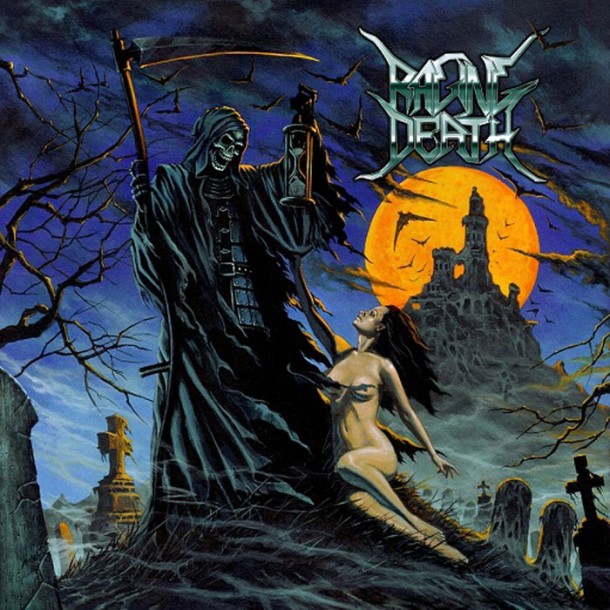 Recently,
Polish Thrash
metallers
Raging Death
have signed a new record deal with Punishment 18 Records for the release of their new self titled full-length album. You can see the artwork, created by
Mario Lopez
(
Game Over, Sabbat, Warstorm, Sofisticator, Repulsor, Axe Battler
and many more).
Raging Death
play an
old school Thrash Metal
influenced by
80s Teutonic Thrash scene
. New details will be announced shortly.
Limb Music / MASTERS OF DISGUISE The Savage And The Grace
Posted by: Denis / 06.02.2015
---
With their 2013 debut Back With A Vengeance, MASTERS OF DISGUISE filled the musical gap left behind by the demise of Savage Grace almost 30 years previously. Two years later the successor CD The Savage And The Grace was ready, building on its predecessor in classical style and which again is sure to set the pulses of speed freaks racing. The album again honours the true Speed Metal spirit of the Eighties without sounding antiquated or dusty. Classic US Speed Metal, taken another step upwards by several typical, fast Euro-Metal characteristics make the eleven tracks a real ride through speed hell.
MORE
Urgent Rage news
Posted by: Denis / 05.02.2015
---
Rage official statement:
"After thinking it over carefully, Peavy and Victor decided to stop working together in the future. This is due to musical and personal changes.

We have developed in different directions in the last years, (so) much (so) that we cannot identify with the current band situation anymore. In this situation, we will also part from drummer Andre Hilgers.

The last 15 years were blessed with many highlights and great releases but this era is over now. Every extension would be untrue to ourselves and to our fans.

We wish each other all the best!
Thanks to all the fans for your trust and support!"
MORE
Metal Blade / Artillery announces United Legions Tour 2015
Posted by: Denis / 05.02.2015
---
Denmark Thrash Metal
veterans will return to US in April! The tour will also feature
Striker
and
VX36
and begins on April 9th. The tour will weave its way through the US before wrapping up on April 27 in Salt Lake City, UT.
Artillery
comments:
"It's with a great pleasure that Artillery are returning to the United States. This time as a head liner for the United Legions Tour, together with Striker and VX36. We can wait to play songs from Legions together with our old songs as Terror Squad, Khomaniac and The Almighty. Come and join the Legions!"
ARTILLERY tour w/ Striker, VX36 04/09 San Jose, CA Rock Bar Theatre 04/10 Los Angeles, CA Five Star Bar 04/11 Prescott, AZ The Drunken Lass 04/12 Midland, TX Blue Max 04/13 Deep Ellum, TX The Three Links 04/14 Austin, TX The Dirty Dog Bar 04/15 Houston, TX Walter's 04/16 New Orleans, LA Siberia 04/17 Orlando, FL West End Live 04/19 Tampa, FL The Brass Mug 04/21 Raleigh, NC The Pour House Music Hall 04/22 Birmingham, AL The Syndicate Venue 04/23 Tupelo, MS Good Time Charlie's 04/24 Cudahy, WI The Metal Grille RK NYDM Spring Bash '15 04/25 Des Moines, IA Vaudeville Mews 04/26 Denver, CO Bushwacker's Saloon 04/27 Salt Lake City, UT The Metro Bar
MORE
Nuclear Blast / OVERKILL announce European headlining tour
Posted by: Denis / 05.02.2015
---
After a very successful live encounter in 2014,
US Thrash
legends
OVERKILL
will return to the European shores in March. Their latest onslaught
White Devil Amory
saw
New Jersey Thrash Metal
veterans taking the international charts by storm with the following entries:
Germany: #20 Finland: #28 Switzerland: #31 Austria: #53 UK: #148
Check out
OVERKILL
live at the following dates:
04.03. D Braunschweig - Meiers Music Hall 05.03. D Leipzig - Hell Raiser 06.03. D Memmingen - Kaminwerk 07.03. AT Wörgl - Komma VZ 08.03. AT Wien - Arena 09.03. RS Beograd - Dom Omladine 10.03. SI Ljubljana - Kino Sisak 11.03. HR Zagred - Tvornica 13.03. HU Budapest - Club 202 14.03. PL Katowice - Mega Club 15.03. PL Gdansk - B90 17.03. NL Zwolle - Hedon 18.03. F Metz - Les Trinitaires
White Devil Armory
was released on July 18, 2014 via Nuclear Blast. The effort was tracked at Gear Recording and mixed by
Greg Reely
, who also worked on 2012's
The Electric Age
.
MORE
Frontiers Records / SURVIVOR founding member JIM PETERIK discovers a new voice in MARC SCHERER and creates RISK EVERYTHING – to be released on Frontiers in April
Posted by: Denis / 04.02.2015
---
Frontiers Music SRL presents an album from legendary Grammy Award-winner and founding member of Survivor, Jim Peterik, created around the 5-octave instrument that is Marc Scherer's voice. The resulting CD, Risk Everything, is slated to drop on April 17th in Europe and April 21st in North America.

Jim discovered Scherer's talent while Marc was recording vocals for his band at Jim Peterik's World Stage International studios in Burr Ridge, outside Chicago. Impressed with what he heard, Peterik chose Marc to demo the tunes he wrote for the Pride of Lions album, Immortal. Scherer's back-up singing blended so seamlessly with frontman Toby Hitchcock's voice that Peterik was then inspired to write songs specifically for it.

"When I first heard Marc's amazing voice pouring through my studio door, I could not believe my ears", says Jim. "Truly, one of the best voices I've heard – and I've worked with the best!"

One of the songs originally intended for Immortal - Change Everything - became Marc's debut single on a compilation of Melodic Rock artists titled MRCD - 15 Years Later, which is available from www.melodicrock.com.

Risk Everything, co-written by both artists and produced by Peterik, provides the perfect frame for Scherer's gift – a voice of such astonishing clarity and glass-shattering power that it is hard to believe he isn't already a major star.

An integral part of Peterik's genius is his ability to tap into and perfectly utilize the talent that surrounds him. For this project, he called on Pride of Lions drummer Ed Breckenfeld and Buddy Rich's grandson, Nick Rich, for percussion. Then, he got bassists like Klem Hayes (also from Pride of Lions), Survivor's Bill Syniar and noted studio musician Bob Lizik to contribute. Pride of Lions's Mike Aquino was smoking hot on guitar, along with Jim, who doubled on keys. Guest vocalists Toby Hitchcock, Santana's Alex Ligertwood and Broadway star of Wicked, Shoshana Bean, rounded out the creative brain trust.

As Scherer says, "Jim and I have had a few near-miss opportunities to work together, but the stars didn't align until this project. I am utterly in awe of the man's songwriting, producing and musical talent. He takes guitar playing to another level. His work on Cold Blooded is so nuanced and expressive, it's like another voice singing along with me."

One listen to that Survivor-inspired track or the Styx-influenced Thee Crescendo proves that Risk Everything has brought out some of the finest songwriting of Jim Peterik's phenomenal career, enhanced by Scherer's powerful, off-the-chain, melodic rock tenor.

Scherer will appear as a special guest of Pride of Lions when they headline at Frontiers Rock Festival II on April 12th in Trezzo Sull'Adda (Milano), Italy. There will also be a special surprise Festival only release from Jim Peterik (featuring Marc Scherer and more legendary artists) to be announced shortly.
AFM Records / MAGIC KINGDOM to release Savage Requiem on March 20th
Posted by: Denis / 04.02.2015
---
Belgian guitarist Dushan Petrossi is not only the driving force behind AFM Records-signed IRON MASK; he is also the mastermind of Power symphonic Speed Metal band MAGIC KINGDOM. Actually it was MAGIC KINGDOM who first received international success, in Europe, Asia and South America alike. Even though the band only looks back on three album releases (with the fourth, Savage Requiem to arrive on March 20th in the EU / April 14th in the US), these albums - especially the latter ones Metallic Tragedy and Symphony Of War established them as one of the most successful bands of their genre.

And while Petrossi's band IRON MASK, which came to blossom in recent years, follows a more hard rock-oriented style to combine with some neo-classical elements, MAGIC KINGDOM is more heavy and fast-paced, but not a single bit less enchanting and catchy.

Savage Requiem again delivers 100% what fans expect from MAGIC KINGDOM. Petrossi's splendid guitar work shines throughout the whole record and new vocalist Christian Palin's (ex-Adagio) performance is passionate and powerful. "I love Christian's style of singing", Petrossi says. "He always gives 100% and doesn't hold back. I feel that the new songs needed someone like Christian to come alive. We are very glad that he is a part of Magic Kingdom now."

"I'm sure that we can release new MAGIC KINGDOM albums more regularly from now on", Petrossi speaks out in the run-up to Savage Requiem. "I'm very proud of what we created and I wish that our fans will have an equal kind of joy when they listen to the album."
MORE
AFM Records / Eden's Curse LIVE album in March
Posted by: Denis / 04.02.2015
---
After nine years of EDEN'S CURSE band history the multinational Hard Rock / Melodic Metal band now presents their first ever Live album.

Initially formed as a studio project, EDEN'S CURSE has blossomed into a fully fledged first class live act with high ambitions. A UK tour with Stratovarius was the catalyst, while dates with Dream Theater gave them a taste of the big time. However the past two years has seen EDEN'S CURSE truly making their mark on the live scene from appearing at several festivals and even taking the brave steps of going out on their own seven date UK headlining tour.

With four fantastic and widely celebrated studio albums already under their belts, the thought of releasing a Live album was never far from the mind, but the main source of inspiration came from their ardent fan base. The culmination was no more evident than after the last night of the 'Symphony Of Sin UK Tour' in London. They band came off stage on such a high and the feedback and comments coupled with fan pressure to re-record the older material with Nikola singing made them certain that the time was right!

Acclaimed UK journalist and Classic Rock Magazine scribe Dave Ling remarked "... When everything clicked into gear, the full force of the magnificence of Eden's Curse became evident. Serbian front man Nikola Mijic has a warm, rich voice that complements the material". He went onto add "... a regal encore of Judgement Day, Evil & Divine and Angels & Demons set the seal on a truly excellent performance."

So planning began for the recording of the first ever EDEN'S CURSE Live album and anyone who knows the band will be aware of their high standards that they set for everything that they do - Live With The Curse is no exception! Recording took place on November 28th 2014 at an EDEN'S CURSE headlining show at The Classic Grand in Glasgow. Fans from all over Europe, and as far away as Japan, traveled to Scotland to witness and be part of this truly special event. What more does a Live Album need than a enthusiastic crowd, a great club and a highly motivated band?

The setlist of course contains fan favorites and classics from all four EDEN'S CURSE albums.

Mix and mastering of the Live recordings were handled by the band's long-time engineer Dennis Ward (Pink Cream 69 / Unisonic), who managed to capture the concert's energy and vibe perfectly. The cover artwork was once again created by artist Thomas Ewerhard (Edguy / Avantasia), who has also worked with EDEN'S CURSE since the times of their 2007 debut album.
Live With The Curse, packed with 100 minutes on 2 CDs, will be released on March 13th (April 14th in the US). Right in time for the next EDEN'S CURSE concerts with Freedom Call in Germany and The Netherlands.
MORE
Season of Mist / ROTTING CHRIST tour
Posted by: Denis / 04.02.2015
---
ROTTING CHRIST
have announced a string of festivals shows all over Europe and slightly beyond starting at Norway's Blastfest in Bergen on February 19th and running through nine more countries with prestigious festivals such as With Full Force (DE), Metal Days (SI), and Party.San Open Air all summer long until coming to a northern final in Trondheim, Norway on the 1st of October. Watch this space for more concerts!
19 Feb 15 Bergen (NO) Blastfest 28 Feb 15 Praha (CZ) Hellenic Darkness Fest 14 Mar 15 Esslingen (DE) Hell Over Esslingen Festival 05 Apr 15 Rotterdam (NL) Veneration of the Dead Festival 16 May 15 Pfaffing in Oberbayern (DE) Bavarian Battle Open Air 29 May 15 Warszawa (PL) Progresja 30 May 15 Gdynia (PL) Atlantic 05 Jun 15 Milano (IT) Circolo Coloni 06 Jun 15 Roma (IT) Traffic 05 Jul 15 Roitzschjora (DE) With Full Force 09 Jul 15 Neskaupsstaðir (IS) Eistnaflug 23 Jul 15 Tolmin (SI) Metal Days 24 Jul 15 Hamburg (DE) Schlatfest 25 Jul 15 Lörrach (DE) Baden in Blut Open Air 06 Aug 15 Schlotheim (DE) Party.San Open Air 22 Aug 15 Spital am Semmering (AT) Kaltenbach Festival 30 Aug 15 Istanbul (TR) Headbangers Weekend Festival 01 Oct 15 Trondheim (NO) Trondheim Metal Fest
ROTTING CHRIST
will be touring in support of their latest masterpiece
KATA TON DAIMONA EAYTOY
, which is still available in various formats through the Season of Mist shop. There is a chance for brand new material to be performed as well, so do not miss the performance of the
Greek Metal
heroes.
MORE
Metal Mind Productions / J. D. Overdrive reveal the title, cover artwork and tracklist of their third studio album
Posted by: Denis / 03.02.2015
---
J. D. Overdrive
, a
southern Metal band
from Poland, return this spring with their brand new studio album.
The release of
The Kindest Of Deaths
, as the album will be called, is planned for April, 13th in Europe and May, 5th in North America (via MVD). Today the band reveal its cover artwork and tracklist.
Tracklist: Wreckage, Part I Crippled King The Lesser Evil The Fury In Me Dull Knives and Dead Friends Seeds and Stones The Greater Good Demon Days Wreckage, Part II A Painful Reminder The Kindest of Deaths
Stempel
, the band's guitarist comments:
"For the last two years I have been indoctrinated by our vocalist to listen to such great bands as High on Fire, Clutch or Kongh. Then there are a few discoveries I've made on my own, like Planet of Zeus or Red Fang. I think people will hear those inspirations on the new album. But in the same time we're making the same music we did before and having a blast while doing it, so we haven't really lost our old identity. Although I do hope we'll manage to surprise a few people with the album's sound which in our opinion is just amazing. The songs sound very live and organic... whatever that means (laughs)."
Suseł
, vocals, adds:
"Everything in our band is dictated by chance and the title of the new album is no different. To make things funnier, while personally I hate it when bands call their albums the same way as one of their songs, it was me who made this suggestion. The Kindest of Deaths is a track that really stands out from the rest and is absolutely overwhelming. When the concept for the cover artwork emerged (which was a perfect match for the title) we knew we made the right choice. The cover itself, designed by Maciej Kamuda, is amazing - totally not our style but yet perfectly reflecting the album's dynamics. In our opinion the new record will be a great continuation of what we did before. It's still JDO but we managed to squeeze in a couple of fresh ideas as well which will hopefully result in an engaging listen. And the sound that Stempel mentioned - man, we never sounded better, period (massive thanks go out to Haldor and Satanic Audio). But don't take our word for it - soon the music will speak for itself..."
The album was recorded, mixed and mastered in Satanic Audio Studio with
Haldor Grunberg
as a producer.
Scarlet Records / TEMPERANCE NEW ALBUM 'LIMITLESS' OUT IN MARCH
Posted by: Denis / 03.02.2015
---
Limitless is the title of Temperance's highly-anticipated new album, following the band's critically acclaimed debut release, which came out only one year ago and was followed by heavy touring, including a full run of the US West Coast. Limitless is an amazing mixture of tight, heavy guitar riffs, electronics and folk elements, bounded together in the name of melody and power, with singer Chiara Tricarico delivering an outstanding performance behind the microphone. Limitless was mixed and mastered by renowned musician/producer Simone Mularoni (DGM) at Domination Studio in San Marino, Italy. The cover artwork was handled by Gustavo Sazes (Arch Enemy, Amaranthe, James Labrie). The album will be available starting from March 31st, 2015. This is not your average Metal band with female vocals. Temperance are here to make a difference. And they will take no prisoners.
GlobMetal Promotions / Desert releases 'Never Regret' music video
Posted by: Denis / 02.02.2015
---
Supporting the upcoming album launch (
Never Regret
, TBR worldwide on March 30), the Dark/Epic metallers
DESERT
release
the official video clip
bearing the album title -
Never Regret
.
The video was shot on multiple urban locations of Tel Aviv and includes trashing the office space, which is always fun. The concept clip omits the usual stage performance scenes in favor of the storyline, portraying the voyage of the frustrated nine-to-five office worker to becoming a homeless but free person and taking a hit for his love of
Heavy Metal
.
The storyline follows the lyrics pretty loosely, still conveying the message of living a life one desires despite the price to be paid, maybe a metaphorical nod to the state of the whole independent music scene today.
The album will include guest appearances by artists such as
Ralf Scheepers
(
Primal Fear
, ex-
Gamma Ray
) and others, and will be available for purchase both trough major on-line music stores and in physical form, through the distribution network.
MORE
New AXEMASTER album
Posted by: Denis / 02.02.2015
---
The new
AXEMASTER
album
Overture to Madness
is almost a reality!!! The finished master recordings are off to Pure Steel Records along with great front cover artwork. The label has issued March 6th, 2015 as an official release date. These are exciting times for everyone involved as this will be the first new material released by the re-formed
Axemaster
!!!
You can preview a song from
Overture to Madness
by checking out the band's
first video
from the album.
MORE
Vlad Promotion / ROADHOG CD Premiere
Posted by: Denis / 02.02.2015
---
Polish heavymetallers
ROADHOG
are streaming their debut record at Metal Syndicate Radio on February 2nd. Here are the details:
The Metal Syndicate Radio - CD PREMIERE (CD in it's entirety)
Roadhog
-
Dreamstealer
Monday Feb. 2 - 2015 @8pm EST
Tune in at
http://themetalsyndicate.wix.com/
Roadhog
's first full-length, entitled
Dreamstealer
comes out on Feb 11th on StormSpell Records. Their lyric video to the title track
can be viewed here
.
Vlad Promotion / Canadian extreme thrashers TORREFY issue a lyric video
Posted by: Denis / 02.02.2015
---
Nuclear Blast / BLIND GUARDIAN 'Beyond The Red Mirror' out now; new trailer online
Posted by: Denis / 02.02.2015
---
Metal fans
can finally get their long expected copy of the new
BLIND GUARDIAN
album
Beyond The Red Mirror
, which was also praised by medias all over the world.
Enjoy a brand-new album trailer
, with
Hansi Kürsch
and
André Olbrich
guiding you through the whole album.
MORE