METALMESSAGE Promotion / HALO CREATION (Female fronted DEATH METAL from Austria) debut album in autumn
Posted by: Denis / 01.04.2015
---
HALO CREATION
is a
DEATH METAL
band from Vienna, Austria and was founded in 2014. Their unequivocal message is: BANG YOUR FUCKIN' HEAD!!!
The five members of the band bring you real, powerful and straight
Metal
. And also live, you can feel and see the brute force of
HALO CREATION
. It began in a small rehearsal room in the middle of Vienna. Since the very beginning they rehearse regularly and so the first songs accrued. In summer of 2014 a Demo CD with four songs on it was recorded. In September,
HALO CREATION
played their first live show, together with
ILLDISPOSED
. Since this show, they play live regularly, and already shared the stage with
GRAVEWORM
or
JINJER
.
These days they are busy with songwriting for their first album and in summer 2015 they will enter the studio. The release of the full-lenght is scheduled for autumn.
For
HALO CREATION
, it is important to produce elaborated and very powerful music. When they're playing live, the crowd should go crazy and while listening to their songs, any kind of emotions should arise. The music should be real
Death Metal
, which means, there will be no clean vocals nor Nu Metal parts in it. Moreover, outstanding chorus lines are important. Further, excesses in speed, or changes in rhythm should be a big part of this music.
Limb Music / WIZARD remastered reissues
Posted by: Denis / 01.04.2015
---
The opinion of the international press that Wizard is Germany's answer to Manowar is not entirely incorrect. The band with singer Sven D'Anna take their fast, furious true Metal sound from similar sources as Joey DeMaio's American band. Despite that, Wizard's songs are not lacking in individuality.

"Nobody told us that Metal was dead – believe me", Snoppi says with a deadpan face, "we didn't notice that in the rehearsal room..." This totally naive and very honest statement, taken from an early interview, is WIZARD in a nutshell. WIZARD have remained true to themselves – and they are the only real choice for anyone searching for the true Metal spirit.

Limb Music reissues three classic albums, remastered by Markus Teske (Vanden Plas, Mob Rules, Symphony X, Neal Morse, Saga and Ian Parry's Consortium Project): Head Of The Deceiver, Odin, Magic Circle.
MORE
Nightmare Records / EXXILES 'Oblivion'
Posted by: Denis / 31.03.2015
---
Nightmare Records is proud to announce the release of
EXXILES Oblivion
coming May 26th, 2015.
EXXILES
is a
symphonic/Progressive Metal
band formed by drummer
Mauricio Bustamante
with members and guests from:
Symphony X, Savatage, Trans-Siberian Orchestra
and
Circle II Circle, Communic, Circus Maximus, Stream of Passion, Revolution Renaissance, Spiral Architect
.
Yet...
Exxiles
is a band, not just another project.
After
Mauricio Bustamante left
Reign of the Architect
, he started working on his new production and multinational band called
EXXILES
, seeking to reflect how sometimes we are exile in life by simple or great things when we are betrayed by something we believed in. At the end of which... there is only abandonment... pain... and anger. Yet with passion, you discover that you learn how to rise... to liberate and fight for the things you believe in once again! That is the moment when the exile transforms into something stronger, especially if walk with other exiles toward your goal.
The first part of a pending trilogy, will be a cinematic conceptual album about loyalty, a symbol of friendship, politics, religion, love… It will have many stories but but each will seek become one with the rest. It will show how loyalty becomes weak when personal interests are involved, and in sacrificing a dreamers dreams in order to achieve power, neither side wins. The ultimate dream is lost but never the hope!
The band and guest list includes: Mauricio Bustamante (Ex Reign of the Architect) Simon Rojas Noel Martínez Mike Lepond (Symphony X) Chris Caffery (Trans Siberian Orchestra) Zak Stevens (Circle II Circle) Marcela Bovio (Stream of Passion) Oddleif Stensland (Communic) Wilmer Waarbroek (Ayreon) Gus Monsanto ( Ex-Adagio) Øyvind Hægeland (Spiral Architect) Mats Haugen (Circus Maximus) David Grey ( Lost in Thought) Sergio Agilar (Agora) Antonio Rivera (Solitude)
Scarlet Records / HOLLOW HAZE NEW ALBUM 'MEMORIES OF AN ANCIENT TIME'
Posted by: Denis / 31.03.2015
---
Formed back in 2003 and after having released 5 albums, including the latest, critically acclaimed Countdown To Revenge (2013), and having toured the world with celebrated acts such as Tarja, Dragonforce and Accept to name a few, Hollow Haze are going to release their new effort Memories Of An Ancient Time on Scarlet Records. The band has recently parted ways with singer Fabio Lione, but shortly after announced that Mats Leven, Rick Altzi and Amanda Somerville took part in the recording sessions as very special guest singers. Memories Of An Ancient Time offers a wide range of musical landscapes, mixing heavy guitar riffs and pounding rhythms with inspiring and emotional lead vocals and choruses. Thanks to their passion and hard work, Hollow Haze are not afraid to confront themselves with every music style, getting their inspiration both from the past and the modern Heavy Metal scene. Memories Of An Ancient Time has been mastered by Mika Jussila (Nightwish, Apocalyptica, Children Of Bodom) at Finnvox Studios in Helsinki, Finland and will be available starting from June 9th, 2015.
MORE
Metal Media / Lothlöryen: Brazilian band launch crowdfunding
Posted by: Denis / 30.03.2015
---
The
Brazilian Power/Prog Metal
band
LOTHLÖRYEN
released a crowdfunding campaign to gather money for the release of their fourth album.
The band is offering a special number of merchandising products exclusively for those who gets involved with the campaign, so there are a few packs you can pick for a promotional price, including a virtual copy of the CD, with virtual booklet, stickers, your name on the booklet, physical CDs, posters and others, like having a song made especially for you.
It's important to mention that the CD is already fully recorded, and mixed, so it will be released and delivered to funders anyway! By the way, everybody that helps
LOTHLÖRYEN
's campaign will already receive a few songs.
The singer Daniel Felipe also sends a message.
Everyone around the globe that wishes to help and buy a pack, can make by the link.
SPV / AXEL RUDI PELL releases teaser for 'Magic Moments'
Posted by: Denis / 30.03.2015
---
AXEL RUDI PELL teaser for Magic Moments
It was a hot summer night and the beach was burning... Wrong song, wrong place! But the weather gods smiled on
Axel Rudi Pell
on that memorable magic evening of July 11th 2014: There had been a severe weather alert, but in the end the floodgates of heaven opened only during the last song of his regular set, the
Rainbow
classic
Long Live Rock'n'Roll
.
"That was Ronnie James Dio crying from above,"
promoter
Horst E. Franz
speculated while bidding his farewells to the almost 15.000 drenched- but-happy fans at the festival site.
Three hours before the sun went down, creating a beautiful atmosphere at the 'Bang Your Head' festival in Balingen/Germany, where
Axel Rudi Pell
celebrated his 25th anniversary as a solo artist with a once-in-a-life-time performance. The CDs and DVDs document a show that is unlikely to ever be seen again in this constellation – a special present the protagonist had worked hard for. It took almost a year to set everything up:
"The actual organization started in the summer of 2013 when the promoter and I went public with the idea of this event,"
Axel
tells with obvious relief. He's still happy about how things have turned out. With a little help from his friends at his booking agency, the Bochum guitarist set up an extraordinary line-up.
"It was mostly all about personal contacts"
, because after more than 30 years in the business
Axel Rudi Pell
is not only well-known, but also well-respected in the worldwide rock community, so the affix '& Friends' is not one of those usual exaggerations. Almost all of his favoured candidates agreed on this one July date.
As
Axel
is an early bird, the whole organization was fairly easy. Of course there were rehearsals, but only one day before the show. Over fifty minutes worth of footage from those remarkable sessions are featured on the DVD and Blu-ray versions of this package. During those sessions
Axel
realized that something unique was happening.
"Everybody involved had a blast and was right on track,"
he remembers. Unfortunately,
Doogie White
had a prior engagement with
Michael Schenker
on that rehearsal day, but was replaced with
ARP
frontman
Johnny Gioeli
. And except for
Charlie Huhn
, who had already agreed to play a gig in the USA with his current band
Foghat
,
Axel
's former singers turned out in full force:
Rob Rock
(1991) and
Jeff Scott Soto
(1991-1997) together with long-time
ARP
drummer
Joerg Michael
(until 1998) took the stage by storm after a historical four-song
Steeler
reunion at the beginning of the show.
Axel
's current line-up put on a best-of show with a blisteringly atmospheric version of the
Neil Young
classic
Hey Hey My My
and a few epic
ARP
classics like
Mystica, The Masquerade Ball, Casbah
and
Into The Storm
. You could feel those goose bumps spring up, and the climax was still to come: after a furioso battle between drum gods
Vinny Appice
and
Bobby Rondinelli
, a long list of rock legends took the Balingen stage: stepping in for
Joe Lynn Turner
, who was tied up with business affairs,
Pretty Maids
frontman
Ronnie Atkins
performed a superb version of
Deep Purple
's
Black Night
, including audience sing along. Then
John Lawton
, the former voice of
Uriah Heep
, demonstrated why he still deserves a lot of
Sympathy
(
Uriah Heep
), and he was still looking for some
Tush
(
ZZ Top
). When ex-
Rainbow
keyboard player
Tony Carey
joined in for an emotional
Mistreated
, the now available
Doogie White
and
Johnny Gioeli
set the roof on fire.
Graham Bonnet
, another
Rainbow
veteran from the glorious
Down To Earth
era, remembered the good old times with
Since You Been Gone
and, of course, the aforementioned
Long Live Rock'n'Roll
. At the end of those three hours plus all guests (and friends!) gathered on stage for the grand finale
Smoke On The Water
. A legendary evening drew to a spectacular close. Are you happy,
Axel
?
"Of course! I could have played at least for another hour."
Did anything go wrong?
"Nothing, but there was no way we could have prevented those long change-overs in between."
But at least the weather gods smiled...
Tracklisting: CALL HER PRINCESS – Steeler NIGHT AFTER NIGHT – Steeler ROCKIN' THE CITY – Steeler UNDERCOVER ANIMAL – Steeler NASTY REPUTATION – Rob Rock, Joerg Michael WARRIOR – Jeff Scott Soto, Joerg Michael FOOL FOOL – Jeff Scott Soto, Joerg Michael
(Current ARP Band) BURNING CHAINS STRONG AS A ROCK LONG WAY TO GO HEY HEY MY MY MYSTICA INTO THE STORM TOO LATE / ETERNAL PRISONER / TOO LATE THE MASQUERADE BALL / CASBAH ROCK THE NATION DRUM BATTLE – Vinny Appice, Bobby Rondinelli BLACK NIGHT – Ronnie Atkins SYMPATHY – John Lawton TUSH – John Lawton MISTREATED – Doogie White, Tony Carey, Johnny Gioeli SINCE YOU BEEN GONE – Graham Bonnet, Michael Voss, Doogie White LONG LIVE ROCK'N'ROLL – Doogie White, Graham Bonnet, Tony Carey SMOKE ON THE WATER – all guests
MORE
Massacre Records / New Signing: BLOODLOST
Posted by: Denis / 30.03.2015
---
In 2005, Tchico (guitar, vocals) and Rob (guitar) thought that Thrash Metal was dying and formed BLOODLOST to do something about it! Norcrow (bass) and Nico (drums) then completed the line-up.

They released their first demo Discover The Hell in 2006. About 2 years later, the debut Hellcome followed and was presented in the course of an European tour in 2009 as well as on support gigs for bands like Destruction or Napalm Death.

In 2009, Rob left the band, Lionel was announced as new bassist and Norcrow took over the guitar.

In 2011, BLOODLOST entered the Roystone Studio to record their second album Trashell.

As in many other bands, BLOODLOST's line-up changed during the years and in 2013 they decided to continue as a trio, after Norcrow left the band.

With a new record deal with Massacre Records and a booking contract with Red Lion Music under their belt, the future looks bright for BLOODLOST from Switzerland!

A few gigs are already scheduled for 2015, with their long-time roadie Norgrim supporting them live on guitar.

BLOODLOST's upcoming album Evil Origins is set to be released on May 22, 2015 via Massacre Records!
Nuclear Blast / EPICA new 'The European Enigma' after movie; announce new tour dates
Posted by: Denis / 27.03.2015
---
Dutch Symphonic Metallers
EPICA
recently returned home from a successful South American Tour, where the band performed in front of thousands of people In Ecuador, Brazil, Peru, Paraguay, Chile and Argentina.
EPICA
's guitar player
Isaac Delahaye
has the following to say about the tour
"Damn, this has been a great tour once again! More and more bands are going to this beautiful part of the world and we all understand why: some of the most enthusiastic and passionate metalheads can be found in South America. We've been overwhelmed by the warm welcome, the great weather, the gifts, the hospitality, the food, the cheering and the support from the crowds, etc. Thanks for all of that and for charging our batteries to keep the whole circus going! See you all next time!"
In Sao Paulo the band was joined in by
Bruno Zuppone
from VTV Filmes. He followed the band during the entire day and created an awesome aftermovie...
The video can be viewed here.
The coming months will see
EPICA
tour Greece, South Africa, the Netherlands, Scandinavia and Russia. Hereafter the band will hit the European festival circuit.
EPICA Live: 27-03-15 Fuzz Athens Greece 28-03-15 Fix Factory of Sound Thessaloniki Greece 05-04-15 WitchFest Pretoria South Africa 11-04-15 De Oosterpoort Groningen Netherlands 21-04-15 Göta Källare Stockholm Sweden 22-04-15 Nosturi Helsinki Finland 24-04-15 Cosmonavt club St Petersburg Russia 25-04-15 Red Club Moscow Russia 26-04-15 Teleclub Ekaterinburg Russia 30-05-15 Rockavaria Munich Germany 31-05-15 Grüne Hölle Nürburg Germany 06-06-15 FortaRock Nijmegen Netherlands 13-06-15 Nova Rock Nickelsdorf Austria 19-06-15 Graspop Dessel Belgie 21-06-15 Hellfest Clisson France 09-07-15 Rock Harz Festival Osterode am Harz Germany 31-07-15 Wacken Open Air Wacken Germany 07-08-15 City Rock Leeuwarden Netherlands 08-08-15 Leyendas del Rock Villena Spain 16-08-15 Made of Metal Hodonin Czech Republic 16-10-15 Maximum Rock Festival Bucharest Romania 17-10-15 Rock Your Brain Selestat France
MORE
Punishment 18 Records / Bloodrocuted 'Mors Indecepta' preview available on-line
Posted by: Denis / 27.03.2015
---
This is
Mors Indecepta
taken from the new record called
Disaster Strikes Back
by Belgium thrashers
Bloodorocuted
! The new album will be released next March 30th by Punishment 18 Records. Artwork was created by artist
Mario Lopez
(
Game Over, Sabbat, Warstorm, Sofisticator, Repulsor, Axe Battler
and many more).
Ulterium Records / HARMONY 'REMEMBRANCE' EP DETAILS REVEALED
Posted by: Denis / 27.03.2015
---
The Swedish Melodic Metal band Harmony will release a new EP entitled Remembrance on May 22nd in Europe and on May 26th in North America through Ulterium Records.

The 6 track EP includes four re-recorded songs from Harmony debut album Dreaming Awake as well as two new songs. Remembrance features the legendary vocalist Daniel Heiman (ex. Lost Horizon) on vocals on all tracks. The EP is mixed at Studio Fredman (At The Gates, In Flames, Hammerfall) in Gothenburg, Sweden.
MORE
Metal Media / King Bird new song, 'Break Away', just released for streaming
Posted by: Denis / 26.03.2015
---
The
Brazilian Hard'n'Heavy
KING BIRD
has just released
a new song
from their upcoming album, the third of career.
The new song is labeled
Break Away
and according to vocalist
Ton Cremon
"is one of the heaviest compositions from the new album, but that keeps the various elements that characterize the musical identity of King Bird."
The new album, still untitled, has entered the mixing stage in the hands of producer
Henrique Baboom
(
Panzer, Jeff Scott Soto, Richie Kotzen
).
STARBLIND signed a worldwide deal with Pure Steel Records
Posted by: Denis / 26.03.2015
---
STARBLIND was formed in early spring 2013 and began the recordings of its album debut Darkest Horrors six months later, it was released in July 2014 on Stormspell Records and it received very good reviews which resulted in a three week European Tour in support of Tim Ripper Owens. In less than two years since the inception of the band, STARBLIND has managed to play over 30 live shows in more than ten countries and has become a live act to be reckoned with. After the tour STARBLIND have been focusing on writing songs for album number two, a pre-production was recorded with Starblind's producer Cedrick Forsberg in February 2015 and the new record deal with Pure Steel Records was inked in March. The recordings of the new album will commence in April 2015 at Studio 2-Takt which is owned by the producer Cedrick Forsberg (Rocka Rollas).

Some of the Starblind members have previously played in bands like Steel Attack, Danger and Sadauk to name a few.

Bandstatement:
"After a few months of negotiating with different labels STARBLIND are proud to announce the signing with Pure Steel Records GMBH for a worldwide release of our upcoming album. Pure Steel's profile fits us as a band perfectly and we feel confident that this will help us take the next step as a band."
Pure Steel Records / HELLISH WAR Official video for 'The Challenge' released
Posted by: Denis / 26.03.2015
---
MORE
AFM Records / Magic Kingdom 'Savage Requiem' lyric video available
Posted by: Denis / 25.03.2015
---
Right in time for the release of their new album
Savage Requiem
(which is out now in Europe and will drop in the US on April 14th),
Belgian Power Speed
metallers
MAGIC KINGDOM
have unleashed
a lyric video for the album's title track
.
MORE
AFM Records / Eden's Curse 'No Holy Man' live video
Posted by: Denis / 25.03.2015
---
EDEN'S CURSE
have released
the second promo video
from their new Double Live CD
Live With The Curse
which was released in Europe last week.
Mixed and mastered by
Dennis Ward
(
Unisonic, Pink Cream 69, Krokus
) the video is a live rendition of the song
No Holy Man
, which was originally a duet recorded with
Dream Theater
vocalist
James LaBrie
and one of the band's most popular songs.
Live With The Curse
is out now in Europe and will be released in North America on April 14.
MORE
W.A.S.P. sign to Napalm Records
Posted by: Denis / 25.03.2015
---
Almost six years have passed since the world saw a new studio album from Metal icons W.A.S.P. That is about to change as W.A.S.P. has signed a new worldwide record deal with Austria's Napalm Records. W.A.S.P. will release their 15th studio album titled Golgotha this August.

"W.A.S.P. are excited to announce they have signed an exclusive recording contract with Napalm Records. We chose Napalm for their personal belief and professional commitment to our career. We're looking forward to years of great success together starting with the release of our upcoming album Golgotha", states W.A.S.P. front man Blackie Lawless.

Vice President of Napalm Records Thomas Caser on W.A.S.P. joining Napalm Records: "It is a true honor to announce this signing today, a dream has come true. With their impressive career and ability to create musical masterpieces W.A.S.P. have always been one of the most influential Metal bands out there since the beginning of their career. We are thrilled about the upcoming album Golgotha which will be released this summer!"

W.A.S.P. came out of the Los Angeles Metal scene in 1982 gaining notoriety for their shock rock antics. With a career spanning over 3 decades, 17 world tours, and now their 15th studio album, they are a metal band that has evolved in maturity without having lost their signature sound, unlike many of their peers from their origins. Golgotha will continue down the path that 2007's Dominator and 2009's Babylon started on, both in production style and theme. Six years in the making, Golgotha will undoubtedly lead the listeners on the emotionally epic undertaking that W.A.S.P. has become acclaimed for!
MORE
Punishment 18 Records / Hyades 'The Wolves Are Getting Hungry' tracklist revealed
Posted by: Denis / 25.03.2015
---
In 2014,
Italian Thrash
masters
Hyades
has signed a new record deal with Punishment 18 Records that will release their new full-length album titled
The Wolves Are Getting Hungry
, the fourth of their career which began in 1996. You can see the tracklist below:
The Economist Ignorance is no Excuse The Decay of Humankind The Apostles of War The Great Lie Heavier Than Shit (Hyz IV) Sing This Rhyme 8 Beers After The Wolves Are Getting Hungry Hyades
METALMESSAGE Promotion / CYRENCE Top-notch Classic Thrash Metal from Munich new EP 'The Hospital' (March 27, 2015)
Posted by: Denis / 24.03.2015
---
No boundaries for erupting energies!
CYRENCE
from the worldwide known capital of delicious beer, Munich, play melodic and lively
THRASH METAL
in the vein of
MEGADETH, METALLICA
and
ANTHRAX
.
Their style is very unique, there are no boundaries for the skillful Bavarian bunch of enthusiastic
Thrash
-heads.
March 27 will see the release of their EP
The Hospital
.
One will enjoy a shitload of rough and edgy neckbreakers as well as clean, almost psychedelic moments, always maintaining the right amount of strong heaviness, martial groove and fine melody. The lyrics of
CYRENCE
cover a wide range of different topics.
It's high time to spread their melodic and highly energetic
Thrash
sound to worldwide ears!
Massacre Records / New CRYSTAL BALL song available for streaming
Posted by: Denis / 24.03.2015
---
Your prayers have been heard! The new
CRYSTAL BALL
song
Paradise
is now
available for streaming in its entirety here
.
The band's new album
LifeRider
was produced, mixed and mastered by
Stefan Kaufmann
(ex-
Accept
, ex-
U.D.O.
).
Thomas Ewerhard
has created the cover artwork.
The album will feature a duet with
Battle Beast
's
Noora Louhimo
as well as guest musician
Stefan Kaufmann
on acoustic guitar!
CRYSTAL BALL
's
LifeRider
will be released on May 22, 2015 via Massacre Records and will also be available as limited edition digipak with exclusive bonus tracks!
MORE
Ulterium Records / IMPELLITTERI 'VENOM' LIMITED 12" EDITION ANNOUNCED
Posted by: Denis / 24.03.2015
---
Ulterium Records are proud to announce the release of a limited 12" vinyl edition of the upcoming IMPELLITTERI album VENOM. A deal was inked with Frontiers Records and the release dates are set to May 29th for Europe and July 7th for North America. The edition is strictly limited to 500 copies worldwide and includes an insert with lyrics. 350 copies comes with a standard black disc and 150 copies with a white disc.
MORE
Punishment 18 Records / Anatomy of I new song audio teaser
Posted by: Denis / 24.03.2015
---
Substratum
was
Anatomy of I
debut full-length album and it will be available by Punishment 18 Records in spring. Issued in 2011, the album contains ten extraordinary
technical Death Metal
tracks, result of spectacular avant-garde minds of
Steve di Giorgio
(
Sadus, Testament, Artension, Control Denied, Sebastian Bach, Death
and many more), of the drummer
Dirk Verbeuren
(
Soilwork, Aborted, Devin Townsend Project, Warrel Dane
and many more) and of the talented singer and guitarist
Michael Dorrian
.
Punishment 18 Records is going to produce a Special Edition with a tracklist added of bonus tracks. You can listen a teaser from the instrumental new one,
In Memoriam
.
Nuclear Blast / Luca Turilli's RHAPSODY details about the new album 'Prometheus, Symphonia Ignis Divinus' revealed
Posted by: Denis / 24.03.2015
---
The creators of CINEMATIC METAL are finally back with their most outstanding record: Prometheus, Symphonia Ignis Divinus, which is set to be released in June!

Once again, the album was composed and produced by Luca Turilli, as always responsible for all the orchestral and choral arrangements. It was recorded and mixed at the Backyard Studios of Sebastian Roeder (Bonfire a.o.) and mastered by Christoph Stickel (Michael Schenker's TEMPLE OF ROCK a.o.) at MSM studios.

Seven months of composition, three months of production, over 50 days of mix, two choirs, several special guests, including Ralf Scheepers (PRIMAL FEAR), Dan Lucas (KARO) and David Readman (PINK CREAM 69). Including 70 minutes of epic music, sounding cinematic, bombastic and dramatic as never before, the new RHAPSODY masterwork will lead the listener to an emotional and memorable journey between quantum gates, parallel dimensions, myths and legends hiding cosmic truths, ancestral secrets and spiritual revelations.

And this time it was not enough for the band to simply sound CINEMATIC. It came the time for RHAPSODY to finally 'look' CINEMATIC too. Therefore, the new cover artwork and the album booklet, introducing the new cinematic graphic style of the band, were realized by the well-known amazing artist named Stefan 'Heile' Heilemann (EPICA, LINDEMANN a.o.).

The first single, entitled Rosenkreuz (The Rose And The Cross) will be released on April 24th, 2015.

The digipak version of the album will include the cinematic version of Thundersteel, the famous song of RIOT, performed by the RHAPSODY singer Alessandro Conti in duet with Ralf Scheepers!
MORE
A.R. Press Office / Alberto Rigoni releases 'Into THE BASS' limited edition CD
Posted by: Denis / 23.03.2015
---
Into the BASS
is selection of songs from Italian bass player and composer
Alberto Rigoni
's four studio albums (
Something Different, Rebirth, Three Wise Monkeys, Overloaded
).
With a range of influences from
Dream Theater, Rush, YES
to artists such as Michael Manring & Stu Hamm,
Into THE BASS
is an eclectic mix of instrumental tracks that shows the potential of the bass as more than a rhythm instrument. An aural journey of melody and groove that showcases a wide variety of genres covering progressive, rock, ambient and experimental, while maintaining the artist's distinctive style.
The texture of the album is enriched by the participation of top class musicians such as
Gavin Harrison
(
Porcupine Tree
),
Michael Manring, John Macaluso
(ex
Yngwie Malmsteen, ARK
), amongst others.
Metalmessage Promotion / THARAPHITA (BLACKENED PAGAN METAL from Estonia) 'Ülestõus'
Posted by: Denis / 23.03.2015
---
Estonian Metal
band
THARAPHITA
has released their latest album titled
Ülestõus
('Uprising') in summer 2014.
The new album's music is a mix of
Black, Heavy
and
Thrash Metal
. Lyrics are mostly inspired by Estonian history and our ancestors' hard struggle for survival and the freedom of their homeland. According to legend, the mightiest Estonian fire god Tarapita landed at Estonia's biggest island Saaremaa.
The album cover depicts the main crater of lake Kaali, which was formed by a meteorite. It caused enormous damage and chaos but our ancestors starting to worship this mystical fire in the sky. The meteorites also contained iron ore, which made it possible to forge extremely strong weapons for the ancient times warriors and tools for farmers.
The new release of
THARAPHITA
provides great contribution into
Estonian Metal
music but the lyrics also a call to reconsider the values dominant in our society. It was also nominated in the category of the best metal album at the Estonian Music Awards 2015.
The album was recorded at the Roundsound studio and contains eight songs.
THARAPHITA Ülestõus (Uprising) 2014 Ülestõus (Uprising) Viimsepäeva koidik (The Dawn of Armageddon) Luupainaja (The Nightmare) Tuhandeaastase orjaöö tuhast (From the Ashes of a Thousand Years of Slavery) Sõnad sõlmedesse (Knotting the Words) Surma-arbujad (Sorcerers of Death) Tuuled rändavad ringi (Winds Wander) Terasest taotud teel (On a Road Made of Steel)
Two songs from the new album (
Ülestõus
and
Luupainaja
) can be listened at
Tharaphita Official Youtube channel
.
Nuclear Blast / HELLOWEEN announce album tracklist & first single
Posted by: Denis / 23.03.2015
---
HELLOWEEN are one of the most influential and internationally successful acts of the global Metal scene. With the release of their 15th studio album My God-Given Right, due on May 29th (EU), June 1st (UK) and June 2nd (US), the pumpkin heads are set to further cement their title as the founding fathers of German Melodic Speed Metal. The band's first self-titled EP was released in 1985, making their new album My God-Given Right the celebratory marker for their impressive 30 year career.

On April 17th, HELLOWEEN will release the first single out of My God-Given Right, which will be for the Speed Metal hymn Battle's Won. Besides the digital download, there will be a limited edition 2-track vinyl single, also featuring the album-track Lost In America.
MORE
Nightbreaker Productions / FINAL FRIGHT: 'ARTIFICIAL PERFECTION' TRACKLIST AND ARTWORK REVEALED
Posted by: Denis / 20.03.2015
---
The first full length of the Italian thrashers will be released on May by NIGHTBREAKER PRODUCTIONS.
The artwork has been done by
Jon Whiplashh
(
Skelethal, Infinite Translation
).
Artificial Perfection tracklist: 1. Cane Arrabbiato (Rabid Dog) Blind Human The Springwood Slasher You Deserve To Die My Day Serial Victim Parasite La Polizia Non Può Sparare
Metal Media / Hammurabi new single and video clip released
Posted by: Denis / 20.03.2015
---
Brazilian Death/Thrash Metal
act
HAMMURABI
just released a single and
video for the new song 'The Emperor Returns To The Front
.
The song was recorded and produced by the band at Mr. Sound Studio, supervised and mastered by
Marcello Pompeu
and
Heros Trench
. The cover art was provided by the artist
Hugo Silva
of Abacrombie Ink (
Project 46, Feartone, Miasthenia
) in partnership with the singer, and also designer,
Daniel Lugondi
.
The music video was done by
Willians de Abreu
from Lab Brain Filmes.
It is noteworthy that both in song, as on the video, there is the participation of bassist of the legendary Brazilian band
Korzus
,
Dick Siebert
.
Jolly Roger Records / NEGACY 'FLAMES OF BLACK FIRE'
Posted by: Denis / 20.03.2015
---
Jolly Roger Records
is pleased and excited to announce the signing of the contract with the Italian, now moved to UK, band
NEGACY
(born from the ashes of
Red Warlock
), for the release of the debut album titled
Flames of Black Fire
out on CD and digital 15th June, featuring 10 tracks of
Heavy Metal
in the style of
Megadeth, Nevermore, Sanctuary, Annihilator, Morgana Lefay
.
The Great Plague official video clip
is now released and also included in
Nothing Changes
digital-only 4 tracks release now
available on BandCamp
, containing 2 unreleased tracks (taken from upcoming new album) and 2 exclusive tracks.
About
NEGACY
:
The band was born in Italy in August 2005, playing since the beginning a dark modern
Heavy Metal
, raw and noble at the same time, under the monicker
Red Warlock
, recording first full-length album
Serve Your Master
(2010). In April 2012, after an US tour, the band changed name into
Negacy
. During all these years of growth, which has led it towards various different musical directions, it felt the need for a new moniker, suitable for the dark modern nature of the band. The result was to create
Negacy
, a fusion of the words 'Negation' and 'Legacy'.
This change is for sure the symbol of a fresh start for the band, which is setting up for working like never before, to gather as much as possible from its past and future. A new beginning, taking over and carrying on
Red Warlock
's aim throughout the years, with even more awareness.
MARCO PIU - VOCALS ANDREA GIRIBALDI - GUITARS GIANNI CORRAZZA - GUITARS TONY RASSU - BASS CLAUDIO SECHI - DRUMS
Mistheria upcoming show with Edu Falaschi (ex-Angra, Almah)
Posted by: Denis / 19.03.2015
---
Mistheria's really proud to announce that he will play for the great ex-Angra and now Almah singer EDU FALASCHI on his upcoming Italian tour (June 2015) together with an amazing band featuring Titta Tani (drums), Dino Fiorenza (bass), Francesco Corapi (guitars).
MORE
POWERWOLF UNVEIL ALBUM TITLE AND COVER ARTWORK
Posted by: Denis / 19.03.2015
---
Powerwolf have just unveiled the title of their upcoming album, which is scheduled for a July 2015 release.

The album will be entitled Blessed & Possessed.

Once again guitarist Matthew Greywolf was also responsible for the artwork.

Currently the band is laying final touches to the mix together with sound wizard Fredrik Nordström at Studio Fredman in Gothenburg, Sweden.
MORE
SPV / RAVEN release lyric video for 'Destroy All Monsters'
Posted by: Denis / 19.03.2015
---
RAVEN
are that rare thing in music, true originals – cut these guys with a razor and they will bleed
true Heavy Metal
– a more intense live band does not exist on this planet!
NWoBHM
legends
RAVEN
release a
lyric video for the new song Destroy All Monsters
taken from the forthcoming album
ExtermiNation
, which marks the first new studio album since 5 years and is hailed by many who heard it already as one of their best albums ever.
ExtermiNation
will be released in Scandinavia on April 22nd, in Germany on April 24th, in Europe on April 27th and in the USA on April 28th as a digipak version (incl. 1 bonus track), 2LP gatefold green vinyl version and download through SPV/Steamhammer.
MORE
AFM Records / Iron Savior Megatropolis 2.0 album coming in April
Posted by: Denis / 18.03.2015
---
Not one, but two new IRON SAVIOR products are set to arrive in the next few months! AFM Records already announced the band's first ever LIVE DVD/CD a while ago, but before that, a new version of their Megatropolis album, titled MEGATROPOLIS 2.0 (which comes with a new mix and a lot of re-recordings) will be released on April 24th.

Piet Sielck comments: "AFM has informed me that our Megatrolis album is sold out, so the idea came up to rework the material and release a new edition. Being unhappy with the album for a long time, I am absolutely delighted to get a chance to correct my errors. The new mix will carry all Iron Savior trademarks such as big choir backings and lots of multi timbral vocals. I left all these goodies out at the time to make the album more distinguishable from my former second band Savage Circus... a fatal error, which I finally can correct now."
MORE
Inner Wound Recordings / Pyramaze Disciples of the Sun details announced
Posted by: Denis / 18.03.2015
---
Inner Wound Recordings
are proud to announce the signing of the
Melodic Metal
band
PYRAMAZE
to the label. Their new album
Disciples of the Sun
will be released on May 22nd in Europe and on May 26th in North America.
Pyramaze
are devoted to making music that mirrors their souls, combines all of their influences, and stimulates the mind and spirit of their listeners...
Pyramaze
continue to make music that is dark, thought provoking, all with a sense of fearlessness! The band will forever be committed to making the melodic art of a group that understands the importance of staying true and faithful to one's passion.
"Divided by oceans, bound together by brotherhood, we must become that which divides us... we are PYRAMAZE, and we are the Ocean!"
Check out an album teaser for Disciples of the Sun at YouTube.
The vinyl edition of
Disciples of the Sun
is strictly limited to 500 copies worldwide and includes an insert with lyrics. 400 copies comes with a standard black disc, and 100 copies with a white disc.
MORE
Pure Steel Records / ARTIZAN 'The Furthest Reaches' cover, tracklist, release date: 24th of April 2015
Posted by: Denis / 18.03.2015
---
The release date of the new
ARTIZAN
album
The Furthest Reaches
on CD is April 24th 2015. The preorder phase will start on April 10th 2015 in label's webshop.
ARTIZAN
is set for their third release
The Furthest Reaches
. The epic sci-fi concept album tells the story of an alien race returning to Earth after a distress signal is sent into space. Guest appearances from
Matt Barlow
(Ex-
Iced Earth, Ashes of Ares
) and
Sabrina Cruz
(
Seven Kingdoms
) are featured on the Metal opera. All of the elements that
ARTIZAN
are known for are showcased throughout this melodic masterpiece.
The Furthest Reaches
is their heaviest, most progressive material to date. Once again, legendary producer
Jim Morris
(
Iced Earth, Crimson Glory, Jag Panzer
) applies his wizardry, ensuring a sonic experience of the highest quality. The album will be available as normal and limited edition with different cover artworks. The limited edition will contain additionally the bonus track
Come Sail Away
.
Standard version artwork by Marc Sasso; Limited Edition Artwork by Eliran Kantor.
TRACKLIST Coming Of Age Summon the Gods Hopeful Eyes The Furthest Reaches The Cleansing Wardens of the New World Heed The Warning Supernova Starchild Into The Sun Come Sail Away (Bonus Track Limited Edition)
LINE-UP: Tom Braden – Vocals Ty Tammeus - Drums Bill Staley - Rhythm/Lead Guitars Shamus McConney - Rhythm Guitar Jonathan Jennings - Bass Guitar
GlobMetal Promotions / DESERT RELEASES THE '1812' LYRICS VIDEO FEAT. RALF SCHEEPERS (PRIMAL FEAR)
Posted by: Denis / 17.03.2015
---
Dark Epic metallers
DESERT
premiere the
new lyrics video 1812
, taken from their upcoming album
Never Regret
which is scheduled for release worldwide on March 30, 2015 through Raven Music. Guest vocals on this track performed by
Ralf Scheepers
(
Primal Fear
, ex-
Gamma Ray
). The song is telling the story about the Battle of Borodino, taken place on 1812 near Moscow, the crucial battle between Napoleon and Russian armies, which became the beginning of the end of French army and Napoleon Empire.
MORE
Pure Steel Records / DSG 'Still A Warrior' release, tracklisting, release date: 24th of April 2015
Posted by: Denis / 17.03.2015
---
The release date of the new
DSG
album
Still A Warrior
on CD is April 24th 2015. The preorder phase will start on April 10th 2015 in label's webshop.
Known for being a member of
MANOWAR
between 1988 and 1994,
DAVID SHANKLE
still is a fantastic guitar player for all true
Metal fans
. He was involved in the songwriting with hymns like
Ride The Dragon
and
Master Of The Wind
.
On many tours he also became a very well appreciated musician for all 'Manowarriors'. For 13 years,
DAVID SHANKLE
has been enjoying a solo career, as evidenced by the two albums,
Ashes To Ashes
(2003) and
Hellborn
(2007). Pure Steel is very proud, to release the third album
Still A Warrior
, after eight long years of waiting for the next strike.
Powerful and modern played
US Power Metal
meets sophisticated arrangements. The technical, shred‐styled guitar of the master himself can be heard very well in many solos and the final instrumental,
The Hitman
. The powerful, high‐pitched powerful vocals of
Warren Halvarson
(also in
Damien Thorne
) shows their unique charisma.
Still A Warrior
confirms: friends of
US Metal
with a classical shred guitar influences will completely be satisfied by their hero again!
TRACKLISTING Still A Warrior Ressecution Glimpse Of Tomorrow Demonic Solo* (From the movie Jezebeth) Fuel For The Fire Eye To Eye The Hitman (instrumental) Suffer In Silence (Agenda 21) Into The Darkness Across The Line
Total Playing Time: 48:11 min
MORE
Punishment 18 Records / Bloodorocuted 'Disaster Strikes Back' release date announced
Posted by: Denis / 17.03.2015
---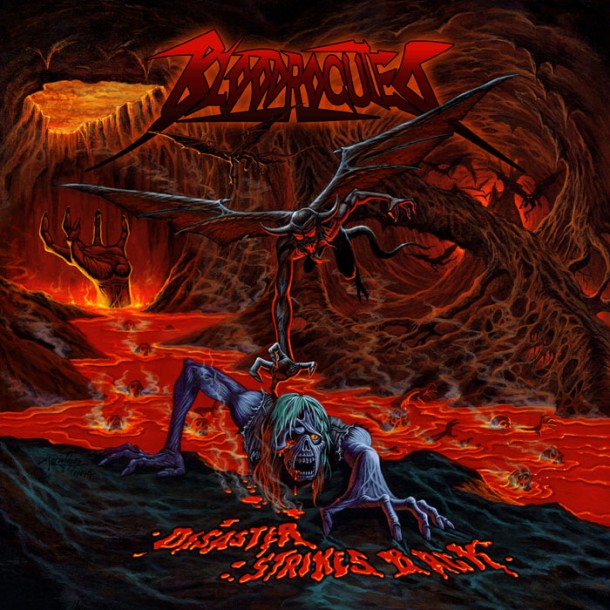 Punishment 18 Records
is preparing to release Belgium thrashers
Bloodorocuted
new album
Disaster Strikes Back
on March 30th.
Artwork was created by artist
Mario Lopez
(
Game Over, Sabbat, Warstorm, Sofisticator, Repulsor, Axe Battler
and many more).
My Kingdom Music / Trinity: The Annihilation - EVERSIN's new album is coming
Posted by: Denis / 17.03.2015
---
Trinity: The Annihilation
is the title of the new album of Technical Thrashers
EVERSIN
out via My Kingdom Music on May 18th in digipack format and that is for sure the most violent and powerful output ever released by the band. The title comes from the code name of the first detonation of a nuclear weapon USA did in the Jornada del Muerto desert in New Mexico on July 16th, 1945.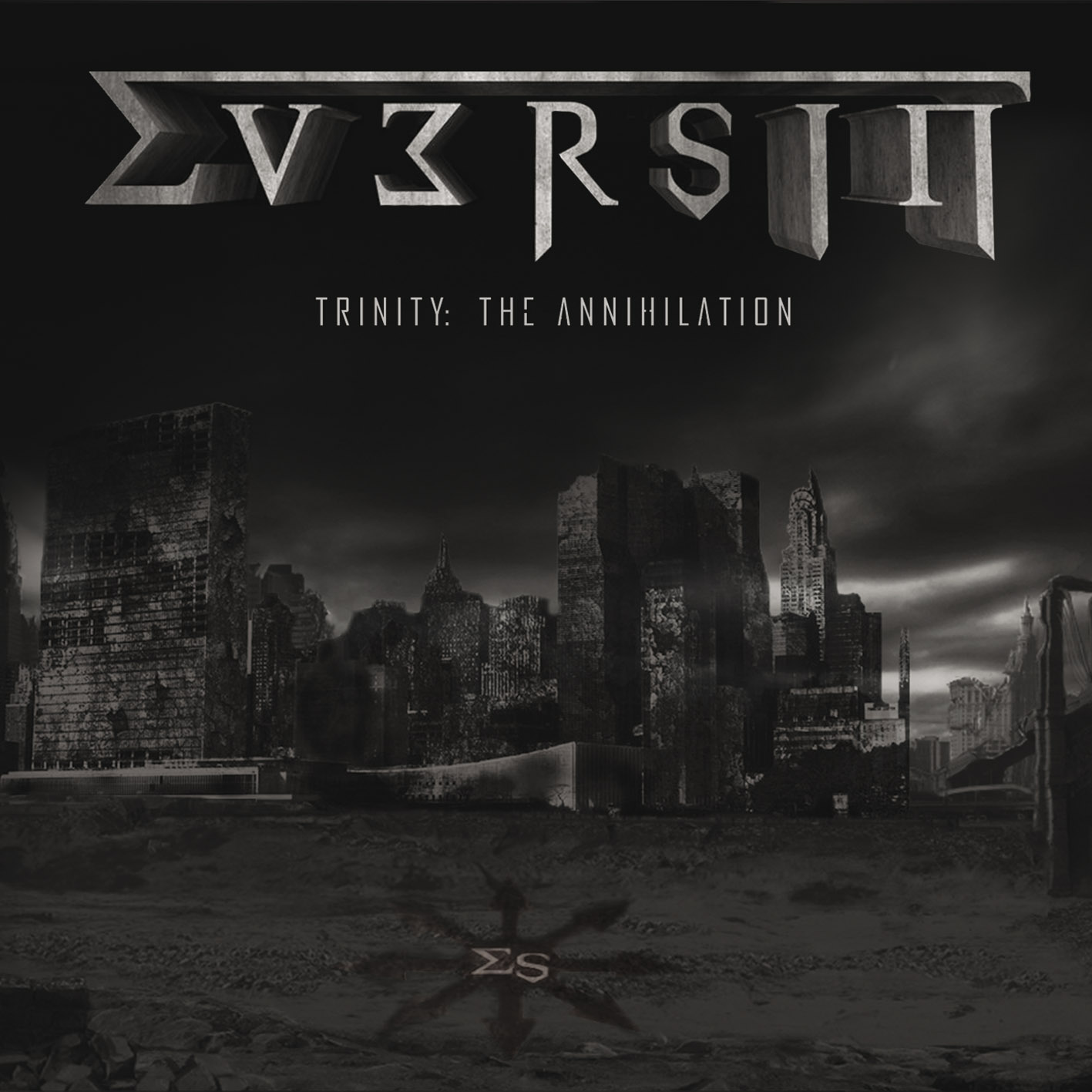 Special guests of the album are
James Rivera
,
HELSTAR
's vocalist and
Glen Alvelais
(already with
FORBIDDEN
and
TESTAMENT
).
Special mastering of the album was did by
Stu 'Hammer' Marshall
(
Hobbs' Angel of Death, Paindivision, Death Dealer
) at Frontier Mastering Studios in Sidney (Australia).
The official tracklist Flagellum Dei Fire Walk With Me (feat. James Rivera) Chaosborn We Will Prevail (feat. Glen Alvelais) Crown Of Nails Beneath An Atomic Sun Litanies Of War Trinity
The band is preparing an intense live campaign for the next summer/fall. Already confirmed their presence at ROCK OFF TURKEY in Istanbul and will be the special guest of the only
ANNIHILATOR
live show in Italy on October 14th.
The thunders of war are coming!!!
Nuclear Blast / NIGHTWISH stream new song 'Shudder Before The Beautiful'
Posted by: Denis / 16.03.2015
---
In anticipation of their forthcoming studio album
"Endless Forms Most Beautiful"
- out on March 27th (EU), 30th (UK) and 31st (US) - Finland-based
symphonic Metal
masters
NIGHTWISH
now reveal the album opener
Shudder Before The Beautiful
as the second track after the recently unveiled first singe
Élan
.
Shudder Before The Beautiful is premiered today at Finland's biggest newspaper Helsingin Sanomat, click here.
Tuomas Holopainen
comments:
"We wanted to present our upcoming album`s opening track Shudder Before The Beautiful for everyone to listen to before the album`s release in cooperation with the newspaper Helsingin Sanomat. Bringing together the most trustworthy Finnish media with a song about universal awe was a match made in heaven in its uniqueness. The core of Shudder Before The Beautiful lies in moments such as gazing at The Milky Way on a cold winter`s night, seeing a photo of our Planet Earth, 'a pale blue dot' taken by Voyager 1 as a tiny oasis in the unfathomable vastness of space, or when listening to music which momentarily takes away all woe and time.
And sharing those moments with people you love."
MORE
Stormspell Records / Starblind
Posted by: Denis / 16.03.2015
---
While recording pre-production for
Starblind
upcoming album at Studio 2-Takt, thew band had a few extra hours to kill and therefor they decided to record a cover version of the legendary song
Night of the Blade
by
Tokyo Blade
.
Starblind
recorded
this live
in the studio, without any use of a metronome and far away from any sort of drum triggers.
Metal Media / Executer: Music video for 'Helliday' is available
Posted by: Denis / 13.03.2015
---
It is available the
new music video
from the legendary
Brazilian Thrash Metal
band,
Executer
. The song chosen is the title track of their latest album,
Helliday
.
The video contains images of the band's European tour held last year, captured by photographer
Reginaldo Leme
. The edition was due to production company Kaiowas.
Helliday
, released by Kill Again Records was recorded at Pinola Studio and produced by the group itself. The art was developed by the artist
Giovanna Guimarães
.
WITHIN SILENCE SIGNS WITH ULTERIUM RECORDS
Posted by: Denis / 13.03.2015
---
Ulterium Records
are proud to announce the signing of the
Melodic Metal
band
WITHIN SILENCE
to the label. Their debut album
Gallery of Life
will be released on May 8th in Europe and on May 12th in North America.
Strong musicianship and the ability to write interesting songs with memorable melodies makes
WITHIN SILENCE
a band to be reckoned with for years to come. Their debut album
Gallery of Life
got everything from up-tempo
Power Metal
tracks like
Silent Desire
and
Emptiness of Night
to pounding Metal tracks like
The Last Drop of Blood
to
epic Metal
songs like
Road to the Paradise
.
Gallery of Life
will be a perfect album for fans of bands like
Sonata Arctica, Stratovarius
and
Theocracy
and fans of
Melodic Metal
in general. The artwork was created by
Jan Yrlund
at Darkgrove Design (
Delain, Apocalyptica, Korpiklaani
).
Check out an album teaser for Gallery of Life at YouTube.
Gallery of Life track listing Intro Silent Desire Emptiness of Night Elegy of Doom The Last Drop of Blood Love is Blind Anger and Sorrow Judgement Day The World of Slavery Road to the Paradise Outro
Gallery of Life
can be pre-ordered at the Ulterium Records Store.
SPV / ANVIL release video for 'Hope In Hell'
Posted by: Denis / 13.03.2015
---
Canadian Metal
icons
ANVIL
release a
new video
for the title song of their latest album:
Hope In Hell
. It was again created by Swedish director
Rene U Valdes
for Greenworks Productions.
Anvil
will embark on another European festival tour this summer with more dates to be added soon:
ANVIL European Festival Tour 2015 30.05. SE-Alvesta – Muskelrock 10.07. CZ-Vizovice – Masters Of Rock 17.07. D-Balingen – Bang Your Head 20.07. SO-Tolmin – Metaldays
MORE
SPV / HIRAX release video for 'Hellion Rising'
Posted by: Denis / 13.03.2015
---
Legendary
Thrash Metal
Act
HIRAX
released the
new video for the song Hellion Rising
from their latest album.
HIRAX
vocalist
Katon W. De Pena
comments on the making of their new music video from the album
Immortal Legacy
:
"The new HIRAX video Hellion Rising is a visual thrash metal experience. We filmed on location in the historic Battery Bunkers built in 1942 hidden in the hills of San Pedro, California. This is our second video directed and produced by Donovan Vim Crony. The scenery is the perfect backdrop for HIRAX's brand of intense Thrash Metal. No green scenes, fake production or props were used in the making of this high definition video / film. The release will coincide with the announcement of our upcoming European tour / concert dates 2015. We are very excited to hit the road again and play our music for all the die hard, European, Thrash Metal maniacs."
HIRAX European Tour Dates 2015 13.03. UK-Gwynedd – Hammerfest Festival 14.03. UK-Glasgow – Ivory Blacks 15.03. UK-Birmingham – Asylum 2 16.03. UK-Manchester – Sound Control 17.03. UK-Winchester – Railway Inn 18.03. UK-London – Black Heart Camden 19.03. B-Deinze – Elpee 20.03. NL-Tilburg – Little Devil 21.03. NL-Katwijk – Scum 24.03. E-Zaragoza – Sala Utopia 26.03. E-Madrid – Sala Lemon 27.03. E-Palencia – At Mosh Phera Zero 28.03. E-Granada – La Petite 30.03. F-Toulouse – Les Pavillions Sauvages 03.04. I-Milan – Blue Rose Saloon 04.04. SVK-Bratislava – Randal Club 05.04. D-Hamburg – Bambi Galore 09.07. CZ-Trutnov – Obscene Extreme Festival 10.07. PL-Zori – Ozi Pub 11.07. PL-Gdynia – Atlantic Club 12.07. PL-Szczecin – Slowianin Club 13.07. PL-Warsaw – Progressja 14.07. D-Berlin – SO36 16.07. SVK-Kosice – Colliseum Club 17.07. CZ-Pohori – Agressive Fest 18.07. D-Balingen – Bang Your Head Festival 19.07. D-Egelsee – Schwarzer Adler 20.07. CH-Olton – Coq d`Or 21.07. SLO-Tolmin – Metal Days Festival 22.07. A-Dornbirn – Conrad Sohm 23.07. D-Kassel – K19 24.07. D-Brande/Hörnerkirchen – Headbangers Open Air 25.07. NL-Steenwijk – Stonehenge Festival 26.07. B-Ostend – JH Ohk
MORE
Nuclear Blast / AMORPHIS heads for studio, new album out in September
Posted by: Denis / 13.03.2015
---
Finnish Metal act AMORPHIS has started the year off by demoing new songs for their upcoming 12th studio album due out in Autumn. The band has started pre-production this month in Helsinki with producer Jens Bogren. The album recordings will begin in April at Bogren's Fascination Street Studio in Stockholm.

The lyrics are written by AMORPHIS's spiritual mentor Pekka Kainulainen. "Like Kalevala, they are descriptions of natural phenomena, seasons and the human mind. Reoccurring situations where hope and uncertainty alternate. Attempting to gain advice from higher powers. The poems do not form a complete story per se, but they are drawn together by a certain theme. We live under a red cloud and once again, time weighs us," describes Pekka Kainulainen.

The new album will be released in autumn, when AMORPHIS will embark on a world tour, starting from their native Finland. AMORPHIS will be touring Europe with NIGHTWISH at the end of the year.

This past December, AMORPHIS completed a successful Central European 'Retro' tour where the band played their legendary Tales From The Thousand Lakes album in its entirety to celebrate the 20th anniversary of said record. As a special treat for the fans, AMORPHIS also played songs from their debut album, which they haven't played in more than two decades. In Germany the media praised the tour of its authenticity and its 'time travel to 20 years ago' aspect.

Commented the band: "The tour set pays homage to the Tales From The Thousand Lakes album and did not include a single song released after 1995. It was great to see how boldly Tales... functions as a whole."
MORE
Jack Starr's BURNING STARR reveal first details of the new album
Posted by: Denis / 12.03.2015
---
Legendary American Power Metal act JACK STARR'S BURNING STARR (founded in 1984 by the ex VIRGIN STEELE / PHANTOM LORD guitar hero Jack Starr), started pre-production process of the new studio album titled Stand Your Ground, scheduled for recording during Spring and Summer of 2015. Some of the new song titles are: Stronger Than Steel, In Another Time (From Ashes We Rise), Stand Your Ground or To The Ends Of The Earth. Stand Your Ground is a loosely based concept album, about the problems facing America and the world, and the belief that many people have, that we are heading into an era of strife and conflict.

Stand Your Ground will include new songs, as well as several recently unearthed, unreleased and never recorded compositions written in the '80s. The new BURNING STARR album - like the previous one, Land Of The Dead, which came out on Limb Music in 2011, and which was promoted on European tour, special live show at the legendary KEEP IT TRUE Festival, and headlining show at the Swordbrothers Festival (both in Germany) - will be produced by Bart Gabriel, producer known from cooperation with acts such as SACRED STEEL, SATAN'S HOST or MORTICIAN, and will be recorded by the same stellar line up featuring - next to Jack Starr: Ned Meloni on bass guitar (ex-JOE LYNN TURNER band / DEVIL CHILDE), Kenny 'Rhino' Earl on drums (ex-MANOWAR, HOLYHELL), and vocalist Todd Michael Hall (RIOT V, REVERENCE). European touring lineup of the band is completed by the Crystal Viper front woman Marta Gabriel, who in BURNING STARR took over rhythm guitarist duties.
MORE
Cruz del Sur Music / HAMMER KING reveals artwork and tracklist for 'Kingdom of the Hammer King'
Posted by: Denis / 12.03.2015
---
Teutonic Power/epic Metal
band
HAMMER KING
have revealed the cover artwork for the upcoming release
Kingdom of the Hammer King
, which will be released by Cruz Del Sur Music on April 24 in Europe and May 4 in the US.
The artwork has been realized by
Timo Würz
, well-known and respected German comic-book artist (who also works for some of the most important brands worldwide) , also responsible for the latest
Steel Prophet
's art.
The just announced album's tracklist is composed by 10 songs: I) Kingdom of the Hammer King I am The King Aderlass; The Blood of Sacrifice Chancellor of Glory II) I Am The Hammer King Blood Angels Visions of a Healed World Figure in The Black We Are The Hammer III) Glory to the Hammer King
Kingdom of the Hammer King
will be released in compact disc, digital and vinyl. The Gatefold Vinyl Edition will include a bonus track.
Frontiers Records / Cain's Offering - Stormcrow
Posted by: Denis / 12.03.2015
---
Frontiers Music Srl is pleased to announce the release of the second CAIN'S OFFERING studio album entitled Stormcrow on May 15th in Europe and May 19th in North America.

CAIN'S OFFERING is the brainchild of Finnish guitarist/songwriter Jani Liimatainen (founding member of one of Finland's biggest music exports SONATA ARCTICA).

Drawing its musical influence from both the classic Hard Rock scene, the fast-paced European Power Metal and a very modern Heavy Metal sound, CAIN'S OFFERING is, just as expected, another perfect example of today's living and breathing Finnish music scene.

Joining Jani on the band's sophomore release, coming after 2009's acclaimed debut Gather the Faithful, are STRATOVARIUS members vocalist Timo Kotipelto and keyboardist Jens Johansson, plus Jonas Kuhlberg on bass and Jani 'Hurtsi' Hurula (Paul Di'Anno) on drums. "I was approached about doing this second Cain's Offering album already a few years ago" explains Jani, "but back then I was way too busy with other projects to even consider taking the time to write an album worth of material, but last year when I was approached about it again I thought that the time might be right and felt like I could really focus all my energy on the album".

Jani continues "I think musically the new album is a bit more focused and coherent. Gather The Faithful was the first album where I wrote all the music and lyrics by myself, and in retrospect maybe I was a bit too ambitious, trying to prove that I can actually write really good, complex songs. It's been six years since the first one and I think that I have matured as a writer, not trying to prove anything anymore, just trying to write the best possible material. It's still very much vocal and melody orientated writing, since to me the melody is always the king, but I did try to keep things a bit more simple this time. Although I think Timo would still say some of the vocal melodies are quite complex!"
<
Stormcrow is a tour-de-force of who's-who in the Finnish Heavy Metal scene, and yes, this does sound like a wet dream come through for all fans of melodic Heavy Metal. And guess what - the final result is going to blow you away as this album melts the best of SONATA ARCTICA and STRATOVARIUS in a new, exciting and powerful sound!
MORE
Nightmare Records / Ilium 'My Misanthropia'
Posted by: Denis / 11.03.2015
---
The sixth release from Melodic Heavy Metal band ILIUM draws from a wide range of US, British and Euro traditional Heavy and Power Metal styles, with dark lyrical themes from various mythologies, legends and the depths of depression. Successfully marrying many different sub-genres into their own version of traditional Metal.

My Misanthropia features a new man at the front in vocalist Lance King and will be released digitally on March 24th and available for pre-sales via iTunes before release. The first CD version (only 1000 copies) will be released as a 'Limited Edition Double Digipak' including bonus CD Wendigo (5 Tracks) including three originals and two very special remakes; Tragedy - (The Bee Gee's) and Love is All - (Roger Glover / Ronnie James Dio).
MORE
Metal Mind Productions / Arena to record a new DVD release
Posted by: Denis / 11.03.2015
---
Arena – neo-prog-rock giants founded in 1995 by two celebrities of the scene: Mick Pointer (ex-Marillion) and Clive Nolan (Pendragon, Shadowland, Strangers on A Train, Caamora). Together with guitarist John Mitchell (Frost*), bassist Kylan Amos, and with the charismatic Paul Manzi (Oliver Wakeman Band) on the vocals, the band return with a brand new studio album The Unquiet Sky. The release of their eighth studio album will be followed by a tour scheduled for March and April.

Clive Nolan comments: "2015 marks the 20th anniversary of Arena, and we are planning a substantial tour to celebrate this event. To coincide with this tour we are releasing a new studio album. It will be a concept album loosely based on an M.R. James horror story, with plenty of strong themes and dark drama... Pure, classic Arena!"

During the Polish leg of the tour the band will record their new DVD release. Clive Nolan: "The Arena 'Unquiet Sky Tour' is approaching fast and one of the highlights of these concerts will be the DVD show at the Rialto in Katowice on 9th April. We are promoting the new album as well as celebrating 20 years of Arena... it's going to be quite a set list representing all our albums along the way, and maybe a few surprises. ;) Don't miss this chance to be a part of this little bit of history!"

In Katowice, Arena will be supported by the Dutch progressive rock band Knight Area. Their show will be also recorded for their first official DVD release! The band play rock music, with roots in symphonic and neo-progressive rock. The music blends a variety of styles using very melodic keyboards and guitars and the dynamic songs vary from ballads to more rock and Metal kind of music.
MORE
New AXEMASTER album has been released
Posted by: Denis / 10.03.2015
---
The new AXEMASTER album Overture to Madness is now out and available! It's 13 tracks of pure & true Heavy Metal released by Pure Steel Records (Germany) and is also being distributed by Nuclear Blast Records (among others).
MORE
Massacre Records / There's a new CRYSTAL BALL album on the horizon
Posted by: Denis / 10.03.2015
---
LifeRider was once again produced, mixed and mastered by Stefan Kaufmann (ex-Accept, ex-U.D.O.). Thomas Ewerhard has created the cover artwork. The album will feature a duet with Battle Beast's Noora Louhimo as well as guest musician Stefan Kaufmann on acoustic guitar!

CRYSTAL BALL's Scott Leach commented: "LifeRider will feature 12 fresh and modern songs that deal with the journey through life in form of (musical) snapshots of various stations, similar to a train ride."

CRYSTAL BALL's LifeRider will see the light of day in late May 2015 via Massacre Records and will also be available as limited edition digipak with exclusive bonus tracks!
MORE
Metal Mind Productions / Tank reveal the artwork and tracklist of the album 'Valley Of Tears'
Posted by: Denis / 10.03.2015
---
British Heavy Metal
legend
TANK
return in June with their tenth studio album titled
Valley Of Tears
. Now the band reveal its artwork and tracklist.
Cliff Evans
,
TANK
's guitarist, comments the album:
Valley of Tears
will be our first album release featuring the amazing vocal talents of former
Dragonforce
frontman
ZP Theart
and marks a new era for the band. He's injected so much new energy and inspiration into the band since joining us in 2013 as part of our touring line up for shows in South America, Europe and the US. Now it's time to capture this sound on our new record
Valley of Tears
which is scheduled for release in June 2015. To complement
ZP
's vocals we now have one of the best rhythm sections in
Metal
:
Bobby Schottkowski
, formerly drumming with Sodom and current
Blind Guardian
member -
Barend Courbois
on bass. Together with
Mick Tucker
and myself on guitars we're ready to take another big step forward in the evolution of
TANK
and make another
Metal album
of great quality that will surely stand the test of time.
Our last two releases
War Machine
and
War Nation
(Metal Mind Productions) were two of our bestselling albums and featured amazing performances from former
Rainbow/Malmsteen
and current
Schenker
vocalist -
Doogie White
. Now it's time to move on to the next chapter.
Valley of Tears
is heading in a much heavier direction and as always will be driven to the max by our trademark Gibson Les Paul/Marshall stack wall of sound. Production will be handled once again by upcoming mega-producer
Phil Kinman
."
The band return to Italy for the first time since 2010 to headline four shows. The list of gigs includes the following dates:
April 1st ROME - Jailbreak Club April 2nd FLORENCE - Cycle Club April 3rd BOLOGNE - Freakout Club April 4th MILAN - Blue Rose Club
More dates in Europe to be announced soon!
Evans
:
"We recently played an exclusive show aboard the 70,000 Tons of Metal Cruise in the Caribbean to showcase some of the new songs for the first time which went down extremely well with the fans. The cruise was such a great experience and we highly recommend booking yourself on the boat for next year. We're really looking forward to getting back out on tour next month when we play our first Italian dates since 2010. We'll be playing some songs from the new album plus a great selection of TANK classics. For more tour info go to www.tankofficial.com"
MORE
SPV / FATEFUL FINALITY
Posted by: Denis / 10.03.2015
---
German Thrash Metal
youngsters
FATEFUL FINALITY
will release their new album
Battery
March 23rd, 2015 via Steamhammer / SPV within Europe. Now the band releases a
lyric video for the song Get Things Straight
.
The eleven tracks on Battery were recorded at Hamburg's Chameleon Studios with
Eike Freese
(
Gamma Ray, Dark Age
) and at the Chemical Burn Studios in Bad Kösen, Saxony, with
Alexander Dietz
(
Heaven Shall Burn
).
FATEFUL FINALITY
deliver an well produced and modern sounding
Thrash Metal
album which will take the fans of this genre by storm. The band will tour as a support for
SUICIDE ANGELS
and
DR. LIVING DEAD
in Germany and Austria. More Festival and European shows will be announced soon.
Ulterium Records / SIGNUM REGIS 'THROUGH THE STORM' EP DETAILS REVEALED
Posted by: Denis / 10.03.2015
---
The Melodic Metal band Signum Regis will release a new EP entitled Through The Storm on May 8th in Europe and on May 12th in North America through Ulterium Records.

There are four new tracks on the EP, as well as a re-recorded version of All Over The World from their debut album and a cover medley of the Yngwie Malmsteen classics Vengeance/Liar. Through The Storm shows that Signum Regis is a band that is constantly developing and improving everything from song-writing and musicianship to production and the visual part of the band. With this EP and the full-length album that will be released later this year, Signum Regis will surely win over many new fans in the Melodic Metal scene.

The mastering of Through The Storm was handled by Jacob Hansen (Volbeat, Amaranthe, Evergrey) and the artwork was created by Jan Yrlund (Delain, Apocalyptica, Korpiklaani).
MORE
Century Media / Warbringer - back in action with new line-up; Touring Asia & select California shows
Posted by: Denis / 06.03.2015
---
WARBRINGER
built a reputation for themselves. The Southern California
Thrash Metal band
were part of every major tour around the globe for five years straight. In that time it was miraculous that they found time to record four albums of unrelenting aggression. And then it all came to a screeching halt.
"I really thought that the Empires Collapse record cycle ended prematurely due to the departure of (guitarist) John Laux and (drummer) Carlos Cruz. I figured it would be the end of the band, and the end of my life's work, as I'd really put everything I had into this band"
explains singer
John Kevill
.
"I remember on the last show we played on that US tour (guitarist) Adam Carroll came to me and told me how we had to keep the torch held high and to realize the full potential of the band no matter what. We carried on the following European tour with fill-in members, as we really hate to cancel a gig and let down our fans, but it really seemed like the end for us. Fortunately, though it took a long time, we have been able to find musicians in our area to help carry on the torch of the destructive, intense music this band stands for. So welcome Vicken Hovsepian on drums, Noah Young on guitar, and Alex Malmquist on bass. Our mission since we started rehearsing together was to be the tightest incarnation of the band yet, and to raise the bar and move forward, never back. So far progress has been great and I can't wait to get out there and unleash this new weapon upon the world."
After months of intense rehearsal the five-piece is ready to show the world the new
WARBRINGER
. The campaign starts with an Asian Assault because there's nothing better than flying halfway across the world and debuting your new lineup in front of a huge crowd at the Hammersonic Festival in Jakarta, Indonesia alongside established heavyweights like
Lamb of God, Mayhem, Vader, Unearth
, and
The Faceless
among others. This show will be followed by additional headlining dates in the region, an area
WARBRINGER
have attacked feverishly before.
"We are extremely pumped to return to Asia. It will be our third time over there and we're ready to get back into action and bust some skulls! We've played Indonesia and Taiwan before but this run will include our first visit to China so we're excited for that"
states
Kevill
.
WARBRINGER
are already putting together plans for US shows throughout the summer in between writing sessions for a next album. The first of these short runs will begin with a pair of shows at the San Diego and Anaheim House of Blues with
Meshuggah
. Then headliners at the World Famous Whisky A-Go-Go in Hollywood, Thee Parkside in San Francisco and The Spring Meltdown Festival in Reno, NV.
"We're looking forward to playing our hometown again after well over a year. We're going to play some songs we have never played live before and seriously bring down the hammer. See you guys there, c'mon and let's wreck the place!"
WARBRINGER - Live 2015: March 8 - Hammersonic Festival - Jakarta, Indonesia March 10 - Hidden Agenda - Hong Kong March 11 - Yu Gong Yi Shan - Beijing, China March 13 - The Wall - Taipei, Taiwan April 13 - House of Blues - Anaheim, CA April 14 - House of Blues - San Diego, CA April 30 - Whisky - W. Hollywood, CA May 1 - Thee Parkside - San Francisco, CA May 2 - Spring Meltdown Fest - Jub Jub's - Reno, NV
MORE
Metal Blade / Armored Saint to release new album this summer
Posted by: Denis / 06.03.2015
---
The iconic
ARMORED SAINT
has returned with one of their heaviest records of their illustrious career. The crushing, epic new full-length release,
Win Hands Down
, shows the band have only grown stronger and tighter with age, making for a dynamic and enthralling Metal masterpiece. Look for the new album out June 2nd and more details (album art, track-listing, new music video, etc) will be announced over the coming weeks.
ARMORED SAINT
are also proud to be joining the legendary
Saxon
for a few select, high profile shows across the country from May 12th through May 30th.
John Bush
(vocals) states:
"When we began talking about a new record I told Joey Vera (bass) to pretend we were a really huge band and that we could do anything we wanted. At least that was the mindset we should have, from the writing to the production. What came out was Win Hands Down, which is our first record in five years. There's everything from classic ARMORED SAINT rocker songs to epic songs and we all dug deep deliver something special. If we weren't going to, then we shouldn't have bothered. I'm glad we did. In May we are doing some shows in the States with Saxon. It's a great way to get the ball rolling."
Vera
further comments:
"We're very excited about our new record coming out in June! We've been writing over the past year and half and we feel like we've written some amazing music. We can't wait to share it! To get our whistle's wet, we're super excited about doing some warm up gigs before the record release with the legendary Saxon this May! We're doing a total of six shows between the East Coast, Texas, West Coast and we couldn't think of a better way to start off the summer! See you all soon."
ARMORED SAINT
Tour with Saxon 05/12 New York, NY BB Kings 05/13 Worcester, MA The Palladium 05/23 San Antonio, TX 210 Kapone's Live 05/24 Dallas, TX Gas Monkey Live 05/29 San Jose, CA Rockbar 05/30 Los Angeles, CA House of Blues
MORE
SOM DO DARMA / One year after award-winning debut album, Noturnall announces second studio effort
Posted by: Denis / 05.03.2015
---
In January 2014,
Thiago Bianchi
(vocal),
Fernando Quesada
(bass),
Leo Mancini
(guitar),
Junior Carelli
(keyboard) - all ex-
Shaman members
and the drummer
Aquiles Priester
(
Primal Fear
) surprised the
Metal world
with the announcement of the creation of new band
Noturnall
and the release of the debut album that came hitting several sales records.
On the following months, the group continued bombing the heavy music market with videos, shows and tours. In September was released its first DVD,
First Night Live
, and the re-released of the debut on vinyl. In November they embarked on a custom motorhome for a long tour in Brazil playing 14 shows in nine different states during almost 30 days. The musicians did not stay for one week at home and they took a flight to Europe, where they held its first international tour with six shows in four countries: Switzerland, Belgium, Spain and Portugal.
Twelve months after, the result was a constant presence on 'Best Of' lists. On the voting held among the readers of Roadie Crew Magazine - the most important Rock/Metal magazine from Brazil -
Noturnall
won three categories: Best Drummer for
Aquiles Priester
, Best Guitarist for
Leo Mancini
and Best Keyboardist for
Junior Carelli
. On other four categories,
Noturnall
appears on second position: Best Vocalist for
Thiago Bianchi
, Best Bassist for
Fernando Quesada
, Best Album and Best DVD.
When imagined that
Noturnall
would take off the foot from the accelerator, the group announces the release of its second studio album. The title is still not defined, but the album is already being recorded at Fusao Studios in Sao Paulo and will hit the stores in May.
According to the drummer
Aquiles Priester
, on the new
Noturnall
album will be the most brutal songs that he have already recorded in his entire carrier!
"The big differential of this album is that all the ideas were designed inside the studio. What we had until we start my recordings was a sketch of the band's best musical ideas. I felt more relaxed to create new groove patterns that I never have created before in my entire life! Thiago (Bianchi) was always trying something different when I was going to the trivial... We challenge ourselves out of my limits and this resulted on a brutal, technical and very, very fast album! The new tour is promising a lot and we can't wait to play these songs live."
The release of
Noturnall
's second studio album will take place on the eve of the tour that the quintet will do in Brazil in May with
Adrenaline Mob
, the North-American supergroup leaded by the
Symphony X
vocalist,
Russell Allen
, also producer of
Noturnall
's debut album.
The tour, that will also count with the participation of the band
Republica
, has the following confirmed dates:
07/05 at Granfinos in Belo Horizonte/MG 08/05 at Circo Voador in Rio de Janeiro/RJ 09/05 at Carioca Club in Sao Paulo/SP 10/05 at Iguatemi in Juazeiro do Norte/CE 14/05 at Teatro Caupolicán in Santiago/Chile 15/05 at Music Hall in Curitiba/PR 16/05 at Mirage in Limeira/SP
Pure Steel Records / LETHAL SAINT 'WWIII' cover, tracklist, release date: 20th March 2015
Posted by: Denis / 05.03.2015
---
The release date of the new LETHAL SAINT album WWIII on CD is March 20th 2015. The preorder phase will start on March 6th 2015 in label's webshop.

With the True Metalheads LETHAL SAINT from Cyprus we welcome a brand new band on Pure Steel Records. In 2010 the quartet released their self-titled debut album on the domestic underground label Pitch Black Records and it was followed by a single through the French Emanes Metal label in 2012.

With WWIII LETHAL SAINT now have completed their second studio album. It contains powerful, Melodic Power / Heavy Metal with typical lyrics, majestic twin guitar harmonies and catchy songwriting and will not disappoint fans of 'genuine steel'. The guys from Southern Europe know how to put the Metal heads under their spell: powerful double bass, high-pitched vocals, which reminds of Iced Earth vocal lines and the corresponding Metal-Spirit makes any true Metal heart beating faster.

The fantastic artwork to such a serious theme was created by Dimitar Nikolov.

LETHAL SAINT are a revelation for traditionalists: Heavy Metal or no Metal at all!!!
MORE
Pitch Black Records / SACRED BLOOD are back with new album
Posted by: Denis / 05.03.2015
---
Greek epic Heavy metallers SACRED BLOOD are back with their third album, Argonautica, a follow-up to their 2012 highly acclaimed release Alexandros which was also released through Pitch Black Records.

Hailing from Athens, Greece and formed in 2003, SACRED BLOOD quickly established themselves as a unique epic Metal band through the use of traditional folk instruments in their music. Each of the band's albums is clearly distinguished by a theme revolving around Ancient Greece. This time we're dealing with Argonautica and the myth of the voyage of Jason and the Argonauts to retrieve the Golden Fleece.

The use of folk instruments such as Irish bagpipes and the bodhran as well as female choir vocals and narrations in Ancient Greek take the music of Sacred Blood to a completely new dimension making it a most interesting and pleasing listen. The album features a number of guest appearances including Nicholas Leptos (WARLORD, ARRAYAN PATH), Kyriakos Vasdokas and Leon Tsorbatsoglou (CROSSWIND) and Vangelis Yalamas (FRAGILE VASTNESS). Uilleann pipes (Irish bagpipes) and the bodhran performed by Sir Andrew Mc Pleary.

Argonautica is out on April 13th (May 12th US and Canada) on CD and digital.
MORE
SOM DO DARMA / Psychotic Eyes to release acoustic Death Metal album in June
Posted by: Denis / 04.03.2015
---
In late 2014 the Brazilian Progressive Death Metal band Psychotic Eyes wrote a new chapter in Metal history. The band had lost its drummer and received an invitation to play an important show. Once they did not want to miss the opportunity, the idea of presenting an acoustic show seemed ideal: Death Metal played with two acoustic guitars, guttural vocals and no drums.

What seemed unlikely has become history! Never before had been an acoustic Death Metal show like that one presented at Galeria Olido in Sao Paulo. The avant-garde spirit of Psychotic Eyes gained projection in the media worldwide.

The final result was so good that get into the studio and record some songs in this format became inevitable. Olhos Vermelhos (Red Eyes in english) was the title that Dimitri Brandi (vocal/acoustic guitars) and Douglas Gatuso (vocal/acoustic guitars) have chosen for what will be the third official album by Psychotic Eyes - even being entirely acoustic - and also the first acoustic Death Metal album of the history!

Olhos Vermelhos is already being recorded at HBC Records in Guarulhos/SP with the production by Humberto Belozupko. The album will bring two unreleased tracks, Olhos Vermelhos - based on a poem written by Luiz Carlos Barata Cichetto - and Memento Mori. Will also take part of the tracklist, in new arrangements, The Hand of Fate - song that appeared on the band's self-titled debut album - besides Life and Dying Grief, both from the second studio album, I Only Smile Behind The Mask (2011).

"The recordings are awesome, the material will be fantastic", says the euphoric Dimitri Brandi. "They are just taking more time than we expected, because to record death metal with acoustic guitars is proving a much more difficult task than expected. As the guitar is an acoustic instrument, everything we do is picked up by the microphone. A guitarist and bassist used to play harder on the strings produces many cavernous noises that do not sound well in the recording. This has made the process take longer than would a recording with electric instruments, but the result is getting amazing."
Flotsam and Jetsam news
Posted by: Denis / 04.03.2015
---
Flotsam and Jetsam
are pleased to announce the first wave of confirmed club and festival dates for their upcoming 2015 European tour that's scheduled to start in May and run through August.
This tour will mark the bands' return Europe, coming off the heals of 2013's
Ugly Noise
and last year's re-recording of the band's 1988 classic
No Place For Disgrace
, which brought the band extensively through the US and Europe during 2013-2014.
Initially set to start in April, the tour was pushed out a month to May in order to allow the band time to continue writing for their new 2015 release that will feature new drummer,
Jason Bittner
(
Shadows Fall, Anthrax
), who joined the band in late 2014.
At press time, the band will begin tracking its latest untitled effort in March 2015, with more European and US tour dates to follow.
13-5 GR Metropolis Live, Patras 14-5 GR AN Club, Athens 15-5 GR Eightball Live, Thessaloniki 16-5 GR Polyxwros Agora, Ioannina 18-5 UK Underworld, London 19-5 UK Queens Hall, Nuneaton 20-5 UK Stereo, Glasgow 22-5 DE Rockhard Festival, Gelsenkirchen 24-5 BE Biebob, Vosselaar 25-5 DE Backstage, Munchen 27-5 CZ Modra Vopice, Prague 28-5 AT Viper Room, Vienna 31-5 AT PMK, Innsbruck 05-6 DE Hypothalamus, Rheine 06-6 NL Fortarock, Nijmegen 17-7 DE Bang Your Head Festival, Balingen 24-7 DE Headbangers Open Air, Brande-Hornerkirchen 27-7 NO Revolver, Oslo (w/ Death Angel) 28-7 SE Sticky Fingers, Gothenburg (w/ Death Angel) 29-7 SE Debaser Medis, Stockholm (w/ Death Angel)
MORE
Punishment 18 Records / Hyades band reveals new album title
Posted by: Denis / 04.03.2015
---
In 2014, Italian Thrash masters Hyades has signed a new record deal with Punishment 18 Records that will release their new full-length album titled The Wolves Are Getting Hungry, the fourth of their career which began in 1996.
Pure Steel Records / ST. ELMO'S FIRE wrapping up songwriting for next album
Posted by: Denis / 04.03.2015
---
PURE STEEL RECORDS recording artists ST. ELMO'S FIRE announced they are finishing up writing songs for their next album. The California based Metal band has been working on new material since late last year.

According to guitarist Jeff Jones, the album will contain between 10 to 12 new songs. Jones said, "We are extremely excited to be releasing our new music on PURE STEEL. They are one of the best metal labels around and we are thrilled to be part of their Metal family!"

The last studio recording from ST. ELMO'S FIRE was the 1992 album Desperate Years. The upcoming album on PURE STEEL RECORDS will be the bands 5th album dating back to 1986.

The album will feature original band members drummer Kris Gustofson and guitarist Jeff Jones. Mike Palombi who joined the band last year will be handling the lead vocals.

Pre-production and recording for the as of now untitled new record will begin soon in their studio in Sacramento.
MORE
My Kingdom Music / DRAKKAR present 'Run With The Wolf' lyric video
Posted by: Denis / 03.03.2015
---
Only two weeks left till the release of their new album
Run With The Wolf
through My Kingdom Music and
Italian Power Progressive
metalllers
DRAKKAR
reveal the first song (the title-track) with a lyric video
you can watch here
.
Run With The Wolf
was recorded at Elnor Studio with producer
Mattia Stancioiu
. Guests on the album include
Terence Holler
(
ELDRITCH
's vocalist),
Olaf Thorsen
(
VISION DIVINE, LABYRINTH
) and the same
Mat Stancioiu
(ex-
LABYRINTH
).
The album will be released on March 16th, 2015 in a limited digipack deluxe edition including a bonus CD titled
Coming From The Past
, with 5 classic songs from the first three albums of
DRAKKAR
re-recorded by the current lineup!
MORE
Metal Blade recording artist Slough Feg announce new drummer
Posted by: Denis / 03.03.2015
---
Slough Feg
is proud to announce the arrival of new drummer,
Addison Filipczyk
.
Filipczyk
, 25, will have big shoes to fill following in the wake of
Harry Cantwell
's departure, but after several months of rehearsal the group is confident that they are in capable hands and feet.
Bassist
Adrian Maestas
comments,
"After trying out drummers for a few months we think we've found the right guy. Welcome aboard, Addison!"
Singer/Guitarist
Mike Scalzi
gave only a short list of the new drummer's vital statistics:
Loyal Slough Feg fan since 2007 Sharp wit / keen philosophical / linguistic intellect Corrective lenses necessary when drumming / viewing oversized Metal chicks' asses Huge Heavy Metal fan, with tastes ranging from early Maiden and Priest to Budgie and Beethoven Corporate spirit with liberal incentives towards Slough Feg's prime directive
Guitarist
Angelo Tringali
couldn't be reached for comment, but his answering machine informed us that he was out in search of 'a different lime and whiskey cola.'
Addison
will make his debut with
Slough Feg
on April 16th, 2015, at the Eagle S.F. in San Francisco.
MORE
Inner Wound Recordings / Dark Sarah 'Behind The Black Veil' details revealed
Posted by: Denis / 02.03.2015
---
Inner Wound Recordings are proud to announce the signing of the cinematic
Metal
project
DARK SARAH
to the label.
DARK SARAH
is the new project from
Heidi Parviainen
(ex.
Amberian Dawn
). The debut album called
Behind the Black Veil
leads you through the psychological adventure of Sarah, who is hovering between her two personalities.
Dark Sarah
's music combines
Metal
, film music and theatrical elements. Sarah's thoughts are at best depicted in the dialogues (duets) with the guests - 'The Fate':
Manuela Kraller
(ex
Xandria
), 'The Queen of No Good':
Inga Scharf
(
Van Canto
) and 'The Moon':
Tony Kakko
(
Sonata Arctica
).
Production, orchestrations and mixing was handled by
Mikko P. Mustonen
, Pathos Music (
Delain, Sonata Arctica, Ensiferum
) and the album was mastered by
Henkka Niemisto
, Chartmakers (
Volbeat, Sonata Arctica, Korpiklaani
). The artwork was created by
Jan Yrlund
, Darkgrove Design (
Apocalyptica, Ensiferum, Sirenia
).
Behind The Black Veil
will be released on May 8th in Europe and on May 12th in North America.
Behind The Black Veil track listing Save Me Poison Apple Hide And Seek Memories Fall (feat. Manuela Kraller) Evil Roots (feat. Inga Scharf) Violent Roses Hunting The Dreamer Fortress Silver Tree Sun, Moon And Stars Light In You (feat. Tony Kakko) Sarah's Theme Memories Fall (orchestral version) A Grim Christmas Story
SHADOWKILLER signed a worldwide deal with PURE STEEL RECORDS
Posted by: Denis / 02.03.2015
---
Progressive Power
Metallers
SHADOWKILLER
from North California have signed a worldwide deal with PURE STEEL RECORDS!
The lyrics video for the song Survival
gives a first foretaste for the second album
Until The War Is Won
, which will be released soon.
MORE
Pure Steel Records / AXEMASTER official video for 'Sanity's Requiem' released! Overture To Madness preorder phase started
Posted by: Denis / 02.03.2015
---
Cult US Metallers
AXEMASTER
have released a
video for the song Sanity's Requiem
. The song is taken from the new album
Overture to Madness
, the first in 25 years, which will be released worldwide on March 6th 2015 through PURE STEEL RECORDS. The video consists of excerpts from the 1955 horror movie Dementia.
The new album of
AXEMASTER
Overture To Madness
is now available in label's webshop. Safe 1 Euro during the preorder time. The official release-date of the album is the 6th of March 2015.
MORE