Now the news is published irregularly
Y.O.C. new song
Posted by: Denis / 23.12.2017
---
MORE
Bassists Alliance Project drops debut album 'Crush'
Posted by: Denis / 18.12.2017
---
Bassists Alliance Project announced the release of Crush last Friday, December 15. The album is a genre-busting debut record that showcases the versatility of the bass guitar and the professionals who have honed their craft for years. From Prog Metal to funk and experimental, the 10 original instrumentals on Crush give listeners with varied musical tastes plenty to digest, from Rock-steady riffs and intriguing grooves to mind-bending solos and intense showcases of technique.

Founded by fellow Italian bassist and Progressive Rock composer Alberto Rigoni (solo, Vivaldi Metal Project, Ardityon, The Italians, etc.), the Bassist Alliance Project is co-leaded and co-produced by seven-string bassist Jeff Hughell, best known as the bassist of Six Feet Under, which recently released their critically acclaimed 12th studio album. A veteran player and solo artist with more than 20 years' experience, Hughell embarked on a brand-new project that incorporates many influences.

Hughell and Rigoni composed most of songs on Crush, and combine talent on three tracks, including the title track that features bassist Adam Nitti. The album also includes collaborations with 10 other fiercely talented bassists: Michael Manring, Tony Grey, Scott Reeder, Brandino, Steve Di Gorgio, Mark Michell, Ryan Martini, Colin Edwin, Dmitry Lisenko, Leonid Maksimov. The masterful Phil Cage drums on all tracks except the punchy Tapping Wires, where Maxim Rubtsov sits in. The album was mixed and mastered by Zack Ohren at Castle Ultimate Studios in Oakland, CA.

The musicians in the Bassists Alliance Project represent different countries, different generations and different influences, but on Crush, they come together for one impressive musical journey.
Sonic Night Music Club / KILLING GRACE and KINLIN 'Holiday Havok' tour dates
Posted by: Denis / 18.12.2017
---
Nashville's award-winning Metal band
KILLING GRACE
and
KINLIN
featuring former
Yngwie Malmsteen
drummer
Patrick Johansson
announce 'Holiday Havok' tour dates.
12-09-17 Nicko McBrain's Rock N Roll Ribs – Coral Springs, FL 12-15-17 Brewskees - Louisville, KY 12-16-17 Shooters Bar - Nashville, TN 12-31-17 NYE Throat Punch - Murfreesboro, TN* 1-19-18 The Warehouse – Clarksville, TN 1-25-18 TBA - Satellite Beach, FL 1-26-18 Pipers Sports Bar - West Palm Beach, FL* 1-27-18 Kelly's Live – Sarasota, FL 1-28-18 TBA – Daytona, FL 2-15-18 The Open Chord – Knoxville, TN* 2-16-18 The Warehouse – Clarksville, TN* 3-10-18 Revelry – Hendersonville, TN* 3-23-18 The Warehouse – Clarksville, TN* 4-05-18 TBA – Columbus, OH 4-06-18 TBA – Toledo, OH 4-07-18 Iggy's – Lakewood, OH 4-08-18 TBA – Cincinnati, OH 4-20-18 The Warehouse – Clarksville, TN* 4-21-18 Municipal Auditorium – Nashville, TN*
*Killing Grace only
Imperative PR / UK Death Metal overlords De Profundis sign to Transcending Obscurity Records; new album in early 2018
Posted by: Denis / 18.12.2017
---
2017 has been a momentous year for De Profundis, as they have celebrated their tenth anniversary as a recording band with exciting tours across the UK and Europe with the likes of Taake, Necrophagia, David Vincent's I Am Morbid. They also released the Decayed: 2007 – 2017 career retrospective collection, 10,000 copies of which were distributed with newsstand copies of the UK's number one extreme music magazine, Zero Tolerance. The celebrations of the past concluded with a stunning show at the Unicorn in London, the venue where the band played their first gig all those years ago. Now the time has come to look to the future once more...

Imperative PR are delighted to announce that De Profundis have signed a worldwide deal with Transcending Obscurity Records. Based in India, Transcending Obscurity is one of the fastest growing and most well respected labels in the world of underground music and De Profundis will be joining a roster than can already boast the likes of Paganizer, Officium Triste, Echelon and other renowned extreme Metal names from around the globe.

Speaking about their new label, the band have issued the following statement: "We are excited to sign with Transcending Obscurity as over the last few years we have seen their profile rise and rise with the signing of top quality extreme Metal bands - including the legendary Paganizer. We were looking for a label to push De Profundis into our next decade of existence and in Kunal we have found someone who shares our enthusiasm, professionalism and work ethic. Now that we have joined forces with Transcending Obscurity we cannot wait to unveil details of our fifth album which will be our heaviest to date. We promise you 2018 will the year of De Profundis!"

Meanwhile label boss Kunal Choksi commented: ""I've seen the band grow closely and as fate would have it, got the chance to work with them. They're evidently a very serious and professional band, and after listening to their new album which is more death metal and powerful than before, I feel this will be a great partnership. I can't wait to work towards giving it a worldwide release in early 2018."

As both statements make clear the new album from De Profundis is set to be released in early 2018 and it is undoubtedly the heaviest, most intense album of the band's career so far. To mark this new beginning De Profundis have unveiled a new band logo, designed for them by Gary Ronaldson of Bite Radius Design (Kreator, Misery Index, Pig Destroyer etc), which reflects the savage new twist to their trademark style.
Rock Asylum Agency / Former Michael Schenker Group singer Jari Tiura to release debut solo album in March 2018
Posted by: Denis / 18.12.2017
---
Former Michael Schenker Group and current Century Lost and Stargazery singer Jari Tiura has been busy working on his first solo album King Of Lions. The album will be released worldwide through the German label AOR Heaven in March 2018. The Japanese version of the album will include UFO's Doctor Doctor as bonus track. The album will also be released on vinyl, a limited edition of 100 copies only.

Jari Tiura was the singer in Michael Schenker Group between 2006-2007. He toured USA, Japan and Europe with the band and performed on big festivals like Wacken Open Air. He also sang on the Michael Schenker Group album Tales Of Rock N Roll (2006). After MSG he joined the finnish band Stargazery. With Stargazery he has released two albums Eye On The Sky (2011) and Stars Aligned (2015). Jari is also a member of a new lineup called Century Lost. They are currently working on their debut album to be released in 2018.
MORE
GlobMetal Promotions / Syconaut released new EP
Posted by: Denis / 13.12.2017
---
Swedish Industrial Death Metal band
Syconaut
released their new EP
Three or More
. The EP was was recorded and mixed in Holken Studio by
David Löfborg
and mastered by
Plec
which runs 'The Panic Room Studio'.
Syconaut
was formed in 1999 at Skövde, Sweden. The band´s previous works consist of two full length albums
Burst Into Life
(2009),
In Ruins
(2014) and EP
Fractions
(2010).
VARG MEDIA GROUP / MORTID released debut album
Posted by: Denis / 13.12.2017
---
Russian Gothic/Industrial Metal band
MORTID
released for free streaming
their debut album
ID
.
Tracklist: Rebel Night Deviant Deep In Silence April Song Abstinence Pain Within Felicity Under The Moon La Danse
Recorded: Machine Band, Nikita Goryachev Studio, Mortid Rec. Mixed & Mastered: Vitaly Dorofeev / Vetkin-Records. Artwork: Kiril Vlasov.
FINAL COIL's post rock masterpiece, Persistence Of Memory, continues to delight as the band return to Imperative PR for management
Posted by: Denis / 13.12.2017
---
Imperative PR are delighted to announce the return of Final Coil to their roster – this time for a long term management and consultancy deal. They were first given the opportunity to work with the incredibly talented, Leicester-based band on the initial digital release of their stunning debut album, Persistence Of Memory, earlier this year and are now excited to extend their working relationship further.

First and foremost though Imperative PR will be continuing to promote the magnificent Persistence Of Memory, with press interest in this outstanding release showing no signs of flagging. Every element of the album has been carefully crafted, every detail attended to. From the sensitive mastering by Cult Of Luna's Magnus Lindberg to the breathtaking cover art, created by Andy Pilkington (Flotsam And Jetsam), Persistence Of Memory is a remarkable achievement.
GlobMetal Promotions / Worldfall released debut album
Posted by: Denis / 13.12.2017
---
American Power/Thrash Metal band
WorldFall
released their debut full-length album
False Salvation
. The album was recorded, engineered, produced, and mastered by
Giovanni Angel
, and mixed by his brother
Stephano Angel
.
WorldFall
is a one-man band formed in 2014 by Colombian guitarist and vocalist
Carlos Cordoba
at Miramar, Florida. On July 2017, the band released their debut single called
Never Fade Away
.
Imperative PR / Dornenreich bring their acclaimed Mystic Places show to London's St Pancras Old Church
Posted by: Denis / 13.12.2017
---
Imperative PR are extremely proud to be assisting Arcane Productions to spread the word of their next London event. Arcane are known for bringing truly special shows to the capital, from across the genres of underground music and you'd be hard pressed to find a show more fitting to that reputation than Austrian neo-Folk legends Dornenreich, giving one of their renowned, acoustic Mystic Places performances, in the wonderful setting of St. Pancras Old Church.

Dornenreich began their tradition of the Mystic Places performances in 2007, when they first unveiled their haunting unplugged set at the crypt of the Völkerschlachtdenkmal in Leipzig. Further church concerts followed in 2013 and 2015 and now, on February 16th, London will finally get to experience one of these unique, unforgettable and deeply emotional concerts. The set list will be comprised of an array of classic material, selected from across the band' s extensive back catalogue, complemented by a scattering of brand new gems from their forthcoming ninth studio album.

To make this show, which will be the only UK performance on this tour, even more special, support will be provided by Duncan Evans of A Forest Of Stars, presenting a selection of his bewitching solo work.

Speaking about the show, Duncan has said... "I am honoured to have been invited to perform supporting Dornenreich at this intimate acoustic show at the iconic St Pancras Old Church. We talked a long time ago about performing on the same stage, and this has finally become possible. I hope to see you there for what will undoubtedly be an exceptional evening."

With strictly limited tickets available make sure you are a part of what is certain to be a highlight of the 2018 live calendar.
Boyz Tyme Records / Free download of Winter Wonderland by Sergeant Steel
Posted by: Denis / 13.12.2017
---
Sergeant Steel
's cover version of
Winter Wonderland
is
available for free
. The world - renowned winter/Christmas - classic was produced by
Michael Wagener
(
Ozzy, Metallica, Skid Row
, etc.) He travelled from Nashville/Tennessee/USA to Vienna/Austria to produce the song.
Lead singer
Phil Vanderkill
states:
"Initially released in 2016 as a charity single, we want to share it this year with all of our fans. Obviously our version of Winter Wonderland became a piece of driving Hard Rock!"
Avantegarde MNGT / HEAVENWOOD - 25th anniversary celebration show announced
Posted by: Denis / 13.12.2017
---
Portuguese Gothic/Dark-Metal masters
HEAVENWOOD
will perform a very special show on Friday, 29th December at HARD CLUB (Sala 1), Oporto, PT, to celebrate his 25th Anniversary. On this occasion, the band will play a very special set which will include songs taken from all his albums,
DIVA
(1996),
SWALLOW
(1998),
REDEMPTION
(2008),
ABYSS MASTERPIECE
(2011),
THE TAROT OF THE BOHEMIANS, PART 1
(2016), and will also premiere live
THE LIGHTNING-STRUCK TOWER
, single that will be release next year. This song will be a advance for the new
HEAVENWOOD
album,
THE TAROT OF THE BOHEMIANS, PART 2
, that will be recorded also in 2018.
Confirmed support acts who will join
HEAVENWOOD
on this night are
EQUALEFT, SHADOWSPHERE, IN VEIN
and the show begins at 21:00 PM. Ticket price: - 10€
Upcoming HEAVENWOOD 2017 live dates: 29.12.2017 – Hard Club, Oporto – PT 30.12.2017 – Milagre Metaleiro Fest, Pindelo dos Milagres – PT
MORE
Vivaldi Metal Project EP 'THE EXTENDED SESSIONS' SINGLE AND VIDEO
Posted by: Denis / 05.12.2017
---
The video
from the event (as duo) and the first single for a studio version of this medley (as quintet) taken from
Vivaldi Metal Project
's upcoming EP
The Extended Sessions
was already released and featured
Mistheria
(piano),
Tsena Stefanova, Angel Wolf-Black, Dimitar Belchev
(vocals) and
Abigail Stahlschmidt
(violin) on the studio version.
This is live video from Kitee International Music And Art Festival (July 13th, 2017 - Finland).
MORE
GlobMetal Promotions / John Steel released new album
Posted by: Denis / 05.12.2017
---
Bulgarian Heavy Metal band
John Steel
together with
Doogie White
(EX
Rainbow
) released their new album
Everything or Nothing
. The album was recorded/mixed by
Konstantin Raidovski
and mastered by
Gospodin Gospodinov
.
John Steel
was formed in April 2007 at Plovdiv, Bulgaria by
Ivan Stalev
(gutar) and
Jivodar Dimitrov
(drums). In 2014 they released their debut album
Freedom
with the ex -
Iron Maiden
vocalist
Blaze Bayley
.
Mistheria / GEMINI 'Fight of the Bumblebee' single released
Posted by: Denis / 05.12.2017
---
MORE
VARG MEDIA GROUP / SPIRALLER released new single
Posted by: Denis / 05.12.2017
---
The temptation of see the the end of the world and the humanity, are all part of the new single?
Sindrom
from?Saint Petersburg (Russia) Industrial Metal band
SPIRALLER
. The main hero of the song, fight with the darkness in the world and the lies people till each other, and in the end find his salvation in the loneliness.
New AXEMASTER album has been released
Posted by: Denis / 05.12.2017
---
The new AXEMASTER album Crawling Chaos on Pure Steel Records (Germany) has been released and is now available worldwide. For those who have not seen album information, Crawling Chaos features 10 tracks of a combination of traditional/Thrash/Doom metal with major label sound that shows the band's evolution by retaining a portion of the Thrash feel of Overture to Madness, while having an overall sound that pays respect to their traditional Metal roots from the late 80's and early 90's. Early rave reviews worldwide have helped to affirm the general belief that the album has all the elements necessary to become the most successful and memorable Axemaster album to date.

Also, the first video from the album is nearing the final stages of completion and will be released in the near future. Axemaster would like to thank the film company Creative Masters Unlimited for their hard work and professionalism in creating what will be an exceptional video that will be of more than suitable quality to be featured on any media outlet.
MORE
Psycho Pass Crown Sign Management Deal With GlobMetal Promotions
Posted by: Denis / 01.12.2017
---
Japanese Melodic Death Metal band
Psycho Pass Crown
has inked a worldwide management deal with GlobMetal Promotions.
Last year the band released their debut EP
Revenge For The Revenge
, that was recorded at PENTA Studio and mix/mastered by
TAKAMINE YUUKI
. This days the band playing mainly in Tokyo and as a support band in foreign bands' Japan tours.
Frontiers Music / Uriah Heep new studio album
Posted by: Denis / 21.11.2017
---
Frontiers Music Srl is pleased to announce that Uriah Heep are set to commence the recording of their brand new studio album (the 25th in their storied career), which will be titled, appropriately enough, Living The Dream.

"We have been together for 47 years and we have seen many bands come and go, so in effect we are 'Still Living The Dream', so it was the perfect title for the new album", says Uriah Heep guitarist and founding member Mick Box.

Jay Ruston has been called in to produce the album. Mick continues, "We chose Jay because we admire his work with The Winery Dogs, Stone Sour, Black Star Riders, Paul Gilbert, and Europe. Jay has either produced, mixed or both for these bands, and he will bring a fresh approach to Heep, which we are very much looking forward to".

The plan is release the album through Frontiers in fall 2018 (release window subject to change). The band is beyond excited with the material written for the new album, which will include some epic additions to the band's huge catalog of Rock staples and looks forward to sharing it with their fans around the world.

In the meantime, the band has announced four Canadian tour dates, with more shows in the works. "The mighty Heep are proudly able to tour in over 61 countries and we look forward to a packed touring schedule in 2018. Touring is in our blood and what we have a passion to do, and so 2018 is no exception", concludes Box.
MORE
InsideOut Music / Leprous - message from ongoing European tour
Posted by: Denis / 21.11.2017
---
Norwegian Progressive Rock group
LEPROUS
are currently on their first and extremely successful headlining tour across Europe in promotion of their latest and much acclaimed album-release,
Malina
, which came out at the end of August via InsideOutMusic.
With several shows selling out (3 of the 4 shows in Germany for example, with Berlin not being far behind!), the band has checked in with
the following message
.
Here is an overview of all remaining tour dates:
LEPROUS, Agent Fresco, AlithiA, Astrosaur – European Tour: 21.11.2017 Warsaw (Poland) – Proxima 22.11.2017 Berlin (Germany) – Musik & Frieden 23.11.2017 Aarhus (Denmark) – Atlas 25.11.2017 Oslo (Norway) – Vulkan Arena
Next to their upcoming dates in Australia for January 2018, LEPROUS has also been announced a first few summer 2018 festival appearances. Dates as follows:
LEPROUS & AlithiA – Australian Tour: 19.01.2018 Perth (Australia) – Badlands 20.01.2018 Sydney (Australia) – The Factory Theatre / Progfest 21.01.2018 Brisbane (Australia) – The Triffid / Progfest 25.01.2018 Adelaide (Australia) – Jive 27.01.2018 Melbourne (Australia) – The Corner / Progfest
LEPROUS – Festivals appearances 2018: 11.-14.07.2018 Viveiro (Spain) – Resurrection Fest 14.07.2018 Eindhoven (The Netherlands) – Dynamo Metalfest More to come soon...
In related news, you can now check out
a special first drum playthrough video
by
LEPROUS
drummer
Baard Kolstad
of the song
Bonneville
, taken off their current album
Malina
.
MORE
Napalm Records / EXIT EDEN release another stunning live video
Posted by: Denis / 21.11.2017
---
EXIT EDEN
premieres
brand new live video
of their cover version for the song
Impossible
(
Shontelle cover
) shot at Hamburg Metal Dayz.
Nuclear Blast / ALMANAC release lyric video and 2nd digital single Hail To The King
Posted by: Denis / 21.11.2017
---
Only one week remains until
ALMANAC
- the new band of
Victor Smolski
(ex-
RAGE
) - will release their sophomore record titled
Kingslayer
via Nuclear Blast! After recently revealing the fourth album trailer, the music video of the first single
Losing My Mind
plus the live video of
Children Of The Sacred Path
, it's finally time for the second digital single
Hail To The King
, accompanied by
a new lyric video
!
Victor comments on the song:
"I am looking forward to play that song live, because I am pretty sure that it will turn out to become an anthem on stage. When I wrote Hail To The King, I felt pretty much inspired by SAVATAGE. I still remember the time, when I played my first European tour with my former band MIND ODYSSEY, supporting SAVATAGE - which was a real blast, we were jamming with them every day during soundcheck. I think you'll hear their inspiration on this track."
MORE
SPV / ANVIL release new single and video
Posted by: Denis / 21.11.2017
---
Canadian Metal heroes
ANVIL
release their first digital single and
lyric video
for the new song
Ego
! The song is taken from their forthcoming studio album
Pounding The Pavement
.
Ego
is a song where Lips spread his razor-sharp guitar riffs over the dynamic rhythm foundation courtesy of
Robb Reiner
and
Chris Robertson
, adding additional bite with his familiar raw vocal style.
ANVIL
will embark on a massive European-Tour from February to April 2018 with some festivals already announced for summer. Here are the confirmed dates:
ANVIL Pounding The Pavement European Tour 2018 01.02.NL-Leiden – Gebr. De Nobel 02.02.NL-Venlo – Poppodium Grenswerk 03.02.NL-Hengelo – Metropool 04.02.NL-Tilburg – Little Devil 06.02.GB-London – Underworld 07.02.GB-Stoke – Eleven Music 08.02.GB-Newcastle – Trillians 09.02.GB-Grimsby – Yardbirds 10.02.GB-Glasgow – Cathouse 11.02.GB-Wigan – Pure 13.02.GB-Belfast – The Limelight 14.02.IE-Dublin – The Academy 16.02.GB-Buckley – Tivoli 17.02.GB-Bridgend – Hobos 18.02.GB-Brighton – Green Door Store 20.02.GB-Bilston – Robin 2 21.02.GB-York – Fibbers 22.02.GB-Evesham – Iron Road 23.02.GB-Weston – The Bear 24.02.B-Kortrijk – De Kreun 25.02.F-Paris – Le Trabendo 27.02.F-Colmar – Le Grillen 01.03.E-Irun – Sala Tunk 02.03.E-Madrid – MON 03.03.E-Valencia – Paberse Club 04.03.E-Barcelona – Sala Boveda 13.03.CH-Solothurn – Kofmehl 14.03.D-Munich – Backstage 15.03.D-Essen – Turock 16.03.D-Mannheim – 7er Club 17.03.D-Münster – Sputnikhalle 18.03.D-Berlin – Musik & Frieden 20.03.D-Flensburg – Roxy 22.03.SE-Gothenburg – Sticky Fingers 23.03.SE-Finspang – Hugo 24.03.SE-Uppsala – Katalin 25.03.SE-Stockholm – Fryshuset Klubben 28.03.NO-Oslo – Olsen Pa Bryn 29.03.NO-Haugesund – Flytten 30.03.NO-Hamar – Gregers 31.03.NO-Odal – Odal Rock Club 04.04.D-Frankfurt – Nachtleben 05.04.D-Hamburg – Markthalle 06.04.D-Siegburg – Kubana 15-17.04. F/E – Full Metal Cruise VI 25.08.GB-Newark – Stonedeaf Festival 26.-28.07. D-Brande/Höhnerkirchen – Headbangers Open Air
MORE
Sonic Night Music / ALIAS debuts new lyric video 'Dreamer'
Posted by: Denis / 17.11.2017
---
80s Progressive/Power Metal band
ALIAS
' self-titled debut album and follow-up
Metal To Infinity
have been remastered to celebrate the bands 30th anniversary and have released
a new lyric video
for
Dreamer
. The self-titled debut was released on November 3rd with
Metal To Infinity
due November 17th, 2017 via Sonic Night Music Club.
The band's rise coincided with the beginnings of the worldwide Progressive/Power Metal movement that was being led by such bands as
Queensryche, Fates Warning
. Within that new movement, the band was praised by publications such as Hit Parader, Kerrang, Aarschok America and Metal Forces and received airplay from a new breed of stations like KNAC in Los Angeles, WKNH, WFBG and WRTN in New York looking for the next big thing. The bands songs ran the gamut of Metal styles with Melodic Metal fair such as
Prisoner of Dreams
and
Metal To Infinity
with Progressive arrangements such as
Alpha Omega
and
Dreamer
and thrashy tunes such as
Knight of the Realm, The System
and
Ultraviolence
AXEMASTER new album and additional information
Posted by: Denis / 17.11.2017
---
Pure Steel Records is now taking advance orders for the upcoming new AXEMASTER album Crawling Chaos, which is officially scheduled for release on November 24th (Black Friday).

Once released on Nov. 24th, Crawling Chaos will be available through many sources online, including the webstore on the Axemaster website. Also, the collectable vinyl 2 record re-release of 19 Axemaster tracks from the 80's-90's titled Blessing in the Skies (and other cuts from the chamber) IS now available through the Axemaster webstore!

Also in the world of Axemaster: the band has hired Creative Masters Unlimited to shoot and produce a video for the 1st single from Crawling Chaos. Once completed, it will be included on the Axemaster website, YouTube channel, and various other pages/sites.
MORE
Mistheria - presale of GEMINI launched
Posted by: Denis / 17.11.2017
---
GEMINI official PRE-ORDER campaign has been launched by Rockshots Records in collaboration with Artistco! GEMINI is an instrumental Metal album which collects 13 songs composed and/or arranged by MISTHERIA in the Metal, neo-classical, Prog-Metal genres.

The record features a stellar line-up made of well-known international musicians as well!
MORE
SPV / Freedom Call Mastermind CHRIS BAY goes solo!
Posted by: Denis / 17.11.2017
---
It's a well-known predicament that the Freedom Call founder and frontman shares with many other composers: occasionally, his wealth of inspiration goes beyond the stylistic and thematic scope of his own band. "I permanently write songs and am constantly working on ideas in the studio", he explains. "That's why I've collected a whole lot of tracks over the years that on the one hand don't really suit Freedom Call and on the other are just too good to gather dust in my archive." The solution to his 'luxury' problem: 23 February 2018 will see the release of Chris Bay's first solo album Chasing The Sun on Steamhammer/SPV, committing himself in his very own, unmistakable way to the music that has inspired him since the very early days of his career. And although the songs on the album were created over a long period of time, Bay produced the whole material in spring 2017 at his own studio.

Which must be one of the reasons why Chasing The Sun – despite the diversity of the individual tracks – sounds all of a piece. Alongside a number of rock songs in characteristic Chris Bay style, he has skilfully blended in modern sound elements on the opening track Flying Hearts, added Wurlitzer piano touches, which bring to mind the currently trendy 1970s, on Hollywood Dancer and risked a song with a slow shuffle groove, a consciously dark atmosphere and an avant-garde flair in Where Waters Flow In Heaven.

In stark contrast to this is the first single release Radio Starlight with its obvious airplay potential, which will be released digitally on 01 December 2017 and to which there will be also a video clip, which triggers with tantalizing images wanderlust and will definitely makes you hungry for more.

This title once again underscores the boundless ease with which Chris Bay moves in his world of music. As the album title Chasing the Sun already suggests, Chris Bay casually processed the desires and wishes that probably each of us holds in this dark season... sun, freedom, warmth and harmony... a 'summer hit' in winter, a matter of interpretation.
MORE
SPV / A new CREMATORY album will be released in April 2018
Posted by: Denis / 17.11.2017
---
Germany's leading Gothic Metal band CREMATORY are currently working on the new studio album titled Oblivion, which will be released on April 13th, 2018 via SPV / Steamhammer worldwide.

According to the motto 'Never change a winning team' CREMATORY have chosen again Kristian Bonifer as producer and the Kohlekellerstudio for the new album.

Through collaboration with new idea donors and arrangers such as Stefan Glass,Dirk Riegner and Walter Stobbe, as well as the intensive cooperation of the two new guitarists Rolf and Tosse and the new bassist Jason, not only massive guitars were given to the new CREMATORY songs but also interesting influences and elements that makes the band doing a step forward even after 25 years of band history.

The hit factory CREMATORY is in full swing working in three shifts, which makes the new studio album Oblivion an absolute masterpiece.
MORE
Scarlet Records / EAGLEHEART 'UNTIL FEAR IS GONE' VIDEO RELEASED
Posted by: Denis / 17.11.2017
---
Eagleheart
have released
the official video
for the song
Until Fear Is Gone
, taken from the new album
Reverse
, out now on Scarlet Records.
Six years after the critically acclaimed album
Dreamtherapy
, Czech leading Power Metal act
Eagleheart
is back with a new album and they are stronger than ever! After some minor line-up changes, the Brno-based band have come up with their most ambitious, dynamic, emotional and epic album to date, this time with three singers and, again, with the helping hand of Power Metal legend
Roland Grapow
(
Masterplan
, ex-
Helloween
). The new, long-waited album
Reverse
is most definitely not to be missed by every fan of bands such as
Symphony X, Kamelot, Blind Guardian
!
MORE
PRIDE & JOY MUSIC / SECRET RULE new tour dates & video clip available
Posted by: Denis / 17.11.2017
---
Italian symphonic Metal band
SECRET RULE
release their 3rd studio album now on PRIDE & JOY MUSIC!
The Key To The World
so far has been received well by the press & radio alike.
During the next couple of months, the band around singer
Angela Di Vicenzo
will heavily support this release live at dates with
KOBRA & THE LOTUS, XANDRIA, SERENITY
and as headliner plus on festivals.
In addition to this,
SECRET RULE
also has released three video clips –
the latest one
, for the track
Imaginary World
, feat.
Aylin Giménez
(ex
SIRENIA
) as guest.
SECRET RULE (as support to: THE KOBRA & THE LOTUS) 16.11. I-Roma, Traffic Live Club 17.11. I-Rozzano, Circolo Svolta 18.11. CH-Witzikon, Hall Of Fame
SECRET RULE (headline shows & festivals) 01.12. F-Nancy, Chez Paulette (feat. Aylin Giménez (ex Sirenia) 02.12. F-Paris, Pacific Rock (feat. Aylin Giménez (ex Sirenia) 16.02. BE-Maasmechelen, Jan Hertog 17.02. D-t.b.a. 31.03. UK-Hartford (Hertfordshire), The Rock Den 01.04. UK-Birmingham, Quinphonic Fest 14.07. UK-Manchester, SOS Festival
SECRET RULE (as support for: XANDRIA) 08.12. I-Milano, Legend Club 09.12. I-Mantova, Arci Tom 10.12. D-Munich, Backstage
SECRET RULE (Symphonic Metal Nights Tour 2018: with SERENITY, VISIONS OF ATLANTIS, SLEEPING ROMANCE) 09.02.A-Wörgl / Komma 10.02.D-Kaiserslautern / Kammgarn 11.02.CH-Wetzikon, Hall Of Fame 12.02.D-Frankfurt / Nachtleben 14.02.UK-London / Underworld 15.02.BE-Vosselaar / Biebob
Intromental / Subterranean Masquerade lyric video
Posted by: Denis / 17.11.2017
---
After having received an immense amount of stunning reviews from all around the world for the new release
Vagabond
and to celebrate the news of the upcoming European tour as support for
Orphaned Land
, Israeli/Norwegian prog-rockers
Subterranean Masquerade
have decided to treat the fans with
a second lyric-video
from the album - this time for their dark and beautiful cover of
David Bowie
's
Space Oddity
.
The lyric-video was (as was the first lyric video of the album) created with the great talent of
, who has outdone himself, to incorporate the Bowiean-spirit into the video.
David Penna's new EP SubLevels
Posted by: Denis / 14.11.2017
---
MORE
Abel Sequera's EP release
Posted by: Denis / 14.11.2017
---
Abel Sequera
has just released his first instrumental Prog Rock EP.
BIOGRAPHY
Abel Sequera
(Barcelona, 14 agosto de 1990) is a drummer and composer, son of drummer, started studying classical piano and accordion at the age of 6 and drums at 9. He studied at Taller de Musics (Barcelona) and currently is studying Advanced Music Degree at Jam Session (Barcelona), receiving lessons from teachers such as Toni Pag?s (
Antonio Orozco, Paul Carrack, Judit Neddermann, David Pastor
...) and Pablo Posa (
Santiago Auser?n & Original Jazz Orquestra, Buddy Whittington, Cris Juanico
...). He has published different albums in different styles, composing, making arrangements, playing drums and singing from Progressive Metal to flamencio-fusion.
Discography: Embellish - A thousand lightyears from you (scheduled for 2018) Abel Sequera - Reflections from a quarter century (2017) Inner Side - The Corners of time (2017) Syncopaos - Ordenando pensamientos (2016) Atrako a mano armada - Siempre fuimos cuatro gatos (2015)
ABOUT
REFLECTIONS FROM A QUARTER CENTURY
It's the first instrumental Progressive Rock EP that releases under his name. In it, reviews his first 25 years of life thru a musical and personal journey divided in 4 tracks, on per each relevant phase and influenced by the classics from the genre like
Dream Theater, Porcupine Tree, Haken, Pagan's Mind, Camel, Transatlantic, Emerson, Lake and Palmer
or
Hiromi Uehara
among others.
Written just in a week, it wasn't until after a gig, when he met
Carles Salse
and he that told him about the possibility of recording it in his studio, Sureau Studio. For it, he surrounded by friends who helped him to give shape to this project contributing with their own style and instrument, being 15 musicians in total.
Tracks: Memories of a past life Childhood Breaking the rules he end of the beginning
CREDITS Written by Abel Sequera. Produced and arranged by Abel Sequera, Carles Salse and Kyke Serrano. All instruments recorded by Carles Salse at Sureau Studio (Matadepera, Barcelona) except pianos and keyboards recorded by Kyke Serrano at Lead Rain Studios (Dosrius, Barcelona). Mixed and mastered by Ferran Donatelli at Vertigo Estudio (Llinars del Vall?s, Barcelona). Guitars: Amadeo Jensana, Artur Cabanas (ElDorado, solo), Cristian Trivi?o (Syncopaos), Jordi Foraster (Dragonslayer, Hapax, Lupe Villar) y Carles Salse (Exceso, Westline, Nielva, Quantum Supernova) Bass: Edu Palomares (Inner Side, David Txes), Guillem Vila (Exceso), Joan Vigo (A Contra Blues, El?ctric Gozarela, Marina BBface & The Beatroots) y Ren? Creus (Toni Xucl?, L?dia Guevara, Apollo Flytrap). Piano and keyboards: Kyke Serrano (Jarabe de Palo, Llu?s Llach, Bunbury, Revolver, Lax'n'Busto) Strings: Nacho L?pez Trumpet: Jonathan Hauser Saxo: Eduardo Urbano (Syncopaos) Harp: Josep-Maria Ribelles
Vivaldi Metal Project will return on January 19th, 2018; release date for 'THE EXTENDED SESSIONS' EP revealed
Posted by: Denis / 14.11.2017
---
The Extended Sessions EP is the follow-up release to the extremely successful The Four Seasons album release by Vivaldi Metal Project which hit the shelves in Summer 2016 on CD & double vinyl on Pride & Joy Music. The album up to today is one of the label's best sellers and now being continued with this valuable EP which will shorten the waiting time for the fans until the next full album!

The DIGITAL VERSION of the EP will be available at the usual outlets; the PHYSICAL EDITON DIGIPAK is LIMITED to 300 copies and will only be available at the band's shows, at the label's online shop and at selected mailorders. Created and produced by Mistheria, Vivaldi Metal Project are currently working on bringing the project onto stage with full band, orchestra and choir. During Summer/Autumn 2017, the band played a series of unplugged shows in Finland, in Bulgaria and in Italy in advance which resulted in the idea to put some of the extraordinary material onto this EP! The Extended Sessions includes four tracks which are centered around the group's performance at Kitee International Music and Art Festival which took place in Kitee (Finland) on July 13th, 2017. Arranged by Mistheria, the performance at the 'Sleeping Sun' event featured Mistheria himself on piano and Tsena Stefanova on vocals. An epic video for this track will also be available soon online.

The Extended Sessions EP opens with a newly recorded unplugged studio version of The Four Seasons medley which again was arranged by Mistheria who performed on this track on piano and was joined by vocalists Tsena Stefanova, Angel Wolf-Black and Dimitar Belchev plus Abigail Stahlschmidt on violin. Additionally to this track, the song Vita - one of the album's single - is featured twice on the EP: once as exclusive 'original vocal session' as recorded by Dimitar Belchev on the first demo version of this song which impressed Mistheria at the first listening, and once as instrumental 'karaoke'. Both versions are delivered with a brand new mix by Ivan Moni Bidin at Artesonika studios. Vita was originally released with different singers on last year's album. The track was arranged by Zhivko Koev and the line-up here includes Dimitar Belchev on vocals, Srdjan Brankovic on guitars, Chris Caffery (TSO, Savatage) with a guitar solo, Jeffrey Revet on keyboards, Royal Hunt's Andreas Passmark official on bass and Martijn Peters on drums.

Like the Vivaldi Metal Project's full length album The Four Seasons, The Extended Sessions EP was mixed and mastered by Ivan Moni Bidin at Artesonika Recording Studio in Italy and produced by Mistheria.

Vivaldi Metal Project is currently booking more unplugged shows over Europe and USA.
MORE
Som do Darma / After Russian tour, Sunrunner returns to studio
Posted by: Denis / 14.11.2017
---
Sunrunner is a Heavy-Prog trio formed in 2008 in Portland, Maine, USA. The band is currently composed by David Joy (vocal/bass), Joe Martignetti (guitar) and Ted MacInnes (drums).

Sunrunner debuted with the album Eyes Of The Master (2011), a Prog Rock record with Heavy Metal leanings. Since then, their second album Time In Stone (2013), Sunrunner had solidified more into a metal band with Prog Rock influence, using elements of jazz and acoustic instruments such as violin, flute, bouzouki and percussion. Heliodromus, the third full length released in September 2015 by Minotauro Records (Italy), is the most epic one to date, defining the term Heavy-Prog as the bands genre.

The tour in promotion of Heliodromus included dates in US and also in South America, with four shows in Brazil. The band was beyond welcomed by the Brazilian audience.

When Sunrunner was back to the studios to record their new album, the band was invited to play at Belomor-Boogie Festival in the city or Akhangelsk, Russia. The trip was financed by 'Forum For Cultural Engagement' and besides the show at the festival - that also counted with Cellar Darling, Breaking Samsara, among others, Sunrunner played a second show at The Wheel Club, also in Akhangelsk.

This was the first time of the band in Russia and the whole experience was beyond the obvious, as suggests the words of the drummer Ted MacInnes. "Russia was an amazing experience. Most Americans' view of Russia is colored by tired stereotypes of the olden days, and it seems like our media encourages us think in these cartoonish terms - but visiting Russia first hand showed us just how ignorant such assumptions are, and it opened our eyes and expanded our worldview - and we hope that we brought some of that feeling to the people we met in Arkhangelsk, too. As far as what we might have offered to the Russian people - given that we came to play Rock and Roll music, coming from the US, the expectation was that they would be getting the 'real deal' rock - and I don't think we disappointed! People were excited to meet us and to talk to us. They were enthusiastic about our music, which I think might not have been exactly what they were expecting. Being Heavy Prog, we're a far cry from the American Pop music that you might hear coming from the US today - but I would venture to say that perhaps we inspired some of the Russian bands we played with to dig deeper into more experimental music - that this is the essence of where Rock came from, as evidenced by the sort of strange music they were witnessing coming from our instruments. There were innumerable 'selfies' taken (certain trends cross cultural boundaries more readily than others!) and we partook in many toasts heartfelt handshakes. I think meeting us showed the Russian people we met that Americans aren't very much different than they are, and I hope we helped to represent our country in a favorable light. I was surprised to hear that relations between our countries aren't the best right now, and I hope that we can help change that - by whatever tiny degree our presence in Arkhangelsk might have had."

Back to the US, Sunrunner returned at Acadia Recording Company in Porland, Maine – the same studio where the band recorded Heliodromus – to keep working on the recordings of the upcoming new album. The production team is also be the same, Todd Hutchisen as sound engineer and Jimmy Martignetti as producer. The band is also tracking and mixing again in both analog and digital recording systems respectively.

According to Joe Martignetti, nine new tracks will appear on the new album, including a new 20 minutes piece. "We began writing the new songs early 2016 and spent the majority of the year composing them. The songs are mostly all new ideas with a few old parts sprinkled throughout. The direction is slightly more straightforward than the previous three records. I think after writing Heliodromus we realized we enjoyed writing music that was a little less eccentric and experimental... more reminiscent of our roots. So we continued down this path. The new stuff has a really good balance. There is more Metal than Prog Rock. Less guest musicians and embellishments. But there is still plenty of odd time signatures. Lots of 5's and 9's."
Imperative PR / Formicarius join Dani Filth's Devilment for a fiendishly festive December show at the Camden Underworld
Posted by: Denis / 14.11.2017
---
The fiends of Formicarius have been invited to join Dani Filth's Devilment for an evening of quintessentially English Black Metal at the Camden Underworld, on Sunday December 10th.

Formicarius will offer up a selection of dark delights from their Black Mass Ritual debut, before Nuclear Blast recording artists Devilment invite the assembled hordes to revel in the wickedness of The Mephisto Waltzes.

Formicarius launched their Black Mass Ritual album at the Underworld with a triumphant show alongside Tengger Cavalry and cannot wait to return to what is fast becoming a favourite venue for the performance of their black incantations.

There can surely be no finer diabolical pairing than the Cradle Of Filth frontman's gothic horror show of Devilment and the wild, symphonic darkness of Formicarius. A savagely splendid way to kick off the festive season we're sure you'll agree...
Imperative PR / Minotauro Records unveil Flames Of Genesis ambient epic, A Bridge To Further Realms
Posted by: Denis / 08.11.2017
---
The coming of
Flames Of Genesis
's
The Voyager
was foretold, his arrival from the worlds that lie beyond the outer edges of our experience announced. His approach through the dark corridors that run between the stars was heard by those who have long thirsted for his secrets... Nameless and faceless he has arrived with his entrancing, all consuming music, offering insights to mystery and a listening experience like no other. He brings a sound, a vision, a key...
On the 10th of November Minotauro Records will send
The Voyager
's creations out into the world in the form of
Interstellar Transmigration Part I: A Bridge To Further Realms
– seven soundtracks to enlightenment, seven revelations woven within sonic tapestries, seven wonders to be discovered. The grand, layered, cinematic sounds enthral the listener, wrapping them in the cold embrace of space, opening the mind's eye to sights from the very edge of the universe... and for those whose inner eyes are open, those whose souls listen deeply there are pathways to knowledge, to worlds beyond the distant edge, kingdoms that lie in the void beyond dreams... a bridge to further realms.
The Voyager
has many secrets to share, held within the chalice of
Flames Of Genesis
and here is where it all begins, where the willing set their foot upon the path. This album, this star map, is the first part of the odyssey. This is where the journey through wonders begins... open this tome of knowledge,
listen to Interstellar Transmigration Part I: A Bridge To Further Realms
and discover... a sound, a vision, a key.
Jolly Roger Records / HumanasH 'Reborn from the Ashes'
Posted by: Denis / 08.11.2017
---
Jolly Roger Record's proud to announce
HumanasH
's debut
Reborn from the Ashes
will be available end of November on LP, CD, digital. The band's born under the will of
John Goldfinch
(vocalist of cult-band
L'impero delle ombre
) from a deep and sincere love towards classic Heavy Metal and from the need to play an heavier music from his main band, more oriented to speed-metal and horror themes, heavily influenced by early Death SS and 80's Metal bands. For this 'mission' he recruits
Peruvian
, same drummer of
L'Impero delle Ombre
,
Francis Probus
and
Gabriel Goya
on guitars and
Nicholas Lestat
on bass, giving life to horror-story
Reborn from the Ashes
, mini album (22 minutes) featuring as very special guest
Steve Sylvester
(
Death SS
vocalist),
John
's real point of reference, on first track.
Vinyl edition (first 100 copies on red wax) includes 4 pages insert with comics and CD.
Now you can watch videoclip Night Adventure in a Desecrated Church.
Tracklist: Evil Metal Obsession Night Adventure in a Desecrated Church The Nightmare Begins Reborn from the Ashes The Liberation of the Cursed Spirit Eternal Darkness of Being
Line-up: John Goldfinch - Vocals Gabriel Goya - Lead and Rhythm Guitar Francis Probus - Lead and Rhythm Guitar Nicholas Lestat - Bass Peruvian - Drums
Furia Music Press / THE ELEMENT releases music video for track Dusk
Posted by: Denis / 08.11.2017
---
American Metal band
The Element
released a video
for the song
Dusk
, which is the first single from their upcoming album
From Sand – Part II
. The album is being produced and mixed by one of the greatest Heavy Metal producers nowadays, the Swedish
Jens Bogren
, who was in charge of the production of albums from
Arch Enemy, Symphony X, Angra, Pain of Salvation, Katatonia, Dragonforce, Paradise Lost, James Labrie, Devin Townshend
. In charge of mastering will be
Tony Lindgren
, both from Fascination Street Studios.
The band's new video was produced by renowned director
Tommy Merry
, a specialist in horror movies who brought a tense and dark atmosphere to the video that follow the track's intense and heavy beat, which will please fans of Prog Metal and of bands such as
Symphony X, Evergrey, Mastodon
, as well as those who enjoy the thrashier side of bands like
Megadeth
and
Metallica
.
Dusk
was filmed at the legendary Soundwave Studios in Oakland (California, USA), known for being active since the early days of the Bay Area Thrash Metal scene, where several prominent bands have been, such as
The Cure, Metallica, Testament, Forbidden, Primus, Faith No More, Green Day, Machine Head, Exodus, Death Angel
, and others.
AFM Records / Elvenking
Posted by: Denis / 08.11.2017
---
Elvenking
present
new music video
Invoking The Woodland Spirit
!
An epic songs deserves to be presented with an equally epic music video. The song is taken from the upcoming album
Secrets Of The Magick Grimoire
which will be released on November 10th (CD, Digipak, colored Vinyl).
MORE
PICTURE LEGACY CONTINUES ON DIVEBOMB
Posted by: Denis / 08.11.2017
---
Widely recognized as one of (if not the) first Dutch heavy Metal bands, PICTURE's storied career dates all the way back to 1979. Their classic first four albums were previously subject to Divebomb's two-on-one CD treatment in 2013, with fifth opus Traitor joining the ranks in 2016 for the first time ever on disc. But the picture—pun intended—remains incomplete...

If Traitor had signaled PICTURE's shift toward a slightly more commercial Hard Rock direction in 1985, the transformation was complete with Every Story Needs Another Picture (1986) and Marathon (1987). The previous lineup having crumbled under record label pressures and musical differences, rhythm section Rinus Vreugdenhill (bass) and Jacques van Oevelen (drums, R.I.P.) soldiered on with new members Rob van Enkhuizen (guitar) and former VANDENBERG vocalist Bert Heerink adding keyboardist Ronald de Grauw for Marathon. This mainstream-leaning and increasingly keyboard-centric sound may have alienated some fans, but the group's knack for hook-laden songwriting and memorable choruses certainly took center stage.

Now, 30 years later, Divebomb Records is proud to present yet another two-on-one CD reissue including both Every Story Needs Another Picture and Marathon newly remastered by Jamie King at The Basement Recording, and bolstered by band-supplied archival materials. This finally completes the label's monumental undertaking to re-release all seven of PICTURE's pre-reunion albums over the course of the past four years.
Hammerheart Records / Dead Head share video for 'Palfium'
Posted by: Denis / 08.11.2017
---
The Thrash is on! Dutch extreme Thrash Metal outfit
Dead Head
have shared
the official video
for
Palfium
from their latest album
Swine Plague
! Aggressive, mean, explosive and intense!
MORE
Nuclear Blast / ALMANAC talk about new band members
Posted by: Denis / 08.11.2017
---
ALMANAC
- the new band of
Victor Smolski
(ex-
RAGE
) - are set to release their sophomore record titled
Kingslayer
, on November 24th, 2017 via Nuclear Blast. After recently revealing the first single
Losing My Mind
, now it's time for
the third album trailer
, in which the band talks about their new members
Tim Rashid
(bass) and
Athanasios 'Zacky' Tsoukas
(drums).
MORE
SQUEALER sign to PRIDE & JOY MUSIC; new album 'Behind Closed Doors' due on February 23rd, 2018
Posted by: Denis / 08.11.2017
---
PRIDE & JOY MUSIC is proud to announce the signing of German Metal veterans SQUEALER! The band based in Hessia, Germany has released seven successful studio albums between 1992 and 2008.

After the group's hiatus which started after the 2008 release The Circle Shuts, SQUEALER united in the year 2016 with new singer Sebastian Werner and already have completed the works on a new album and played several gigs including the prestigious 70000 Tons Of Metal festival.

With the new label PRIDE & JOY MUSIC in the boat, the work on the PR of the new long-player Behind Closed Doors (out: February 23rd. 2018) will begin shortly. The band comments: "We're happy to have found a new home on Pride & Joy Music. After a couple of meetings and conversations, we're convinced that we'll, together with our new team, reach our goals. We're looking forward to a close and successful co-operation."
MORE
Punishment 18 Records / Adversor new album title and cover unveiled
Posted by: Denis / 08.11.2017
---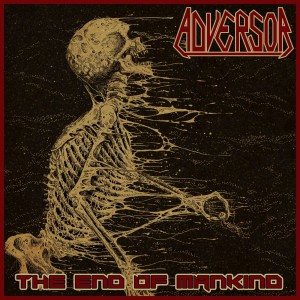 Italian thrashers
Adversor
have unveiled the first details of their second full-length album! It will be titled
The End of Mankind
and will be out before end of March 2018. Release will be handled by Italian label Punishment 18 Records.
Stormspell Records / RUNELORD
Posted by: Denis / 08.11.2017
---
RUNELORD
will release new album
A Message From the Past
.
Heathen Heavy Metal, taking you on an epic sword & sorcery adventure to Valhalla and beyond. Written by
Fredrik Holm
and delivered to you courtesy of
Cederick
(
Blazon Stone, Rocka Rollas, Mortyr, Lector
, etc.) and
George
(
The Outer Limits, Moshpit Justice, Blazon Stone
).
For fans of
Manowar, Cirth Ungol, Lords of the Crimson Alliance, Exorcist, Virgin Steele
, epic Metal in general.
Bloodline of the Berserk Purified Hatred The Wisdom of Steel Heathen Religion War All Against All Valkyries; Eternal Winter Valhalla Within Terror In The Dungeons A Message From the Past Beyond the Epos
Sonic Night Music Club / Nashville Metal band KILLING GRACE announce new music video 'Fight Back Kid'
Posted by: Denis / 03.11.2017
---
Nashville's award-winning Metal band
KILLING GRACE
have released
a new music video
for their new album
Speak With A Fist
due November 3rd via Sonic Night Music Club.
Killing Grace
is not afraid to genre bend with straight-up southern Rock like
One Finger Salute
or something more hard-core as
Screaming In Silence
. From the slamming and revved-up track
Say My Name
and groove anthem
Living Like A Suicide
, to the melodic and progressive
Take Me With You
, this new release has something for everyone.
After spending the better part of a year touring in support of their self-titled debut, hitting venues all across the Southeast and parts of the Mid-West,
Killing Grace
returned to the studio to record their second album,
Speak With A Fist
. This new release has all the bite and grit that fans of the band have come to expect from them along with some new found edge and progressive sounds. A fall U.S. tour will be announced soon.
Awards: 2013 Music City Mayhem Award winners for Best Hard Rock Band and People's Choice 2014 NIMA Award winners for Best Hard Rock Band 2015 Nomination in the NIMA Awards for Best Hard Rock Band. 2016 NIMA Award winners for Best Hard Rock/Metal Band 2016 NIMA Award winners for Rock Album of the Year 2016 Deli Online Poll - Best Emerging Hard Rock/Metal Artist 2017 NIMA Award winners for Best Hard Rock/Metal Band 2017 NIMA Award winners for Rock Album of the Year
GlobMetal Promotions / Guillotine released debut album
Posted by: Denis / 03.11.2017
---
American Death Metal band
Guillotine
just released their debut self-titled album. The album was recorded at Ledbelly Sound Studio by
Matthew Washburn
, who also did the mixing/mastering.
Guillotine
was formed in 2015 in Atlanta, Georgia by two brothers
Lance
and
Adam Miller
, who wanted to create a band that combined traces of Scandinavian Black Metal with old school Florida Death Metal.
Evan Posey
later joined the lineup as the drummer, rounding out the lineup with his brutal Metal assault.
METALMESSAGE / EUFOBIA (Melodic Thrash Death Metal, Bulgaria) 'Graveyard' (OFFICIAL MUSIC VIDEO)
Posted by: Denis / 03.11.2017
---
The memorable name of these Bulgarian MELODIC THRASH DEATH METAL command is of ancient Greek origin and literally means 'fear of good'.
EUFOBIA
was founded 2003 and no band member has ever been replaced since, which is pretty rare to find nowadays.
These musicians are in any case a very own formation. The emphasized independent, intense sound of
EUFOBIA
is just as individual as interesting structured and full of variety, even in the abysmal, manic emotional passages. Every song by the guys therefore can stand completely for itself.
So far
EUFOBIA
have performed live more than 180 (!) times and shared the stage with well known acts such as
Arch Enemy, Dark Tranquillity, Rotting Christ, Kreator, Vader, Immolation, Onslaught, Malevolent Creation, Pyogenesis, Gorgoroth, Sinister, Broken Hope, Dragonforce, Eluveitie, Keep Of Kalessin, E-force, Negura Bunget, Suicidal Angels
, as well as with many fellow underground ones.
Recently the musically and lyrically hard biting genre-hopefuls from the city of Sofia published their
newest music video
for the song
Graveyard
.
Graveyard
is taken out of their third, self-titled album
Eufobia
, which has been published in November 2016.
Currently,
EUFOBIA
are writing new songs for the fourth album, which is expected to be released early 2018.
Stormspell Records / Scander
Posted by: Denis / 03.11.2017
---
Sophomore album by the re-united post-NWOBHM acolytes
Scander
. Coming 26 years after their acclaimed debut, but hey, as the saying goes; better later than never.
Lazarus Backs Against the Wall Machine Keeps on Rolling… When We Die Res Def Take You Down Juggernaut In a Dark Place
Artwork is being drawn now. Coming out in late 2017 on Stormspell Records
SPV / MAGNUM to release new album in January 2018
Posted by: Denis / 03.11.2017
---
The release of their latest album
Lost On The Road To Eternity
sees British Hard Rock band
Magnum
celebrate a very special anniversary on 19 January 2018. It will be the 20th studio recording by the group surrounding founder members
Bob Catley
(vocals) and
Tony Clarkin
(guitar) since their 1978 debut
Kingdom Of Madness
. At the same time,
Clarkin, Catley
and bassist
Al Barrow
are set to introduce their current line-up featuring new additions
Rick Benton
(keyboards) and
Lee Morris
(drums).
Benton
joined the
Magnum
camp in December 2016 to replace long-standing member
Mark Stanway
, while
Morris
took over from
Harry James
only a few months ago.
Lost On The Road To Eternity
contains eleven new songs, among them the first single release
Without Love
and a duet by
Catley
and
Tobias Sammet
on the title track, a kind of artistic thank you by the
Edguy /Avantasia
frontman in appreciation of
Catley
's guest stint on a number of
Sammet
's releases.
The release will once again be complemented by
Rodney Matthews
's atmospheric cover artwork as well as a total of four live bonus tracks on the CD digipak version (
Sacred Blood – Divine Lies, Crazy Old Mothers, Your Dreams Won`t Die, Twelve Men Wise And Just
) recorded at
Magnum
's 2017 performance at the Leyendas Del Rock festival in Alicante, Spain.
Lost On The Road To Eternity
has been scheduled for release by Steamhammer/SPV on 19 January 2018 as digipak version incl. bonus live disc, 2LP coloured version, download and stream.
TRACKLISTING:
CD 1 Peaches and Cream 4:54 Show Me Your Hands 5:45 Storm Baby 6:13 Welcome to the Cosmic Cabaret 8:08 Lost on the Road to Eternity 5:54 Without Love 5:55 Tell Me What You've Got to Say 6:27 Ya Wanna Be Someone 5:56 Forbidden Masquerade 5:02 Glory to Ashes 5:35 King of the World 7:04
CD 2 (Bonus Live Disk) Sacred Blood – Divine Lies 6:48 Crazy Old Mothers 5:35 Your Dreams Won't Die 5:56 Twelve Men Wise And Just 6:21
Magnum
are scheduled to embark on a major European tour from January to April 2018:
THE ROAD TO ETERNITY TOUR 2018 26.01.18 GB-Minehead – Giants Of Rock 20.02.18 GB-Bristol – Trinity 21.02.18 GB-Cardiff – Tramshed 23.02.18 GB-Holmfirth – Picturedome 24.02.18 GB-Manchester – Academy 2 25.02.18 GB-Hull – Welly 26.02.18 GB-Aberdeen – Garage 27.02.18 GB-Glasgow – Garage 01.03.18 GB-Belfast – Limelight 02.03.18 GB-Birmingham – Town Hall 04.03.18 GB-Preston – Guildhall 05.03.18 GB-Nottingham – Rock City 07.03.18 GB-Leamington – Assembly 08.03.18 GB-Cambridge – Junction 09.03.18 GB-London – Islington Assembly Hall 11.03.18 GB-Southampton – Engine Room 12.03.18 GB-Brighton – Old Market 14.03.18 NL-Leiden – Gebr de Nobel 16.03.18 SE-Stockholm – Fryshuset Klubben 17.03.18 NO-Oslo – John Dee 18.03.18 SE-Gothenburg – Sticky Fingers 19.03.18 SE-Malmoe – KB 21.03.18 D-Munich – Ampere 23.03.18 D-Nuremberg – Der Hirsch 24.03.18 D-Aschaffenburg – Colos-Saal 25.03.18 D-Berlin – Columbia Theater 27.03.18 D-Bonn – Harmonie 28.03.18 D-Stuttgart – Im Wizemann 29.03.18 D-Freiburg – Jazzhaus 31.03.18 D-Wuppertal – Live Club Barmen 01.04.18 NL-Uden – De Pul 03.04.18 D-Leipzig – Werk 2 04.04.18 D-Hamburg – Fabrik 05.04.18 D-Bremen – Aladin 07.04.18 D-Neuruppin – Kulturhaus 08.04.18 PL-Bydgoszcz – Klub Kuzinia 10.04.18 CZ-Prague – Nova Chemelnice 11.04.18 D-Memmingen – Kaminwerk 12.04.18 CH-Pratteln – Z7 13.04.18 I-Milano – Legend 15.04.18 E-Barcelona – Bikini 16.04.18 E-Madrid – But
MORE
Spinefarm Records / BLACK LABEL SOCIETY ANNOUNCE 2018 EUROPEAN TOUR
Posted by: Denis / 03.11.2017
---
Black Label Society
have announced a European tour in support of their new album
Grimmest Hits
.
A month into their criss-crossing Europe through eleven countries and 24 full-throttle live shows,
Black Label Society
will play the iconic Royal Albert Hall, London, on April 5th, 2018.
Now ten studio albums deep, the setlist is sure to be career defining and
Black Label Society
bandleader,
Zakk Wylde
, can be relied upon to wield his guitar like a Viking weapon, bashing out thick riffage and squeezing out expressive squeals as if the glory of his Berserker brotherhood depends upon every single note, which of course, it does.
Mar-8 France, Paris – Bataclan Mar-9 France, Toulouse – Le Bikini Mar-10 Spain, Vitoria – JimmyJazz Mar-11 Spain, Santiago De Compestela – Capitol Mar-13 Spain, Madrid – Riviera Mar-14 Spain, Barcelona – Razzmatazz Mar-16 Italy, Milan – Alcatraz Mar-17 Austria, Telfs – Rathaussaal Mar-18 Czech Republic, Prague – Mala Sportovni Hala Mar-20 Poland, Krakow – Studio Mar-21 Poland, Warsaw – Stodola Mar-23 Germany, Munich – Backstage Werk Mar-24 Germany, Frankfurt – Batschkapp Mar-25 Swiss, Pratteln – Konzertfabrik Z7 Mar-27 Germany, Cologne – Live Music Hall Mar-28 Germany, Berlin – Huxleys Neue Welt Mar-29 Germany, Hamburg – Markthalle Mar-30 Netherlands, Amsterdam – Melkweg Mar-31 Belgium, Antwerp – TRIX Apr-3 Luxembourg, Luxembourg City – Den Atelier Apr-5 UK, London – Royal Albert Hall Apr-7 Ireland, Dublin – Tivoli Apr-8 UK, Belfast – Limelight
Black Label Society
will release their tenth full length titled
Grimmest Hits
on January 19, 2018 via Spinefarm Records.
MORE
Scarlet Records / WILDESTARR – NEW ALBUM 'BEYOND THE RAIN' OUT IN DECEMBER
Posted by: Denis / 03.11.2017
---
US Metal powerhouse WildeStarr are going to release their new album Beyond The Rain on December 8th on Scarlet Records.

WildeStarr is the combined talents of 3 of the most dynamic musicians in Heavy Metal today: Dave Starr (Vicious Rumors, Chastain), on all guitars & bass, London Wilde on vocals (who many regard as highly as Rob Halford, Dio, Geoff Tate), and powerhouse drummer Josh Foster. Over the course of three studio albums – Arrival (2010), A Tell Tale Heart (2012), and now Beyond The Rain – WildeStarr have established themselves as the masters of their craft with melodic and aggressive Metal full of dark drama, and conveyed via a huge wall of sound.

WildeStarr's new album Beyond The Rain takes the listener on a harrowing ride and emotional roller coaster. Some might think its a concept album, but its actually much more than that. The songs are London Wilde's lyrical expression of pain, torment, hope, and love based on the real life tragic suicide of her brother Gary in 2012. Gary was a gifted musician who suffered the sad pitfalls of many others who pick up the guitar and dream of success in the music business. After his death, Gary essentially became a not so silent fourth member of the band, and his presence and spirit was deeply felt throughout the songwriting and recording process. Beyond The Rain contains ten tracks of classic Heavy Metal in the vein of Judas Priest, Queensrÿche, DIO, complete with Dave Starr's soaring guitar harmonies and killer riffs, pounding bass and drums, and out of this world vocal melodies and lyrics by London. Husband and wife team Dave Starr and London Wilde have been friends for thirty years and married for over fifteen now. This makes their songwriting and chemistry very special and unique in the world of Heavy Metal.

The album artwork was created by world renowned digital artist Jonas De Ro. Jonas has worked on many blockbuster movies as a concept artist, including 'Batman v Superman: Dawn Of Justice', 'Guardians Of The Galaxy', 'Mission: Impossible – Rogue Nation', 'Terminator Genisys', 'Jupiter Ascending', 'Edge Of Tomorrow', and many others!
MORE
25 albums entered into our database lately are:
1. Adagio
"Life"
2. Alpha Tiger
"Alpha Tiger"
3. Leprous
"Malina"
4. Paradise Lost
"Medusa"
5. Great White
"Full Circle"
6. Venom Inc.
"Avé"
7. Hell in the Club
"See You on the Dark Side"
8. Satyricon
"Deep Calleth Upon Deep"
9. Septic Flesh
"Codex Omega"
10. FB1964
"Störtebeker"
11. Air Raid
"Across the Line"
12. Panzer (Germany)
"Fatal Command"
13. Section A
"Wall of Silence"
14. Accept
"The Rise of Chaos"
15. Steelheart
"Through Worlds of Stardust"
16. Vivaldi Metal Project
"The Extended Sessions"
17. Penna, David
"SubLevels"
18. Unity, The
"The Unity"
19. Elvenking
"Secrets of the Magick Grimoire"
20. Desperados
"Call of the Wild"
21. Heavy Load
"Metal Conquest"
22. Liv Sin
"Follow Me"
23. Hallows Eve
"Monument"
24. Hallows Eve
"Tales of Terror"
25. White Skull
"Will of the Strong"

---
15 bands entered into our database lately are:
1. Venom Inc.
2. Hell in the Club
3. FB1964
4. Air Raid
5. Unity, The
6. Liv Sin
7. Baphomet (US)
8. Baphomet
9. Messina
10. Atkins, Al
11. Havok
12. Seven Sisters
13. Sainted Sinners
14. Dethrone
15. Cancer

All bands:
A B C D E F G H I J K L M N O P Q R S T U V W X Y Z Other
---
From Denis collection:
A B C D E F G H I J K L M N O P Q R S T U V W X Y Z Other