Now the news is published irregularly
Divebomb / VERMITHRAX
Posted by: Denis / 20.09.2018
---
Striving to resuscitate the aggressive, driving Metal of the mid-'80s Thrash scene,
VERMITHRAX
was forged in 'Steel City' Pittsburgh, PA during 2012 by vocalist
Chris 'Croy' Roy
(
Reading Zero, Emancipation
) and drummer
J.R. Jameson
(
Nunslaughter, Icarus Witch, Mercenary
). Joined by guitarist
Scott 'Hagz' Haggerty
and bassist
Tom Donaldson
(
Mercenary, Eye
) to round out the lineup, the quartet issued its debut EP,
Volume 1
, which was met with immediate praise—the metal press hailing the band's deft blend of progressive and thrash elements, thundering drums, shredding solos, as well as
Croy
's multi-faceted vocals.
Sharing the stage with such heavy-hitters as
Iced Earth, Metal Church, Queensrÿche, Fates Warning, Overkill, Sabaton, Lizzy Borden, While Heaven Wept, Evergrey
has aided
VERMITHRAX
in sharpening their skills in preparation for their sophomore outing, Imperium Draconus—recorded at the band's personal studio, The Lair, and mixed in part by
Christopher Lee Simmonds
(
Thought Industry, Filter, Emancipation Syndicate
) and
Jim Dofka
(
Dofka, Psycho Scream
, etc.).
The anthemically epic vibe of
Enoch
and brooding chug of
Crucified by Hate
are definitive emblems of
VERMITHRAX
's balanced yet varied approach—their classic metal-inspired sound featuring an array of blistering guitar solos and animated, identifiable vocals.
Road to Athkatla
emerges as the album's razor-sharp foray into the adventurous worlds of progressive and power metal; while
River Crour
immediately breathes thrashing mad fire. Written as an homage to
Slayer
's
Jeff Hanneman
on the day he passed, it lends the perfect counterbalance to the intricately nuanced yet powerful
Spellbound
and the pummeling, prog-tinged driver,
Calling My Name
. The disc closes with a steamrolling thrasher that combines
VERMITHRAX
's unique approach branded deep into a medley of two
Flotsam and Jetsam
staples —
Hammerhead
and
Hard on You
— as a heartfelt tribute to one of their favorite classic Thrash influences. With
Imperium Draconus
, Divebomb Records is proud to assist
VERMITHRAX
in igniting the world with their fiery brand of Progressive-and Power Metal-infused Thrash!
FOR FANS OF:
SANCTUARY, FORBIDDEN, FLOTSAM & JETSAM, VICIOUS RUMORS, TESTAMENT
TRACK LIST: Sacred Keys Of... Enoch Crucified By Hate Road To Athkatla River Cruor Spellbound Calling My Name Hammerhead/Hard On You
Sonic Night Music / CLOCKWORK REVOLUTION new music video 'Test My Pride'
Posted by: Denis / 20.09.2018
---
CLOCKWORK REVOLUTION
, featuring former members of
Yngwie Malmsteen, Crimson Glory, Kamelot
have released
a new music video
Test My Pride
from their debut album which was released via Sonic Night Music Club.
Imperative PR / The Drowning hit the road with death metal titans Vader and Entombed A.D.
Posted by: Denis / 20.09.2018
---
There's going to be all sorts of exciting news to come from
The Drowning
between now and the end of the year and Imperative PR are starting with the announcement of three massive live dates. The Welsh Doom Death kings will be joining Death Metal royalty on the UK leg of the huge European Chaos Tour. Co-headlined by
Vader
and
Entombed A.D.
, this tour is sure to be one of the biggest underground Metal events of 2018.
Back in 2017
The Drowning
joined
Vader
and
Immolation
for their UK run and this time the venues are bigger and the buzz surrounding the tour is even more intense. Catch the heaviest tour of the Autumn at the following venues...
November 2nd Cardiff The Globe November 4th Coventry Empire November 5th London The Dome
These three fantastic shows will form the opening barrage in a campaign that will see The Drowning march out from their Welsh stronghold, with conquest on their minds. In the silent shadows the band have been working tirelessly, building on the foundations laid down by the majestic
Senescent Signs
album and now the time is nigh for a new era to begin, a new chapter in their tale of sorrow and inevitable mortality to be written. Be prepared, your doom is nigh!
GlobMetal Promotions / Resurrection of Fetal Remains released debut EP
Posted by: Denis / 13.09.2018
---
South African Death Metal band
Resurrection of Fetal Remains
released their debut EP
Lords of Gore
. The EP was recorded in Sadistic Embrace Studio and mixed/mastered by
Theo Durand
and
Johan van Zyl
.
Resurrection of Fetal Remains
was formed in 2016 in Middelburg, South Africa by
Theo Durand
(vocals),
Desmond Cook
(drums) and
Wean van Vreden
(Guitar). Soon after
Karienus Janse van Vuuren
joined the band as the second guitarist and the lineup was completed.
Imperative PR / Forged In Black release new play through video and join the bill of Chris Tsangarides tribute concert
Posted by: Denis / 13.09.2018
---
Imperative PR are excited to unveil
a new play through video
from
Forged In Black
. This up close and personal recording of the band playing in their rehearsal space reveals every note that makes up the epic
Crimson Echoes
track, taken from the
Sinner Sanctorum
EP. With work on a new full length album nearing completion this should tide fans over until the first tasters of the band's next grand Metal extravaganza can be revealed.
In other news
Forged In Black
have been invited to join the bill of a special concert being held in memory of legendary producer
Chris Tsangarides
who sadly passed away earlier this year. The band became great friends with
Chris
when they worked together on both the
Sinner Sanctorum
and
Fear Reflecting Fear
EPs.
Som do Darma / New international project Holy Tide to release debut album Aquila with rock 'n' roll legends as special guests
Posted by: Denis / 13.09.2018
---
Hailing from Salerno, Italy,
Holy Tide
is a new international Metal supergroup formed by the bass player
Joe Caputo
,
Maestrick
's vocalist
Fabio Caldeira
and the British drummer
Michael Brush
.
The band's debut album is going to be titled
Aquila
, which means 'Eagle' in Italian, and it's an apocalyptic concept album.
Aquila
will bring 13 tracks:
The Age Of Darkness Chains Of Enoch Godincidence Curse And Ecstasy Exodus Eagle Eye The Crack Of Dawn Lord Of The Armies Sunk Into The Ground The Shepherd's Stone Lamentation Return From Babylon The Name Of Blasphemy
According to the bass player, main composer and mastermind of the band,
Joe Caputo
, the idea of creating
Holy Tide
came on the spring of 2017.
"Back then, I decided to quit the band I was working with, to achieve something more. I wanted to be able to express my creativity with no limits"
, says the musician that mentions, as
Holy Tide
's influences, names from
Iron Maiden
and
Slayer
to Bach and Wagner.
All guitars on
Aquila
were recorded at Rroarrr Sound Studio in Sassari, Italy, by
Kris Laurent
(ex-
Cadaveria
) who also signs the production of the album. Basses and vocals were recorded at Studio 35 Live in Salerno, Italy, while drums at CapsaArx Studios, in Birmingham, England.
"Holy Tide is a very ambitious project, that reflects the power of music"
,
Caputo
says.
"This is the result of twenty years of studying, struggling, suffering, dreaming and so on. There is a very strong team, working hard 'behind the scenes', that allowed me to gather an amazing line-up, divided between two continents, and everyone has been working really hard to give their best in this record, embracing my vision about the music in this concept album."
Aquila
is expected to bring some very special guests. The band won't reveal the names right now, but at least two of the guests had already recorded their contributions to the album.
"Trust me, they are real rock 'n' roll legends! That's all I can say right now"
, ends
Caputo
.
Holy Tide
's
Aquila
is expected to reach the stores before the end of 2018. The first single will soon be announced and available on digital platforms.
Sonic Night Music Club / KINLIN have announced a new music video for 'Stand Or Fall'
Posted by: Denis / 13.09.2018
---
KINLIN
featuring former
Yngwie Malmsteen
drummer
Patrick Johansson
have released
a new music video
for the track
Stand Or Fall
off their latest album
The Last Stand
released via Sonic Night Music Club.
GlobMetal Promotions / Age of Reborn released debut EP
Posted by: Denis / 13.09.2018
---
Colombian Speed/Thrash Metal band
Age of Reborn
released their debut self-titled EP.
Age of Reborn
was formed in 2015 in Bogota, Colombia by
JD Reborn
(Guitarist, Composer & ex-member of
BARBARIAN
),
Johan Zummon
(Composer, Vocalist, Guitarist and member of
CHAINSAW KILLER
) and
Rafa Zummon
(Drummer, Composer and member of
CHAINSAW KILLER, ROTTING BLOOD
). In 2016
David Bustos
(bass player, composer & ex-member of
OF WHAT
) joined the band and the lineup was completed.
Tracklist: Stupid Minds 04:14 Desire of Vengance 03:03 Promotors of Violence 05:04 Labyrinth (Maze and Cobweb) 04:17 Age of Reborn 05:08 World of Lies 04:27
Avantegarde MNGT / New Mecanica sign with Italian label Wormhole Death Records, Lost Paradise video streaming
Posted by: Denis / 13.09.2018
---
Portuguese Metallers
NEW MECANICA
signed a deal with Wormhole Death Records, a sub-label of the Italian Aural Music Group, for the international release of their brand new and 3rd album
VEHEMENT
, later this year. Japanese release will be done by Wormholedeath Japan / Space Shower; Usa: Wormholedeath Usa; Digital: The Orchard (Sony Music Ent.).
Vehement
was produced by the band and mix & mastered at Wrecords Studio, Lisbon by
Wilson Silva
(
MORE THAN A THOUSAND
).
It features the following 10 songs: A Second Chronophobia Lost Paradise Two Worlds Reflect Written Clouded Vehement Never Fade Journey
The official music video
for
Lost Paradise
, the second single from
VEHEMENT
, is already streaming online.
GlobMetal Promotions / Rognir released debut album
Posted by: Denis / 13.09.2018
---
American Black Metal band
Rognir
released their debut album
Skull of Gold
. The album was recorded in Mayday productions
by Derek May
, and mixed and mastered by him.
Rognir
was created in 2012 by Los Angeles musician
Derek Thomas May
. In 2017
Derek
brought his long time friend
Ross Rocco
to the band as the lead guitarist/back up vocalist, and the lineup was complete.
Tracklist: Eruption 03:37 Path to Survival 03:10 Personal Warpath 03:36 Arise 03:44 Mass Burning 03:28 The Hateful Warrior 03:38 The Climb 03:10 Colossal Encounter 02:36 Bloodthirst Initiates 03:08 Decipher 04:15 Goddess Demoness 03:24 For Lacey Weitz 02:59
Sonic Night Music Club / Nashville Metal band KILLING GRACE announce new music video 'Say My Name'
Posted by: Denis / 13.09.2018
---
Nashville's award-winning Metal band
KILLING GRACE
have released
a new music video
,
Say My Name
, for their new album
Speak With A Fist
.
Killing Grace
is not afraid to genre bend with straight-up Southern Rock like
One Finger Salute
or something more hard-core as
Screaming In Silence
. From the slamming and revved-up track
Say My Name
and groove anthem
Living Like A Suicide
, to the melodic and progressive
Take Me With You
, this new release has something for everyone.
GlobMetal Promotions / Terrorize released self-titled EP
Posted by: Denis / 13.09.2018
---
Canadian Death Metal band
Terrorize
released their debut self-titled EP. The release was recorded at Vomit Studios and mixed/mastered by the band members themselves.
Terrorize
was formed in 2017 at Toronto, Canada by
Gabe Vassellucci
(vocals) and
Greg Seberras
(guitars). In the beginning of 2018
Ben Blue
from his solo band
Transmundane
joined the band on the drums, and the lineup was complete.
VIVALDI METAL PROJECT to play electric show world premiere at the Roman theater in Bulgaria
Posted by: Denis / 24.08.2018
---
Vivaldi Metal Project is extremely proud and excited to announce the ELECTRIC SHOW WORLD PREMIERE! The show will take place on September 23, 2018 in Plovdiv (Bulgaria) and will be part of the eighth 'Sounds Of The Ages' festival.

The antique Roman amphitheater will be the magical location of Vivaldi Metal Project's THE FOUR SEASONS exclusive event!

This will be the eight edition of the 'Sounds of The Ages' annual musical event, promoted by Bulgarian independent radio TANGRA MEGA ROCK.
MORE
DIRK VAN TILBORG / WAR OF THRONES announce new music video for 'Savior'
Posted by: Juliette / 24.08.2018
---
WAR OF THRONES
, featuring former members of
Crimson Glory
and
Rob Rock
, have released
a new music video
,
Savior
, from their debut album. The album,
Conflict In Creation
, hit stores worldwide on March 9th, 2018 via Sonic Night Music Club.
Forged in steel,
WAR OF THRONES
was formed when iconic vocalist
Wade Black
and virtuoso guitarist
Rick Renstrom
joined forces in 2012. Previously, the two had worked together in
LEASH LAW
releasing
Dogface
in 2005.
Wade
is no stranger to Metal. For more than two decades,
Wade
has thrilled audiences worldwide fronting such legendary Metal bands as
Crimson Glory, Seven Witches, Leatherwolf
.
Rick
entered the scene in 2000, joining legendary vocalist
Rob Rock
's touring and recording band. Having toured around the world, hundreds of thousands have witnessed
Rick
's incredible and inspiring guitar playing. Joining
Wade
and
Rick
is bass player
Rich Marks
(
Vivaldi Metal Project
) who delivers a booming low end and virtuosic moving lines along with former
Yngwie Malmsteen
drummer
Patrick Johansson
behind the drumkit.
WAR OF THRONES
continues to thrill audiences live as they share the stage with bands such as
Kamelot, Drowning Pool, Marty Friedman, Anvil, Mushroomhead
.
The album was mastered by
Maor Appelbaum
(
Halford, Armored Saint, Faith No More
) at Maor Appelbaum Mastering - California – USA, recorded and mixed by
James Fox
at Sweet Spot Studio in Seminole FL.
Imperative PR / KRAANIUM release savage new album Slamchosis through Comatose Music
Posted by: Denis / 24.08.2018
---
Be warned - things are about to get nasty... On October 26th Comatose Music will release the latest and greatest album from the kings of slamming, brutal Death Metal –
Kraanium
!
Slamchosis
features ten tracks of bludgeoning brutality that take everything to the next level of sickness. Featuring vocals that dredge the sewers of disease with their utter inhumanity, riffs that will crack foundations and disturb the long dead and a twisted lyrical edge that'll have you choking with laughter, or choking on vomit depending on the depravity of your humour, this album sees
Kraanium
hitting new peaks of precision delivery at the same time as they plumb new depths of horror.
It's nearly two decades now since
Kraanium
erupted from their maggot infested womb and from their first demo,
No Respect For The Dead
, all the way to 2015s
Chronicles Of Perversion
they have shocked, outraged and entertained as they cracked skulls and shattered spines in the pit.
Slamchosis
goes one step further than
Kraanium
have ever gone before; one step further beyond the boundaries of good taste, one step further on the Richter scale with their earthshaking heaviness.
A new lyric video
for the ruthless album track,
Blob Of Inhuman Metamorphic Transfusion
, is being unleashed at Slam Worldwide, a fitting taster of the carnage that is to come. Pick your target, kill or be killed, because on October 26th all hell will be unleashed – the ultimate in crushing, pulverising, slamming, brutal Death Metal is about to arrive.
Line-up: Jack Papp Fahlberg Christensen - Vocals Mikael Da Costa - Bass Jason Varlamos - Guitar Mats Funderud - Guitar Erhan Karaca - Drums
Genre: slamming brutal Death Metal For fans of: Devourment, Skinless, Disentomb
Bound to Kill Blob of Inhuman Metamorphic Transfusion Gratification Through Annihilation Forced Rectal Exhumation Slamchosis Larva Infested Cum Sluts Midget Fucker Slam Her Guts Out Face Fucked with a Brick Putrecent Indulgence
AXEMASTER honored with music award
Posted by: Denis / 24.08.2018
---
AXEMASTER has just received a 'Music Award of Excellence' from THE AKADEMIA for the song '10,000 Pound Hammer' from their current album Crawling Chaos. The Akademia award recognition program is a formal A&R review process in which every music submission is heard, discussed, debated, and rated by their executive team which is comprised of artists, producers, and record executives.
MORE
GlobMetal Promotions / Villmark released debut album
Posted by: Denis / 24.08.2018
---
Norwegian blackened Death/Folk Metal band
Villmark
released their debut self-titled album. The album was recorded, mix and mastered by
Grzegorz Mukanowski
in Ignu Studio.
Villmark
was formed in 2016 at Trondheim, Norway by
Erik Bjornestad
(vocals),
Oliver Visnes
(guitar/bass) and
Jonas Lund
(drums), seeking inspiration in how brutal but yet beautiful nature is, and how lost but yet calm we keep in the middle of chaos. Right now the band touring Norway and work on their first European tour.
Imperative PR / Forged In Black to support NWOBHM legends Demon and celebrate completing work on their latest album
Posted by: Denis / 24.08.2018
---
Imperative PR are bringing you all the latest news from Forged In Black. The Metal warriors have just finished work on a new album, which will be out in 2019 and have decided to celebrate with two special gigs.

First, on September 15th the band will be headlining a special hometown show at Chinnerys in Southend. Speaking about what promises to be a riotous night of Metal, bassist Kieron had this to say: "Forged In Black are returning to Chinnerys for our first and only local show of 2018. We are bringing three fantastic bands with us who all happen to be good friends of ours. It's also our vocalist, Stoz's birthday and we'll be celebrating in style with him. Get yourself down, bang your head and we'll see you at the bar!"

The three bands that are joining Forged In Black for their homecoming are Neverworld, Colina Pearl, Elysium Sky.

Later in September, on the 29th, Forged In Black will be heading to London to play the legendary Camden Underworld with Power metallers Dendera and NWOBHM heroes Demon. Demon will be performing their classic Unexpected Guest album in its entirety making this a night not to be missed.
Punishment 18 Records / Razgate 'Welcome Mass Hysteria' will be released in October
Posted by: Denis / 24.08.2018
---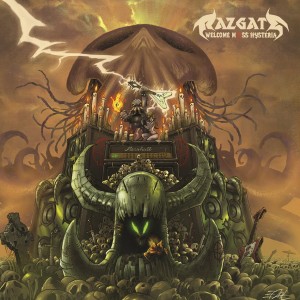 The new album from Italian thrashers
Razgate, Welcome Mass Hysteria
, will be officially released on next October 27th by Punishment 18 Records. Mixing and mastering were completed by
Tai Fronzaroli
at 7studio (
New Horizons, Fall as Leap
).
Punishment 18 Records / Ibridoma: release date announced
Posted by: Denis / 24.08.2018
---
City of Ruins, the new album from Italian metallers Ibridoma is set to be released on October 27th by Punishment 18 Records. The full-length was mixed at Domination Studio by Simone Mularoni (DGM, Elvenking, Injury, Bulldozer, Labÿrinth).
MORE
Nuclear Blast / FIFTH ANGEL 'The Third Secret'
Posted by: Denis / 24.08.2018
---
FIFTH ANGEL
recently put the finishing touches on their first new album in almost 30 years
The Third Secret
, which will be released on October 26th. The album features the incredible talents of guitarist and lead vocalist
Kendall Bechtel
, bassist
John Macko
and drummer and backing vocalist
Ken Mary
. Says bassist
John Macko
,
"When we began this process, we always were mindful to write songs that moved us as a band first. We felt that if we achieved that, then the music will most likely touch our fans as well."
Adds lead vocalist and guitarist
Kendall Bechtel
,
"We are very proud of the new album! We hope the fans will hear the classic threads of the FIFTH ANGEL they know and love, along with the growth and maturity the individuals of the band have gone through over the years. We hope they love the new songs as much as we do!"
Now the band reveals the album cover artwork, created by
Zsofia Dankova
(
POWERWOLF
a.o.) as well as the tracklist:
Stars Are Falling We Will Rise Queen Of Thieves Dust To Dust Can You Hear Me This Is War Fatima Third Secret Shame On You Hearts Of Stone
MORE
Nuclear Blast / BURNING WITCHES 'Hexenhammer' cover artwork released
Posted by: Denis / 24.08.2018
---
BURNING WITCHES
are not only the hottest export from the Alpine Republic, the five piece from Switzerland are also one of the most thrilling newcomers in old school Heavy Metal spanning the last few years - globally! The new album
Hexenhammer
will be released on November 9th, via Nuclear Blast Records.
Now the band presents the cover artwork for their second studio album. This stunning was visualisation created by acclaimed artist
Gyula
from Hungary, who has also created artwork for
DESTRUCTION, ANNIHLATOR, GRAVE DIGGER, STRATOVARIUS, TANKARD
and many more.
The band states:
"We are very proud to present you our new album cover for HEXENHAMMER. The topic is the Malleus Maleficarum book, that legalized the extermination of the so called 'Witches' in the medieval times. The justification of murder against the weak, is still a sad subject nowadays! So we wanna pay respect and remember - most of the lyrics are dealing with this dark chapter of our history as well. Of course we also wanted a classic & mystical Metal layout, that reflects our music perfectly - so it is a great mix! We hope the fans will enjoy it!"
Gyula
adds:
"It is not too easy to make a 'Metal' cover when the main character and focus is an attractive woman. It is much easier to create gory images with monsters or devils for me. But I remembered that my first original casette was the Warlock 'Triumph and Agony' album, so I felt very motivated to incorporate both of those aspects: some black magic & some beautiful ladies! I got some instructions and a sketch from the band - so I painted the witch and the altar first as a main focus and everybody loved the character and the feeling of the image. When I added the ghost images of the girls, it all aligned into a dark magic artwork with beautiful ladies."
The tracklist of Hexenhammer The Witch Circle Executed Lords Of War Open Your Mind Don't Cry My Tears Maiden Of Steel Dungeon Of Infamy Dead Ender Hexenhammer Possession Maneater Holy Diver
Bonus(es): Self Sacrifice Don't Cry My Tears (acoustic)
The forthcoming record was produced in the Little Creek Studio by the same team as its predecessor:
V.O. Pulver
(
PRO-PAIN, DESTRUCTION, NERVOSA, PÄNZER
) and
DESTRUCTION
legend
Schmier
, who helped and advised as a close friend of the band. The result is a truly brilliant Heavy Metal album, which will take away the breath of headbangers worldwide, and of course make people bang their heads!
Nuclear Blast / HELLOWEEN announce new live release, new studio album and more live shows
Posted by: Denis / 24.08.2018
---
Helloween statement:
"A very special summer season, not only due to the tropical heat, is slowly coming to an end: Festivals have been rocked so hard that we would've been sweating even if mercury hadn't been on a permanent high. Among the massive PUMPKINS UNITED WORLD TOUR's open air highlights were, of course, the headline slots at Wacken, Barcelona's Rock Fest and Masters of Rock – but also the mega gigs with IRON MAIDEN at Sweden Rock Festival and Florence's Firenze Rocks in June were definitely shows we'll remember for all eternity. Thanks to everyone who has been with us until now!

Fortunately the tour is by no means over, and dates in the US and Canada are next on the schedule – there will also be, due to the tremendous demand, additional dates in Latin America to follow: And as first class support, no other than KREATOR and ARCH ENEMY will be firing up the stages for the Pumpkins! Final shows with the full UNITED cast will take place at the end of 2018 with a right royal farewell blast: In Hamburg, right where all the madness started in 1984, PUMPKINS UNITED will burn down the house with the tour's last show in the legendary Sporthalle on December 22nd.

For those, who mysteriously missed the tour – but also for everyone, who has been a part of it and would love to revisit those unique nights, the boys have recorded the very best moments. Goose bump inducing footage of the PUMPKINS UNITED WORLD TOUR, which has been reveled as 'tour of the year' by fans and press everywhere, will be released as a live CD as well as on DVD and Blu-ray at the beginning of 2019, so that those nights can be celebrated over and over without even having to leave the sofa. For now, you can make the wait a bit more bearable with a stream of the full Wacken show at Magenta Music 360.

As we are reeling from Wacken and preparing for the upcoming show in Bamberg, those maniacs are already launching the next sensation: For starters, Nuclear Blast has insisted to keep the band on their roster for a few more years, and – double bass drum roll – there will be a brand-new STUDIO ALBUM with KISKE AND HANSEN. With the band's songwriting trio of Weikath, Hansen and Deris retreating to the studio together with these two exceptional singers in 2019, it's clear that the album scheduled for 2020 will be no less than epic. If this news doesn't get your blood pumping then maybe your proper rock baptism hasn't happened yet – the rest of us are over the moon, because: THE PUMPKINS UNITED DREAM CONTINUES!"
Tour dates 2018-09-07 Las Vegas, NV (House Of Blues) US 2018-09-08 Los Angeles, CA (Palladium) US 2018-09-10 Chicago, IL (Concord Music Hall) US 2018-09-12 Montreal, QC (Metropolis) CA 2018-09-14 Worcester, MA (Palladium) US 2018-09-15 New York, NY (Irving Plaza) US 2018-09-16 New York City, NY (Irving Plaza) US 2018-10-26 Bogotá (Knotfest) CO 2018-10-28 San Salvador (Cifco) SV 2018-10-31 Santiago (Movistar Arena) CL 2018-11-02 Mexico City (Arena) MX 2018-11-04 Guadalajara (Foro Alterno) MX 2018-11-08 Buenos Aires (Luna Park) AR 2018-12-06 Lisbon (Sala Tejo) PT 2018-12-08 Santiago de Compostela (Fontes do Sar) ES 2018-12-14 Ravensburg (Oberschwabenhalle) DE 2018-12-15 Karlsruhe (Knock Out Festival) DE 2018-12-18 Stockholm (Fryshuset Arenan) SE 2018-12-21 Bamberg (Brose Arena) DE 2018-12-22 Hamburg (Sporthalle) DE
MORE
Vivaldi Metal Project / TRAGIC SERENADE - World Premiere! Live in Kitee (Finland) 2018
Posted by: Denis / 15.08.2018
---
TRAGIC SERENADE
world premiere at 'Kitee International Music and Art Festival' (Kitee, Finland) on July 15th 2018. A new song by
Vivaldi Metal Project
based on
Franz Schubert
's
Serenade
arranged and composed by
Mistheria
.
Concept and production by
Mistheria
. Lyrics by
Douglas R. Docker
. Digital artwork by
Adrian Olebinski
. Production assistance by
Zhivko Koev
.
Performers: Angel Wolf - Black, Dimitar Belchev, Tsena Stefanova (vocals) - Abigail Stahlschmidt (violin) - Mistheria (piano) - Quentin Cornet (guitar) - Joonas Tuuri (contrabass).
Staff: Samppa Hirvonen (audio), Joonas Tarkkonen (lights), Ukko Torni (video), Zhivko Koev (digital artwork live sync), Plamen Dimov (management).
MORE
Imperative PR / De Profundis release powerful new video for 'Martyrs' and announce gig with Vallenfyre
Posted by: Denis / 15.08.2018
---
De Profundis
' incredible visual realisation of their latest album,
The Blinding Light Of Faith
continues with the release of
the powerful video
that portrays the song
Martyrs
. As the band have explained, this album confronts head on the power of the three Abrahamic religions and with
Martyrs
they take an unflinching stand against Islamic extremism. Guitarist
Paul Nazarkardeh
explains the band's stance on what can be a controversial subject...
"Martyrs continues The Blinding Light of Faith's exploration of the evils committed in the name of Abrahamic religion. We invite people from ALL nations, creeds, colours, origins and walks of life to unite in condemnation against those who justify the cold blooded murder of the innocent with a perverted vision of sexual conquests in the afterlife. For those upset by the nature of the song or the video... You should be. It's an upsetting subject."
Together with the creator of the unfolding series of videos,
Andy Pilkington
of Very Metal Art,
De Profundis
have created a brave and powerful artistic statement that tackles an issue which impacts on all of our lives.
The
Martyrs
video is being hosted exclusively by the band's record label, the Indian powerhouse of extreme Metal, Transcending Obscurity.
In other exciting news
De Profundis
have been announced as special guests at Vallenfyre's last ever show! On the 29th of September at Nambucca in London, Vallenfyre will say a fond farewell to their fans with
De Profundis
and
Hex Morbidity
in support - definitely a show not to be missed!
GlobMetal Promotions / Karmian released debut album
Posted by: Denis / 15.08.2018
---
Italian Melodic Death Metal band
Karmian
released their debut album
Surgere et Cadere
. The album was recorded at ZetaFactory Studio and Dysfunction Studio. Recorded, mixed, engineered by
Giuseppe Bassi
of Dysfunction Productions and mastered by
Giuseppe Bassi
.
Karmian
was formed in 2005 under the name of
When the Storm Broke
at Modena, Italy. The first songs are written, but many line-up changes make the band split up in 2009, after a demo. In 2011 the founding members
Andrea Baraldi, Mauro Leone, Nicholas Badiali
asked
Andrea Bertolazzi
, former
Bad To The Bone Singer
, to join the band. The four restart the project under the name
Karmian
. In 2012 the band released their debut EP
Ways of Death
and after the band start touring Italy and Europe.
Imperative PR / Solitary release an expanded 20th Anniversary Edition of their renowned debut album, Nothing Changes, through Doc Records
Posted by: Denis / 15.08.2018
---
Back in the '90s Thrash Metal was on its last legs, hearts and minds turning away from its high energy approach and crisp, crunching riffs. The old bands were slipping from the magazine covers, back into the shadows and even the gods of the scene were struggling and second guessing themselves. It was into this environment that
Rich Sherrington
launched his new band, Solitary – a pure, heads-down Thrash Metal unit. The scene might be trying to dictate otherwise, but as far as
Rich
was concerned Thrash Metal was never going to die.
In 1998 the first
Solitary
album was released on Holier Than Thou Records and against all the odds,
Nothing Changes
was greeted with cautious approval from the Metal press. Even major magazines like Terrorizer couldn't deny the power and potency that this new band, flying in the face of public opinion, had achieved. Buoyed by the positive reaction to their debut
Solitary
hit the road and began a relentless touring schedule around the UK which continues to this day. Subsequent albums like
Requiem
and
The Diseased Heart Of Society
have cemented
Solitary
's position at the top of the UK Thrash scene and while their music has become, nothing has changed when it comes to their fierce determination and total dedication to Thrash. Now, twenty years on from its original release, with the backing of new label Doc Records, Solitary have revisited the album that announced their arrival on the battlefield.
Nothing Changes
has returned with new artwork, a host of bonus tracks drawn from their early demos and just a little injection of modern studio wizardry. Sounding heavier and more aggressive than ever before this is one battle scarred veteran that has lost none of his venom and fighting spirit. In a nod to the past this special 20th Anniversary edition of
Nothing Changes
will only be available on CD, not on any digital platform, so pick up a copy while they're around or miss out forever. Celebrate the true spirit of Thrash, raise a glass to the unbowed and unbroken and pledge your allegiance to the band that promised to Thrash forever.
Within Temptation The Downward Spiral A Second Chance Bitterness Nothing Changes Clutching Straws No Reason Twisted Fear A Second Chance - 1996 Demo The Bottom Line - 1996 Demo What Price - 1996 Demo No Reason - 1996 Demo Fear - 1996 Demo
GlobMetal Promotions / Santtu Niemelä update from the studio
Posted by: Denis / 15.08.2018
---
Finnish Power/Progressive Metal musician
Santtu Niemelä
entered the studio few month ago to record his new album
Road To Hell
that will be released this autumn. The album is recorded in Flying Camel Studio, and mixing/mastering will be done by
Riku Jaakkola
.
Also the new album tracklist was revealed: Brave At Heart (instrumental) Towards The Avalon I Am Alone Mega City One Thanatos (instrumental) The Moorhill Witch Tolling Of The Bell Power Of The Night This Is My World (instrumental) Road To Hell
Santtu Niemelä
is a Heavy Metal artist from Loimaa, Finland. In December of 2016 he released his first cover album
Boat on the River of Blood
, where he made Metal covers of some old pop/rock songs and songs from popular games and movies. In August 2017
Santtu
released his second album
Forgotten Souls
.
Imperative PR / Kill Everything premiere crushing new video at Slam Worldwide
Posted by: Denis / 15.08.2018
---
Kill Everything
have unveiled
the second video
in support of their forthcoming debut album,
Scorched Earth
.
Laid To Waste
is a brutal assault on the senses and a perfect example of the inhuman bludgeoning to be found throughout the
Scorched Earth
album - surely destined to be one of the heaviest releases of this or any other year.
The video is premiering on the Slam Worldwide channel, notorious for promoting the most skull crushing Metal around and is sure to whet the appetite of the death obsessed worldwide.
Scorched Earth
will be released on August 17th through Comatose Music and preorders are open now at the label website.
There's not long to wait now until
Scorched Earth
is let loose upon the world, but for now head to Slam Worldwide and bathe in the bloody brilliance of
Laid To Waste
!
Imperative PR / De Profundis release deluxe vinyl version of their monumental The Blinding Light Of Faith album through Lusitanian Music
Posted by: Denis / 15.08.2018
---
Imperative PR are delighted to announce a further chapter in one of their great success stories of 2018. Having achieved worldwide critical acclaim for their magnificent The Blinding Light Of Faith album, released through Transcending Obscurity Records in May, De Profundis have signed a deal for a limited edition vinyl release of their greatest ever album.

On September 7th Lusitanian Music will unveil a stunning new version of The Blinding Light Of Faith, on luxurious red and black marbled vinyl (limited to just 100 copies) and brilliant, rich orange vinyl (limited to 200 copies). The album has been completely remastered for the ultimate vinyl listening experience – a treat for audiophiles, vinyl collectors and Death Metal junkies alike.

The intricate, nightmarish album artwork created by Alex Tartsus (Sinister, Depravity etc.) comes to grotesque life, spread across the 12" vinyl sleeve, allowing full appreciation of De Profundis' hammer blow attack on the corrupt organised religions of the world, while the band's new logo, designed by Gary Ronaldson (Napalm Death, Misery Index, Kreator etc.) stands proud against the burning sky.
VARG MEDIA GROUP / War of Shards debut single available for streaming
Posted by: Denis / 15.08.2018
---
Russian Metal opera
War of Shards
?released their debut single from the upcoming album.
The band was formed in 2018 at Moscow by
Anton Razdorov
. The music was created and recorded by
Roman Levin
.?
War of Shards
tell us the story of an alternative world where there are a fight for rule the galaxy.
Imperative PR / Furious Portuguese Death Metallers Cronaxia release their debut, Collapsing The Outer Structure, through Lusitanian Music
Posted by: Denis / 15.08.2018
---
Imperative PR herald the release of a maelstrom of wickedly intense Death Metal, in the form of
Cronaxia
's debut full length album, the staggering
Collapsing The Outer Structure
.
Cronaxia
have been stalwarts of the Portuguese Death Metal underground for twenty years, with previously just one EP release to their name, 2008s
The Solution Above Continuity
. The sheer stamina, dexterity and technical skill required to perform
Cronaxia
's music has left band members burnt out and used up, hindering their progress.
Refusing to be delayed any further, band members
Felipe
(guitarist and founder member),
Renato
(guitars) and
Sergio
(vocals) enlisted the help of a session rhythm section, both from the band
Grog
- drummer
Rolando Barros
and bassist
Alex Ribeiro
– to help bring their complex creations to life. The result of this alliance is an album of blistering, hyperactive death metal that goes by the name of
Collapsing The Outer Structure
.
On September 7th Lusitanian Music will release this collection consisting of eight pieces of wild, inventive, planet-crushing force. Mixed and mastered by
Paulo Viera
, known for his production work with
Ironsword
and
Ravensire
,
Collapsing The Outer Structure
is a work that walks the tightrope between genius and insanity. With a lyrical concept as brain melting as the music,
Cronaxia
's first album is bewildering yet incredible, almost too much to comprehend.
The countdown has begun to that September 7th launch date. Prepare to be consumed, to be undone, to have your brain restructured. This is Death Metal from beyond the event horizon, from the unfathomable heart of darkness.
This release represents the first step in a new working relationship between Imperative PR and Lusitanian Music. Great things lie ahead!
Collapsing The Outer Structure Logarithmic Cavitation The Core Condition Dimension Ratio Continuous Signal Embryonic Reanimation Plasmatech Tangential Threshold
25 albums entered into our database lately are:
1. Operation: Mindcrime
"The New Reality"
2. Vyper
"Afraid of the Dark"
3. Vyper
"Prepared to Strike"
4. Apokalyptischen Reiter, Die
"Der Rote Reiter"
5. Adagio
"Life"
6. Alpha Tiger
"Alpha Tiger"
7. Leprous
"Malina"
8. Paradise Lost
"Medusa"
9. Great White
"Full Circle"
10. Venom Inc.
"Avé"
11. Hell in the Club
"See You on the Dark Side"
12. Satyricon
"Deep Calleth Upon Deep"
13. Septic Flesh
"Codex Omega"
14. FB1964
"Störtebeker"
15. Air Raid
"Across the Line"
16. Panzer (Germany)
"Fatal Command"
17. Section A
"Wall of Silence"
18. Accept
"The Rise of Chaos"
19. Steelheart
"Through Worlds of Stardust"
20. Vivaldi Metal Project
"The Extended Sessions"
21. Penna, David
"SubLevels"
22. Unity, The
"The Unity"
23. Elvenking
"Secrets of the Magick Grimoire"
24. Desperados
"Call of the Wild"
25. Heavy Load
"Metal Conquest"

---
15 bands entered into our database lately are:
1. Vulture
2. Glory Bell's Band
3. Thunderstick
4. Pentakill
5. Silent Assassins
6. Keldian
7. Tower of Babel
8. Riddlemaster
9. Phantom V
10. Beast in Black
11. Joker
12. Vyper
13. Venom Inc.
14. Hell in the Club
15. FB1964

All bands:
A B C D E F G H I J K L M N O P Q R S T U V W X Y Z Other
---
From Denis collection:
A B C D E F G H I J K L M N O P Q R S T U V W X Y Z Other